A Talk Session with NPO Fellows―in Hiroshima
Asuka Takeshiro
The Japan Foundation Center for Global Partnership
On March 4, 2011, the Japan Foundation Center for Global Partnership (CGP) and the Hiroshima NPO Center jointly hosted a public symposium titled "Learning from NPOs in the United States: Probing the future of community-based NPOs."

Joining us as panelists were Ayumi Suzuki, communications director of Coalition for Legislation to Support Citizens' Organizations (C's,) a specified nonprofit corporation working to create a system to support nonprofit activities in Japan, and Hiromi Yoshida, president of the Nara International Exchange Center. They have trained under the Nonprofit Organization (NPO) Fellowship Program sponsored by CGP and are now leading figures in promoting civic activities in Japan. The two panelists reported on what they have learned working at NPOs in the United States, and gave their opinions on community-based fundraising and management of NPOs.
History
The role of citizens has become ever so important in dealing with the environment, disaster relief, and many other global challenges we face today. Nongovernmental and nonprofit organizations in Japan and from around the world were instrumental in coordinating voluntary aid when the Great Hanshin Earthquake struck Japan in 1995, arousing greater awareness toward nonprofit operations. Responding to such societal change, the Law to Promote Specified Nonprofit Activities (NPO Law) was enacted in 1998 to foster their operations.
The NPO Fellowship Program was also established to encourage the development of Japan's nonprofit sector. Under the program, Japanese NPO staff members are sent to work in NPO organizations in the United States, which has a long history and extensive knowledge of NPO activities, and receive hands-on training in various facets of the work. Between 1998, when the program started on a trial basis, and 2007, 37 fellows enhanced their knowledge and skills under the program.
In connection with the fellowship program, CGP holds public symposiums where NPO fellows are invited to share their training experiences. We have already held symposiums in nine cities, including Wakayama, Aomori and Joetsu. Hiroshima was the 10th city we had the pleasure of visiting.
Public Symposiums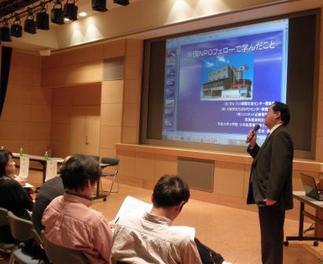 Yoshida made everyone laugh when he jokingly said that many people mistook the initials NPO for PKO (Peace Keeping Operations) when nonprofit organizations first began to draw attention in Japan around 1998. But the fact that the initials NPO have become a household word only recently made us realize that we still have a long way to go in establishing civic activities in Japan.
Although the symposium was held on a weekday evening, on a Friday at 6 p.m., about 60 people including NPO staffers, students, civil servants and company workers came to participate, indicating a growing interest in NPO activities. In the first half of the symposium, the two panelists talked of their experiences in the United States and about their current activities. Discussions among the participants heated up in the second half of the program with many questions from the audience. Some asked about how to apply to local governments for financial assistance. Others said they found it difficult to evaluate the effectiveness of the money spent. There were also questions on how to train staffers.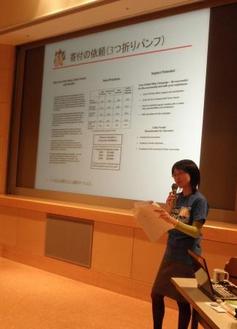 Suzuki drew the interest of the participants explaining that by working at the United Way (UW), her host organization in the US, she has learned that to raise funds you need to become educators. She said in order for NPOs to tackle and solve community issues, it is necessary for people to recognize the problem and understand what the NPO is doing about it; when people have knowledge, then money will come in. Educators are people who convey information. She also talked about fundraising at UW and about her current work at C's. I saw many of the participants listening enthusiastically and taking notes.
Yoshida talked about why he left his job at city hall to join the fellowship program in 2000. He also spoke of his work at the Nara International Exchange Center that he founded. He said he still feels uncertain about some things, but he has learned that in order to run an NPO that can support the lives of its staffers, you need to be active and aggressive. To put what he had learned into practice, he traveled to all 47 prefectures in Japan and met with local government leaders to introduce his organization to them. He told us that quality is what matters and giving satisfaction is what we must focus on, and added that establishing a system where there is a flow of funds is also important.
After the symposium, many comments were sent in by the participants. Some requested that symposiums be held again. Others asked that symposiums and workshops be held in regional areas, as they are held often in Tokyo but not in other areas. Participants commented that much of what they had learned at the symposium could be applied to their own NPOs. Some said they thought NPOs in America were different, but by attending the symposium they were able to feel a sense of kinship toward US organizations. One participant voiced his earlier lack of interest in the symposium, but found the talks and discussions very interesting and was now glad that he had attended.
Future Developments
Volunteers, NPOs and NGOs were active and important assets in collecting contributions and distributing disaster relief supplies after the major earthquake and tsunami that swept Japan's Pacific coast on March 11, 2011, and their roles will become even more valuable in the future. Some NPO fellows have and are participating in the work to support the recovery of the devastated areas. We are pleased to see that CGP's activities to bridge NPOs around the world are bearing fruit.