My Community and Cultural Diversity--"Kizuna" Project
Ai Goto
Europe, Middle East and Africa Section
Japanese Studies and Intellectual Exchange Department
Remembering community bonds in the aftermath of the March 11 earthquake and tsunami
On Sunday, July 3, speakers and panelists from Europe and Japan gathered at the Italian Cultural Institute in Tokyo, responding to a call to revive community bonds.
The Japan Foundation and EUNIC Japan (European Union National Institutes for Culture) co-hosted a symposium and concert titled "Japan-Europe 'Kizuna' Project--Embracing Solidarity and Diversity in Community."
The event was originally scheduled for March under the theme "Identity and Diversity in Europe," but was postponed in the aftermath of the twin natural disasters and ensuing nuclear accident. A number of panelists who had planned to fly in from Europe gave up attending due to concerns of radiation. Yet all the more because of such uncertain circumstances, the organizers felt it a duty to do the one thing cultural organizations can do: bring various cultures, arts, and insights together.
For some time following March 11, we on the staff of the Japan Foundation, like those in any other profession, faced heaps of unusual work. While being stunned by the sudden disaster and daunted by the uncontrollable situation, we confirmed the safety of foreigners visiting Japan, made arrangements for those who so wished to return to their home countries, and provided information from as many objective sources as possible to those who were planning trips to Japan but were having second thoughts.
What emotions did the state of emergency evoke in people's minds? How do they feel about it now? Many are no doubt in deep sorrow, or feeling a sense of despair. Those who have lost someone close must be going through unspeakable pain. But those of us who survived have also gained an important awareness through the experience.
The word may sound simple--"bonding." The recent disaster has made us realize how important it is and how thankful we are to be connected with others. So many of us were reminded that our seemingly casual bond with the people in our everyday lives, whether family, friends, or colleagues, is in fact invaluable.
In this symposium, therefore, we decided to focus on communities formed by people's close bonds with each other. We asked the panelists from Europe and Japan to discuss their own experiences, in hopes of offering something important for the audience to engrave in their minds.
In our community
1. Diverse languages mean diverse cultures--Session 1: Language, Dialect and Communities
The event kicked off in the morning with wonderful Irish folk music by Garry Shannon, who comes from a renowned musical family. In addition to his recent work as a soloist, he also delivers traditional Irish music to contemporary audiences as a member of the Kilfenora Ceili Band. The flutist's gentle, friendly character also revealed his identity as an Irish and French language teacher.
Left: Shannon plays the Irish
Right: Shannon introduces the history of Ireland. Aside from national borders, European communities are divided also by language and culture.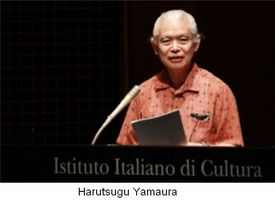 Next on stage was Harutsugu Yamaura, a doctor from Ofunato City in Iwate Prefecture. Having had his car washed away by the tsunami and the railway in his hometown yet to resume service, he made his way to Tokyo by taxi and shinkansen bullet train. He spoke about his lifework of applying letters and grammar to the Kesen dialect of Iwate and translating novels and plays into the language to stir up the local people's pride, introducing the diversity of Japanese culture from a linguistic aspect.
His speech was followed by classical music, an essential part of European culture that binds the region together. Two young musicians from Bulgaria enchanted the audience with beautiful piano and violin tunes. After lunch break, the event proceeded to the afternoon sessions.
Piano: Alexander Lialios
Violin: Dessislava Tcholakova
2. How communities recover from major disasters--Session 2: Communities in Adversity
The event went on to introduce some concrete examples of how communities might cope with adverse circumstances.
Takashi Murakami is an associate professor at Miyagi University of Education and a representative of MMIX Lab, a non-profit corporation that invigorates communities through art. He incorporates artistic viewpoints in education and urban design. The Sendai resident delivered a speech about the barrier-free effort Art Inclusion, as well as the Memorial Project to preserve buildings damaged by earthquakes.

Murakami speaks about Art Inclusion
Dario Barnaba, who flew in from Italy, stressed from his experience of the 1976 Friuli earthquake the importance of reconstructing disaster-afflicted regions with a long-term, multi-faceted, and comprehensive viewpoint. Reflecting on the earthquake in Italy and the process to recovery more than 30 years ago, he helped the Japanese audience to look at the still vivid experience of March 11 with a future eye. Thirty years from now, how will the Japanese--and the people around the world--see our response to this disaster in 2011?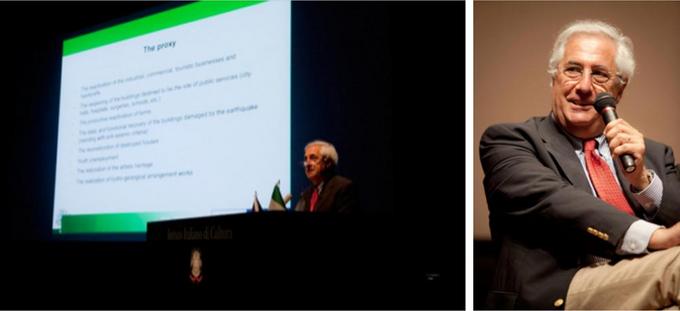 Barnaba delivers his speech
After the insightful speech was a shakuhachi and koto performance. Chikuhou Ohtomo not only plays traditional Japanese tunes but also arranges Jazz numbers on the shakuhachi. He dedicated the first two songs, "Tsuru no Sugomori" (Nesting Crane) and Ave Maria, as a requiem to the souls lost in the earthquake. To encourage the survivors, he played "Houshun" (First Signs of Spring,) then demonstrated a meeting of traditional Japanese music and jazz with two standard numbers, "Left Alone" and "Take Five", and finally invited the audience to sing along with "Hamabe no Uta" (A Song of the Seashore). Everyone present listened with amazement as Ohtomo played the different melodies and made the shakuhachi sound so familiar to the ear.

Left: Chikuhou Ohtomo, shakuhachi
Right: Ensemble with koto harps (13-string koto, 20-string koto: Norihiro Ishikawa; 17-string koto: Ayako Shigenari)
3. Community is not a monolith--Tolerance to diversity--Session 3: Diversity in Community
The final session discussed diversity in communities. The word "community" tends to evoke the image of unity, but in reality, a community is never a monolith but rather an aggregation of all sorts of people. The wider the variety of people a community embraces, the more flexible and resilient that community will be.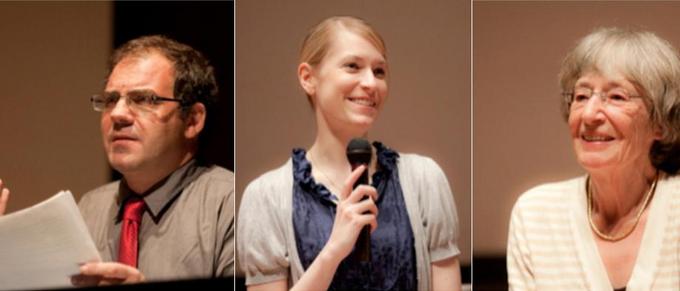 Left: Zink speaks of his experiences
Middle: Hommerrich answers questions
Right: Oliver delivers her speech
Rui Zink's speech started with his experience of buying a pair of shoes a size too small. The clerk convinced him they would stretch with wear, but as he suspected, his feet became sore, and he regretted not following his heart. Listening to others' hearts is equally important. It is not easy to relieve the sense of loss of those deprived of precious family, friends or homes in the disaster, but we can at least listen to and accept their desperate cries. He also spoke about a friend who died young, and that he has the experience of listening to the friend's grieving parents.
Next was Carola Hommerrich, who showed that certain data say many Japanese feel excluded from society. She pointed out that the shallow relationships of modern society on top of financial problems can easily leave people with a sense of isolation.
Elizabeth Oliver came to Japan in the 1970s as an English language teacher. Living in Japan then, she grew concerned about the treatment of animals and founded Animal Refuge Kansai (ARK), an NPO which helps find foster families for animals. She introduced the group's activities, particularly its effort to protect and find new homes for animals that lost family in the March 11 earthquake. She spoke of the importance of taking care of animals, whose lives might easily be neglected amid the need for more workers to rescue people and rebuild their daily lives.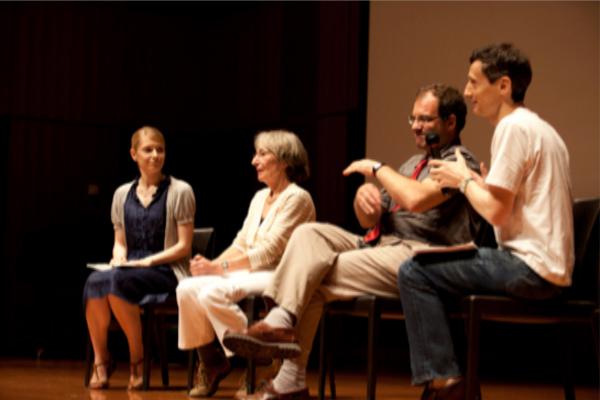 Panel discussion
4. From the audience
After the full-day symposium, many attendees offered valuable opinions. The organizers would like to thank everyone who responded to the questionnaire.
"The symposium gave us a glimpse of how European people see Japan and March 11."
"I found there were many things I didn't know. I was happy to make new discoveries, and at the same time encouraged by the underlying sentiment shared by many people."
"I was impressed by the performance of Mr. Ohtomo's group. The jazz numbers in shakuhachi and koto were fantastic, and the prayer for recovery from the devastation pulled my heartstrings."
"As a student majoring in art management, I found each lecture helpful in thinking about what I can do for the people in the disaster-struck Tohoku region. In particular, I felt there was something I could do to promote Art Inclusion in society. I will cherish the sense of mission I felt at the symposium, and with a big caring heart, take action one small step at a time for the future of Japan and the world."
"I liked that the symposium helped to deepen my understanding of relatively unfamiliar European cultures, such as Bulgaria and Ireland. I felt I gained a true understanding of the relationship between Ireland and France, and the history of the Celts."
"It was truly wonderful and meaningful that the symposium was held in the aftermath of the disaster."
"I learned about the activities of EUNIC Japan for the first time. I realized how desirable it is for unique communities to influence and hone one another."
The satisfied expressions of both panelists and attendees after the symposium revealed that the event had helped them to gain an important awareness. The organizers hope the participants will take their renewed feelings for communities back to their everyday lives and continue in their own pursuits in this trying time, remembering the support from people overseas and the sense of solidarity at the venue.
For more details of the event
Please visit the event website: http://www.jpf.go.jp/e/intel/new/1106/06-02.html
Donation for disaster victims
The Japan Foundation set up donation boxes at the venue and raised 71,977 yen for the people affected by the disaster, thanks to the support of volunteer staff and EUNIC Japan. Half this amount has been donated to Takashi Murakami's MMIX Lab project to support March 11 victims with art, and the other half to Elizabeth Oliver's activities at Animal Refuge Kansai to rescue animals in the disaster-hit region. We express our sincere gratitude to the donors.