Otaku Fever at the Salón del Manga, Barcelona
Hiroyuki Ueno
The Japan Foundation, Madrid
What is the first thing that springs to mind when you think of Spain? The Barca football club and Gaudi's architecture, which are associated with Barcelona, rank right up there with the bullfights and flamenco dancing of the Andalusian region. But Barcelona has one other event of particular interest to Japanese people. It is the Salón del Manga, one of the largest otaku subculture festivals in the world, attracting almost 70,000 people during its four days and growing bigger each year.
The Salón del Manga is held every year from the end of October to the beginning of November. With rows of stalls selling manga comics, DVDs, and related goods set up throughout the site and thousands of young cosplayers jostling about, it's no wonder the organizers have decided to move to a larger place next year, maybe something along the lines of Makuhari Messe, since the event is certainly outgrowing the venue. If you wander around the second floor, you'll find spaces for exhibitions, lectures, and events, such as an anime song performance I saw by four young Japanese women. (I mistook them for high school students at first and asked them which school they were from. My apologies!) A 10-minute walk from the main venue takes you to a gymnasium and cinema, hosting cosplay contests and showing anime films.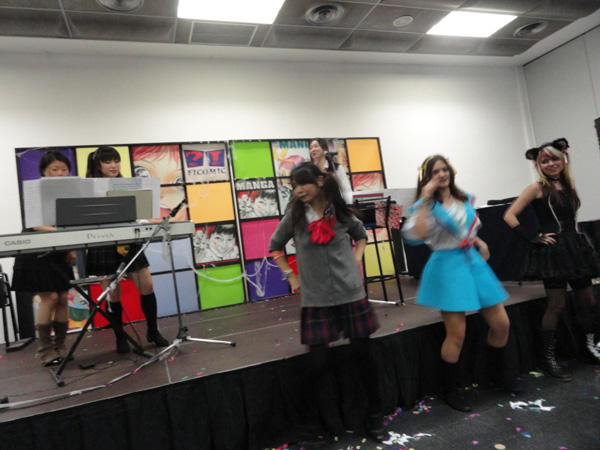 Anime song performance by four Japanese musicians
Watching the cosplayers, I noticed that many of them were characters from One Piece, Naruto, or from other manga for boys, but there were also some old favorites such as Lum-chan from Urusei Yatsura (though she didn't chirp "Darlin' matsuccha (Darling, wait)!") or people dressed up as samurai, complete with katana swords. (Last year, there was even a guy dressed up as a Shinsengumi samurai, with the top of his head shaved and his remaining hair tied back in samurai hair style!) Crayon Shinchan is also rather popular in Spain, which is interesting because apparently it doesn't quite have the same appeal in other countries.
I asked Salón del Manga director Carles Santamaria why he had become a Japanese manga and anime fan, and he immediately replied, "Because of Heiji! Heiji!" Obviously not Zenigata Heiji, the fictional coin-throwing policeman of the Edo era. Carles actually meant Heidi, from the anime program Heidi, Girl of the Alps, whose name is pronounced "Heydee" in Spanish. Although Carles is a middle-aged man with the kind of rugged features that could send a child into tears (sorry, Carles!), he looked really happy, beaming with smiles as he spoke. Maybe he was replaying in his mind the scene where Clara started to walk. He also went on to mention Maruko (that is to say, Marco from 3000 Leagues in Search of Mother, and not Marco Pagot or Chibi Maruko-chan), Dog of Flanders, and a whole list of other familiar shows from Calpis Children's Theater. It was a reminder that the manga anime boom we see today has its roots in the Japanese television cartoons of the 1970's. It would be interesting to do a comparative study to see which anime or manga are popular in each country and explore the cultural factors behind the differences.
The Japan Foundation, Madrid has also had its own booth at the Salón del Manga since 2010. In 2011, we helped people have fun learning Japanese, introducing two websites, "Erin's Challenge! I Can Speak Japanese" and "Japanese in Anime & Manga." Our attendants were mainly university students majoring in Japanese, who were delighted to have the chance to show off their language skills. We also had full-size figures of the main characters in the programs, Erin, Honigon, Agnam, and Emina, standing at the doorway, and this helped attract people to our booth. Many families stopped by to take pictures, and so, we've already become a popular draw!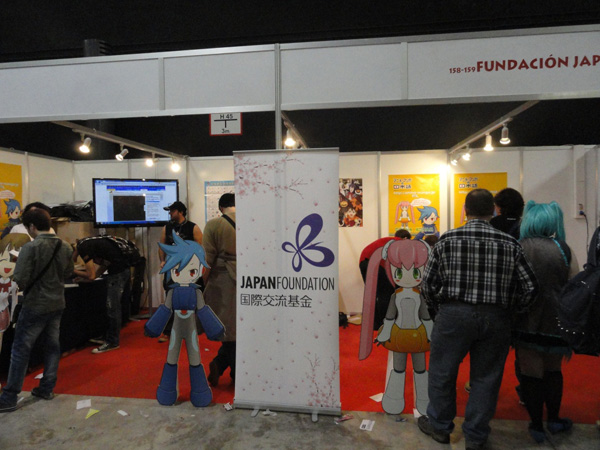 The Japan Foundation Booth
We also asked Morinosuke Kawaguchi, whom we had already invited to speak at a separate event, to give a talk at the 2011 Salón del Manga and sit on the judges' panel for the Cosplay Summit. Kawaguchi is an expert on otaku subculture as well as on monozukuri, the Japanese art of making things. Since the Cosplay Summit winner becomes the Spanish representative for the World Cosplay Summit in Nagoya, competition among the teams was intense. Kawaguchi was thoroughly impressed with the level of cosplayers and otaku in Spain, showering them with praise, and saying that Japanese otaku should also come and see this for themselves! The Japan Foundation also took the opportunity to introduce some typical products of Japanese monozukuri manufacturing, including cute deco-kei goods such as decorated cell phones, relaxing iyashi-kei toys like Mugen Edamame (soybeans that you can pop out of the pod an infinite number of times), and useful benri-kei products including ultra-convenient stationery articles of all sorts (using paper files or staplers made in other countries can be just agonizing), which fascinated the visitors. If a talented traveling salesman like Tora-san peddled these fun and handy only-in-Japan items, I'm sure they would sell like hotcakes.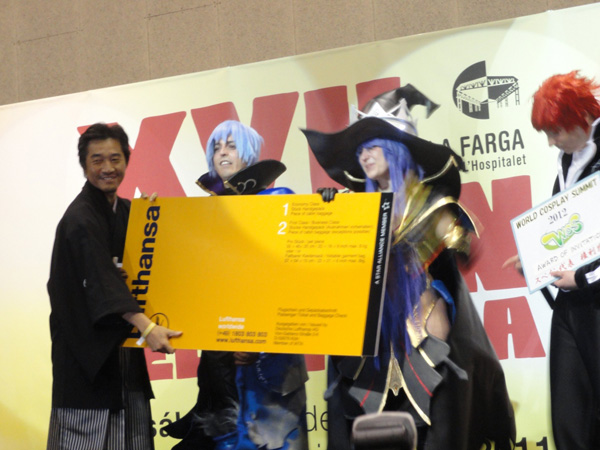 The Cosplay Summit winner is the Spanish representative for World Cosplay Summit
Writers, business people, otaku of Japan, if you should visit Spain, come to the Salón del Manga in Barcelona. You're sure to make a fun discovery or find something that will make you smile!