Mizore (sleet)--Koji Suzuki in Moscow--
Anastasia Pushkova
Japanese Culture Department "Japan Foundation" of the All-Russia State Library for Foreign Literature
The month of November in Moscow is marked by gloomy, dispiriting weather. The days grow increasingly short, and sunny days are few and far between. Icy winds chill you to the bone, and something between rain and snow falls from the sky every day. If you catch a cold at this time of the year, it takes forever to get rid of it. It is that kind of truly bleak weather.
"This is mizore (sleet). That is what we call it in Japanese."
The man sitting beside me in the car that was slowly making its way through one of Moscow's infamous traffic jams was Koji Suzuki, author of the horror novel Ring.
"Mizore?"
"That's right. This mixture of rain and snow is mizore."
With the name mizore attached to it, the view outside the car window instantly became a little less grim to me.
We were heading to the Non/Fiction, Moscow's annual international book fair now in its 13th year. The event is highly anticipated by Muscovites, who are avid readers, and every year the Japan Foundation arranges for one Japanese writer to participate. This year, Koji Suzuki was selected as the guest. As one would expect with an internationally acclaimed writer, Mr. Suzuki's schedule in Moscow was packed with back-to-back interviews, in addition to two lectures. During the lectures, the interviews, and the time spent in the car moving from venue to venue, he was always smiling and enthusiastic, and was happy to share numerous stories with me.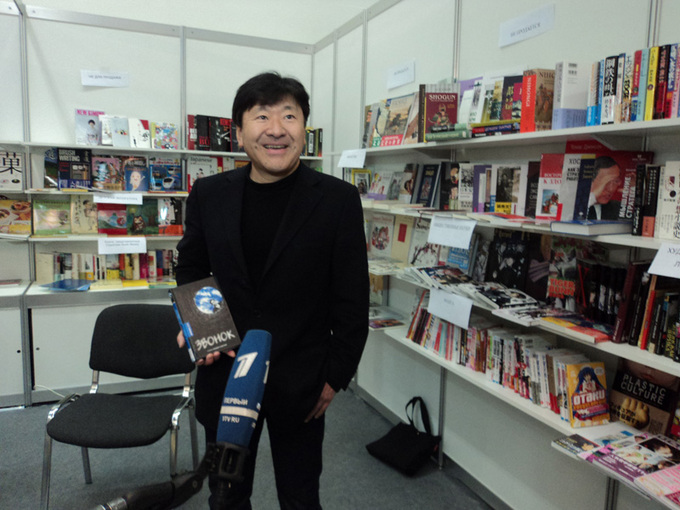 As a child, Mr. Suzuki had set himself three goals. The first was to eventually marry the girl he was in love with at the time, his first love. The second was to become a best-selling writer. The third was to cross the Pacific in the yacht that is his passion. He has already accomplished the first two admirably: he married his first love and the couple has been blessed with two daughters. In spare moments between taking care of the children, he wrote the novel Ring, which later became a bestseller. He says it is only a matter of time before he achieves his third goal of crossing the Pacific. He also spoke about a plan he had made ten years ago: to travel to Russia via his favorite yacht and the Siberian railway, meet Vladimir Putin, and help deepen the friendship between Japan and Russia.
Mr. Suzuki majored in French literature in college, but he is also well-versed in other disciplines such as physics, philosophy and mathematics. He spoke fervently, gesturing expansively, about his desire to understand how the world works, and to know everything there is to know about how human beings originated and where they are headed.
Everyone who met Mr. Suzuki, including the students who attended his lectures and the reporters who interviewed him, was captivated by his enthusiastic speech and drawn in by his warm aura. Following each lecture, he would take the time to patiently answer the seemingly endless questions from the audience. Before and after the lecture, he mingled with the fans waiting for him around the hall entrance, posing for photos, autographing the books and pictures they brought, striking up casual conversations.... And he was all smiles, the whole time.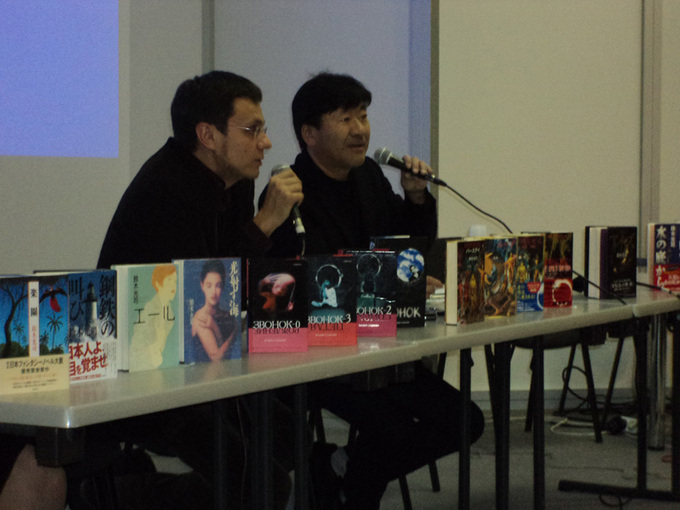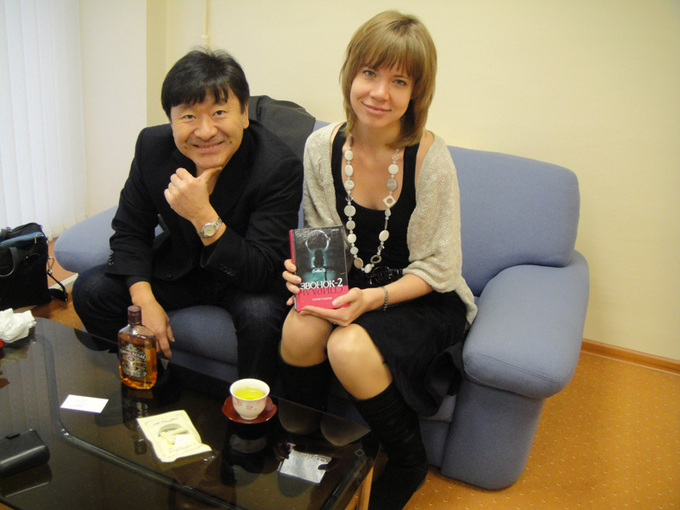 The secret of his vitality, I found out, was not only his relentless curiosity towards everything around him, but also owed something to another habit: the nap! That's right, whenever he had a few free moments, after an interview or before a lecture, Mr. Suzuki would find himself a cozy spot and have a snooze. "Naps are great," he remarked, "Get a short doze, and you are completely recharged." His favorite nap spot, by the way, was the small conference room in our office.
On the morning of his departure, I noticed that Mr. Suzuki, checked out of the hotel and ready to go, was carrying just one small bag. He said he did not like carrying luggage. After taking his signature nap in the office on his last day in Russia, he said, laughing: "Russia is a fine country. Any place that lets you take a good solid nap is without question a fine country." With that, he flew back to Japan.
One time, said Mr. Suzuki, he had looked back on his life in the course of writing a serialized autobiographical novel for a newspaper, and he realized how fortunate he had been. Winter is slow to arrive in Moscow this year. There is no snow on the ground yet. But every morning when I see that wet stuff halfway between rain and snow falling from the dark, grim sky, the word mizore pops into my mind. Mr. Suzuki taught me that in any situation, you can turn things around if you just change your perspective, and that dreams will come true as long as you don't give up. I am ready to face the day!