Towards the Development of Japanese-Language Education in East Africa--First Conference of Japanese Language Education in Kenya
Jun Arisue
Japanese-Language Specialist, The Japan Foundation
(Dispatched to Kenyatta University)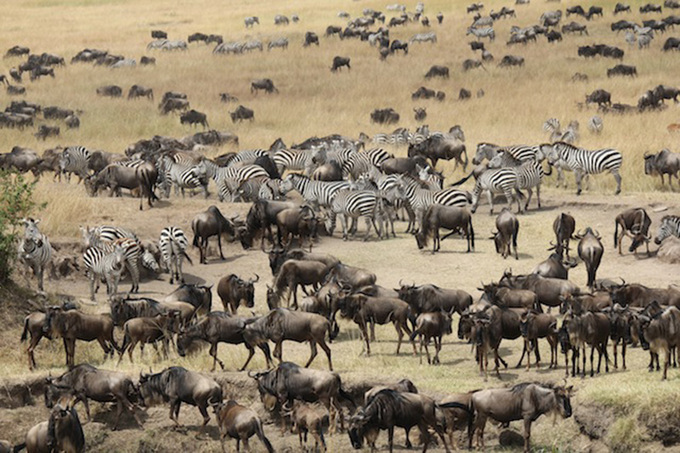 What comes to mind when people think of Kenya? No doubt they picture lions and elephants racing across the broad savannah that stretches to the horizon, or the proud Masai people. This is certainly one aspect of Kenya. In fact, giraffes, zebras, lions, and other animals go peacefully about their lives in a national park just next door to the capital of Nairobi.
At the same time, however, Nairobi is East Africa's most international city. This metropolis with its skyscrapers and population of three million lies only a short distance from where these wild creatures make their home.
And Kenya is actually one of the leading centers for the development of Japanese-language education in sub-Saharan Africa, boasting approximately 1,000 students of the language.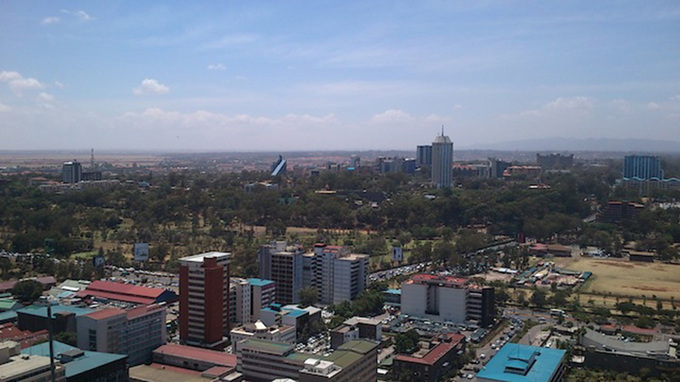 As such, Kenya naturally became the host for the first convention of Japanese-language teachers in sub-Saharan Africa, and the "First Conference of Japanese Language Education in Kenya" took place on the weekend of August 4-5, 2012, organized by the Japanese Language Teachers' Association of Kenya (JALTAK), in collaboration with the Japan Information and Culture Center of the Embassy of Japan in Kenya, and sponsored by the Japan Foundation.
The theme of the conference was "Organizing Course: From Course Design to Evaluation." Guest speakers were Sukero Ito, professor at the Japanese Language Center for International Students, Tokyo University of Foreign Studies, who gave the keynote address, and Yoshifumi Murakami, Japanese-Language Senior Specialist at the Japan Foundation, Cairo, who conducted a workshop. In addition to attendees from Kenya, a total of 24 participants included native Japanese and local teachers from East African countries such as Ethiopia, Uganda, and Madagascar where the Japanese-language is being taught. Comments from Tanzania and Sudan were also read on behalf of the representative of those countries.
Absence of academic conferences or research meetings for Japanese-language education in East Africa
On the first morning of the conference Professor Ito delivered his keynote address titled "Language Instruction and Testing," in which he discussed the close relationship between instruction and tests, looking at how to create tests and set goals in order to structure a course efficiently.
Professor Ito's gentle manner of speaking mingled with humorous remarks made his subject matter easy to grasp, and his talk was extremely well-received by the non-native teachers (local teachers whose mother tongue is not Japanese) who have little chance to hear lectures in Japanese and therefore appreciated this learning opportunity. His kindness was also evident in the Q&A period after the lecture, where he thoughtfully responded to questions from the audience one-by-one.
The afternoon session was packed with a variety of contents, featuring research presentations and practice reports on topics such as E-learning, Japanese for tourism, and a comparative study of Swahili, English, and Japanese. For East Africa, where there are no academic conferences or research meetings for Japanese-language education, this was a rare and valuable opportunity.

(Left) Professor Sukero Ito, (Right) Research presentation and practice report
That evening, we went to a local restaurant near the conference venue for a meal of nyama choma, Kenya's national dish. In Swahili, nyama means "meat," and choma means "grilling," so it is basically a kind of Kenyan barbecue. Goat meat nyama choma is a particular favorite among Kenyans. It is served very simply, seasoned only with salt. In addition to goat, we had chicken nyama choma, the Kenyan staple ugali (made from corn flour kneaded with water), a salad known as kachumbari, and other typical Kenyan dishes that had all the guests smacking their lips. The outdoor restaurant was jam-packed on a Saturday night. We enjoyed our dinner surrounded by the noise of the crowd and local music, amid the atmosphere of a weekend night in Kenya.
Sharing updates on the current status of Japanese-language education in East Africa
On the second morning, Yoshifumi Murakami, a senior specialist of Japanese-language, conducted a workshop on "My First Teaching Plan." Based on the typical flow of a class, workshop participants had to come up with a real lesson plan. This was a highly practice-oriented session, in which participants were divided into four groups to create a plan, and then actually give a lesson, with other teachers playing as students. In some cases, Kenyan and Malagasy participants ended up teaching Japanese to native Japanese speakers, which is not a common sight. Those playing the role of student sometimes made deliberate mistakes, to see how the teachers would react. Laughter broke out from various corners of the room, and the workshop was a lot of fun for all.
The final session, "Japanese Language Education in East Africa" was held after lunch on the second day. First, participants from each nation gave a report on the current status of Japanese-language education in their country. Many countries in East Africa only have a single institution for Japanese-language education (Uganda, Tanzania, Sudan, Ethiopia), and, with the exception of Ethiopia, senior volunteers are dispatched from JICA to those countries and also to Kenya.

Scenes from the workshop
On the other hand, in Kenya and Madagascar, there are between 1,000 and 1,500 people studying Japanese. Facilities for Japanese-language education include universities and other institutes of higher learning, as well as elementary and middle schools, and private language schools.
However, in all of the East African countries, the majority of students are at the beginners level. With no real specialized courses available, Japanese-language education still remains in the developmental stage.


(Left) Kenyatta University, (Right) A class at Kenyatta University
After sharing updates through the reports from representatives of their respective countries, a round table discussion was held. Professor Ito and Mr. Murakami offered many pieces of advice based on their extensive experiences, as the Japanese-language teachers from various countries talked together for about an hour and a half, promising to continue working together in the future.
This was the first time that people involved in Japanese-language education in East Africa had the chance to meet together under one roof, to study and engage in discussion with the company of specialists. As such, the conference was an important first step toward network building and cooperation for the years ahead.


(Left) Professor Sukero Ito and Japanese-Language Senior Specialist Yoshifumi Murakami
(Right) Round table discussion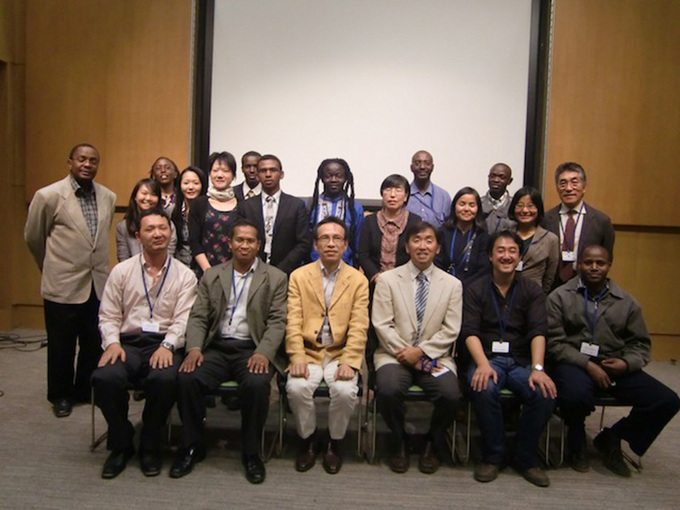 Group photo with representatives from their respective countries