Japanese-Language Proficiency Test (JLPT) Is Fast Approaching! ~German, Indonesian, and Taiwanese Talk about What Makes Japanese-Language so Special
The Japanese-Language Proficiency Test (JLPT) has a 29 year history and is the largest comprehensive test of Japanese-language test skills for non-native speakers. The Japan Foundation administers the test being held outside of Japan.
The July 2013 JLPT will take place in 101 cities in 21 countries and regions abroad, and 42 prefectures in Japan, on July 7. This time, nearly 300,000 Japanese-language learners have registered for the test.
Prior to the exam, three JLPT test-takers, currently living in Japan, from Germany, Indonesia, and Taiwan talked about Japanese-language, culture, and the JLPT.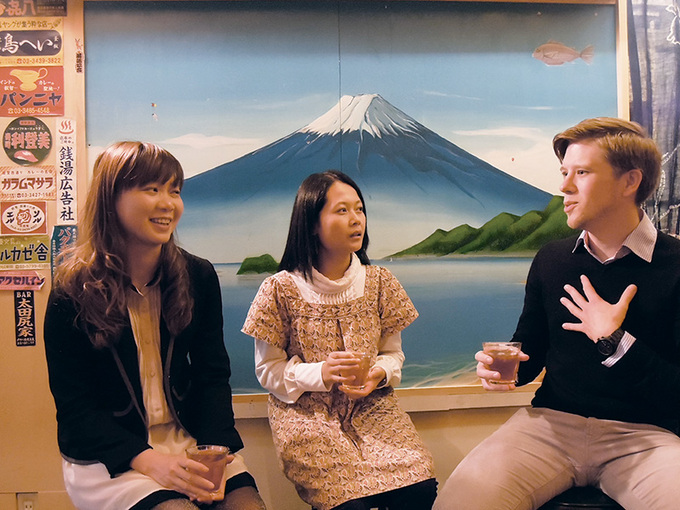 From left: Lo Pei Wen, Ratna Sari, Oliver Kuehne
Oliver Kuehne (30)
From Muenster, Germany. Likes Japanese manga and anime. Studies Okinawan literature at the Graduate School of Waseda University.
Ratna Sari (29)
From Jakarta, Indonesia. Came to Japan in 2008. Will join a printing company in Saitama next month. Wants to serve as a bridge between Japan and Indonesia.
Lo Pei Wen (30)
From Taipei, Taiwan. Moved to Japan in 2011 after working life in Taiwan. Currently working in Tokyo. Likes to visit festivals on weekends.
Why Study Japanese?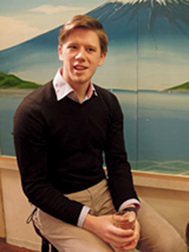 Oliver Kuehne: I've been a big fan of Japanese anime and manga since I was little. In Germany, Japanese animes are shown on TV everyday. When I was five, I loved "Heidi," but at the time, I didn't know it was a Japanese anime. Later when I found out, it made me want to learn more about Japanese pop culture and to study the language and traditional culture of Japan.
Ratna Sari: Animes and dramas are also popular in Indonesia, such as the anime "Doraemon" and the TV drama "Oshin." I always imagined Japanese people to be hard-working and serious like the main character of Oshin.
Lo Pei Wen: When I was in high school, Japanese dramas starring Takuya Kimura were popular in Taiwan. Also, Japanese home appliances are very popular. I grew up surrounded by Japanese appliances, such as rice cookers, refrigerators, and air conditioners. I started studying Japanese because I wanted to be able to read the manuals for the appliances.
Gateway to Education and Employment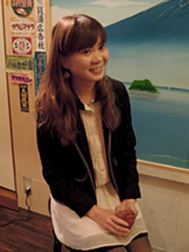 Pei Wen: Initially I studied Japanese on my own. I started studying Japanese seriously after entering college.
Oliver: I also started studying Japanese in college. In German schools, there weren't many opportunities to study Japanese.
Pei Wen: I studied Japanese literature at college. They didn't let you graduate unless you passed JLPT Level 1 (old test).
Ratna Sari: The JLPT qualification was also very important when I applied to the company that I will start working at next month.
Pei Wen: Companies almost always ask about JLPT when you apply for a job in Japan.
Ratna Sari: To work in Japan, the JLPT qualification is the second most important thing after your passport!
Oliver: I had to pass the N2 level or higher in order to come to study in Japan.
Ratna Sari: The qualification is also important when going back home to find a job, since there are many Japanese companies in Indonesia. My friends are studying hard too, since your salary differs depending on the level you pass. With the JLPT qualification, it must be a great advantage.
Oliver: I feel that the Japanese I learned for the JLPT is more practical and useful for my life here in Japan than the Japanese I learned at school in Germany.
Ratna Sari: Since I started studying for the JLPT, I've been more and more able to understand the Japanese news.
Fascinating Japanese Expressions
Pei Wen: Japanese is difficult because there are lots of ambiguous expressions. Even at work, sometimes I don't know what my colleagues are trying to say. Like, what exactly do you mean by "that may be so"?
Oliver: True. Unlike German and English, verbs come at the end of the sentence in Japanese, so you don't know what the other person is trying to say until he or she finishes talking.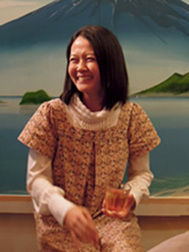 Ratna Sari: I love Japanese onomatopoetic expressions. I had no idea what the difference was between "pika pika" and "kira kira."
Pei Wen: There is no difference such a distinction in Taiwan, either.
Oliver: Same in German. But I think I understand the implications of such subtle differences in expressions. I think it's amazing that a concept that would require an exhaustive description in German can be expressed using a single sentence in Japanese. My favorite Japanese expressions are the seasonal greetings at the beginning and end of letters. There are greetings for each season; for instance, in the summer, you can say "the summer heat is still intense."
Ratna Sari: Indonesia does not have four seasons like Japan, so there are no seasonal greetings.
Oliver: Germany has four seasons, but in letters you get to the point straight away. But it feels friendlier to have such a greeting before you start writing. I feel that you develop closer ties with another person when acknowledging that you live in the same season.
The More You Know About Japan...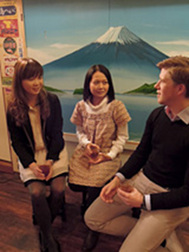 Pei Wen: The four seasons in Japan are beautiful--cherry blossoms in the spring, fireworks in the summer, autumn leaves in the fall, and snow in the winter. I enjoy the differences and changes of each season.
Oliver: There are many things you won't be able to know unless you live here. I briefly stayed in Kyoto before my current stay, and I thought that there were lots of temples and old buildings everywhere in Japan, just like in Kyoto. The sight of all the Tokyo skyscrapers was so different from Kyoto and gave me a culture shock.
Ratna Sari: I did a home-stay before, and I was so happy that my home-stay family treated me like a real family member. The Japanese mentality and etiquette that they taught me have benefited me to this day.
Pei Wen: Before coming here, I didn't know that there were so many festivals in each region.
Ratna Sari: Me neither. In Indonesia, there are no town festivals, so the "bon odori" that is held almost weekly in neighborhood parks in the summer surprised me.
Oliver: The more I learn about regional traditions, culture, and history in Japan, the more interesting it gets. Right now, I am interested in Japanese historical novels and dramas. I passed the N2 level, and can understand daily conversation and contemporary dramas. I am now studying to pass the N1. My next goal is to understand the NHK historical dramas!
*This article is from JLPT Bulletin 2013, published in January 2013. For Japanese-language learners, the same article, written in Japanese with furigana (small kanas above kanji characters, indicating their pronunciations), is also available.
Test dates
2013 JUL. 7 (sun) / DEC. 1 (sun)
*Some cities only offer one date. Contact the city's host institution for details.
Introduction to JLPT
The Japanese-Language Proficiency Test (JLPT) is a test to evaluate and certify Japanese-language proficiency of primarily non-native speakers. In addition to evaluating language skills, the JLPT results are now used in more diverse ways in many countries where the test is administered, for example, as a requirement for university entrance examinations and qualification tests, and as criteria for screening job applicants and making decisions about promotions and pay raises. Japan Educational Exchanges and Services administers the test in Japan, and the Japan Foundation administers the test overseas with the cooperation of local host institutions. In Taiwan, the Japan Foundation and Interchange Association jointly administer the test.
Official website
The list of test site cities and a collection of sample questions are available on the Official Worldwide JLPT website. http://www.jlpt.jp/