How 1,276 Indonesian Youth Competed for Disaster Education Trip to Japan
Khemal Sundah Prasasti (The Japan Foundation, Jakarta)




Meet and learn from Active Indonesian Youth Working for Disaster Education! Report from the Youth Competition for Disaster Education 2013



 The Japan Foundation, Jakarta held the second Youth Competition for Disaster Education in 2013. The submission of application for Youth Competition for Disaster Education Program started on November 29 and ended on December 17, 2013. This program was created in line with the reality faced by Indonesia and Japan, as they share similar characteristics regarding natural disasters. They also share the same kind of awareness of the importance of disaster education to create disaster resilient communities. To be specific, after the Great East Japan Earthquake on March 11, 2011, people realized that there are important values can be learnt and knowledge can be acquired from crisis situations. They can be used to prepare for disasters in the future.

 Young people are believed to become agents of change who will have important roles in the future. In Indonesia, there is an increasing tendency for them to be interested and participate in various social issues. Among diverse social issues, disaster-related ones are that they pay a lot of attention to.

Seeing this tendency and feeling momentum, the Japan Foundation, Jakarta encouraged youth to participate proactively in the disaster reconstruction process, especially in disaster education. Through the Competition, it is hoped that the youth will be able to raise disaster awareness and lead educational movements in their local community. Six teams, or 24 individuals, would be rewarded a 10-day trip to Japan, where they would have a chance to visit the disaster damaged areas, do volunteer activities, and experience daily life of people in Japan.

 We received applications from 319 teams, which are 1,276 individuals applying from all over Indonesia, as each team is consisted of four individuals. Most of the participants came from Aceh, Yogyakarta and Bandung. This is because these cities experienced natural disasters in recent years. The surprisingly high number of participants, almost doubled from the previous year, shows the fact that the disaster awareness of Indonesian youth is quite high throughout Indonesian archipelago. They are the ones who already have hands-on experience and yet willing to learn more and grow farther by joining this program.

 On December 18 and 19, 2013, the committee conducted the screening process as the first round of selection. 26 teams became the finalists of the Youth Competition for Disaster Education after the screening. The Finalists were expected to prepare a video for the final round.  The 26 finalist groups were competing with each other, aiming to become one of the successful six groups who would go to Japan in early March 2014. This time, the competition was quite severe, as only 26 groups are selected for the final round among 319 teams applied. What surprised us was that all the videos made by the finalists were actually beyond our expectation. They had to make a video which shows a concrete plan and action of the team in making their target community more prepared in case of a natural disaster. They uploaded their video to YouTube and we linked their video to our Facebook page to get their message goes more viral.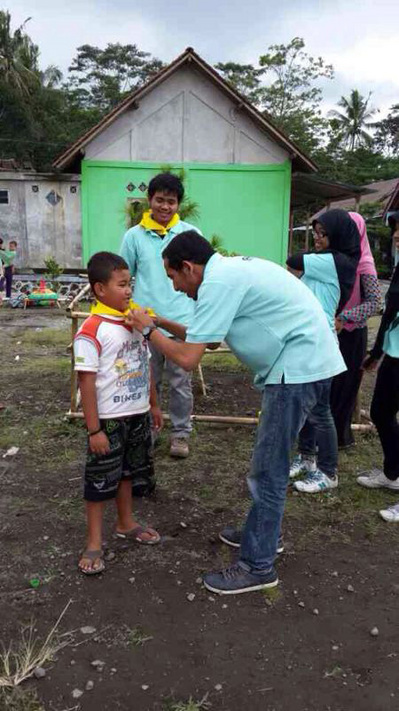 GAMARSA from Yogyakarta giving children disaster education

The six winning teams are as follows:
Geumeutoe (Banda Aceh)
Life for Share (Banda Aceh)
GAMARSA (Yogyakarta)
Global Issues Observer (Yogyakarta)
Landslide Mitigation Team (Yogyakarta)
KORSA-2 (Bandung)

 Two of the six winning teams, Global Issues Observer and Life for Share focus their activities on disabled people, particularly visually impaired people, as they are vulnerable and need more attention. They do not know little about prevention or experience disaster drills before. They need different disaster mitigation measures and contingency planning from ones for able-bodied people.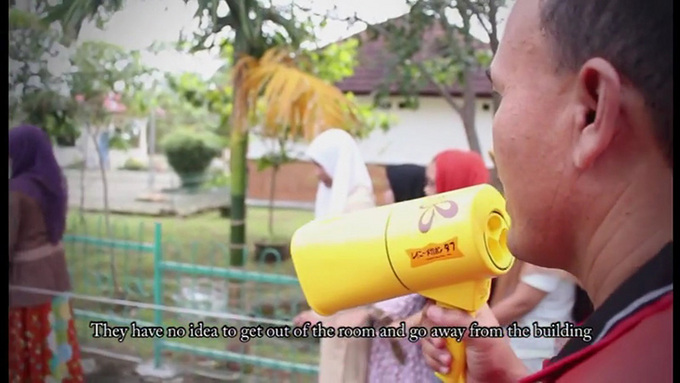 Life for Share using ropes to help visually impaired people find the safest route for evacuation
*The yellow megaphones (Jetproof Type Handheld Megaphone TS-521) used in the videos for disaster prevention trainings were donated by Noboru Electric Co., Ltd., a Japanese corporation whose headquarter is in Osaka, Japan.

One of the other winning teams Landslide Mitigation Team focuses their activities on mitigation skills that are necessary for people living in a landslide-prone area.

The rest of the winning teams, GAMARSA, Geumeutoe, and KORSA 2, focus their video project on children. Among people at risk, they chose children as the most vulnerable group. It is because they might not have enough knowledge on what volcanic eruption is like and what can be a threat to them. So disaster education to children from an early age would give them a better understanding and preparedness of disaster, and build a sense of caring for each other.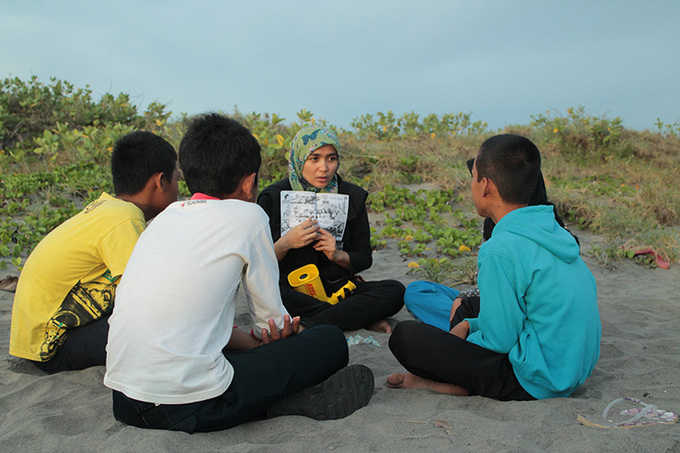 Team KORSA-2 give children disaster education for coastal areas



You can watch the very interesting videos of our six winning teams:
• Geumeutoe (Banda Aceh):


• Life for Share (Banda Aceh):


• GAMARSA (Yogyakarta):


• Landslide Mitigation Team (Yogyakarta):


• Global Issues Observer (Yogyakarta):


• KORSA -2 (Bandung):


We hoped that this competition and program will be able to sustain and strengthen the bonds of friendship between the youths in Indonesia and Japan, and make the best use of them in disaster reconstruction process.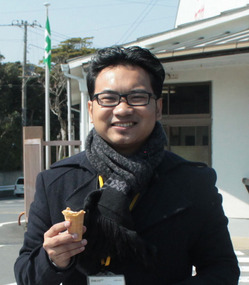 Khemal Sundah Prasasti
(The Japan Foundation, Jakarta)