FC Tokyo and Indonesian youths take on a big challenge
A new endeavor for J-League
Children kick a football on a bright afternoon in the sweltering heat, with temperatures in excess of 30 degrees Celsius. Fathers and mothers watch from the sidelines--perhaps an everyday scene in Japan, but here, after 3:00 p.m., the sound of the adhan can be heard calling Muslims to prayer at a nearby mosque. This is the Republic of Indonesia, the most heavily populated country in the Association of Southeast Asian Nations (ASEAN), and these kids are practicing football under the watchful eye of their 26-year-old Japanese coach, Yu Komiyama.
Komiyama is a professional coach affiliated with FC Tokyo, a powerful team in the Japanese professional football league, J-League, with experience coaching elementary school children and other developing players. He has been in Jakarta, the capital city of Indonesia, since August 2017, and will spend about one year mentoring local children. This is the first time a J-League team has dispatched a coach to an ASEAN country for a prolonged period.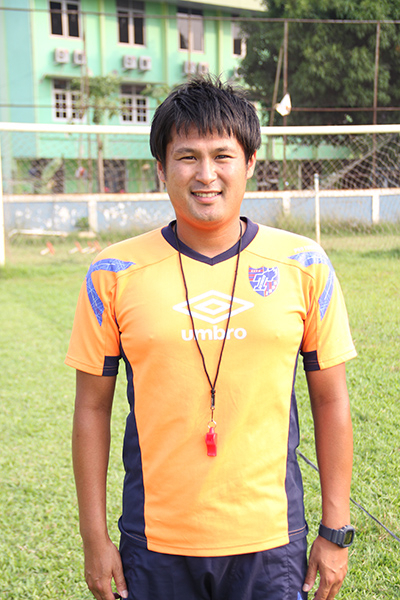 It all started with a short-term stay
Komiyama's journey began with the short-term football coaching program* sponsored by the Japan Foundation Asia Center and the J-League. In 2014, the Asia Center signed a memorandum detailing football-related exchange programs as well as a cooperative project in Asia involving the Japan Football Association (JFA) and the J-League. The project spans many activities, the most important of which is the short-term football coaching program held in ASEAN.
FC Tokyo coaches working in player development have been utilized six times in Indonesia since January 2016. Through coaching, they helped establish trusting relationships with local football academies and build the foundation of a longer-term project, a step which was earnestly requested by Indonesian coaches.
The budding potential of Indonesian football
Komiyama coaches the Bina Taruna Football Academy (BTFA) based in eastern Jakarta. BTFA was formed by members of the Indonesian customs houses in 1972, and now has around 150 members ranging in age from 8 to 18. It has gained fame as an academy with superior training capabilities; all players 18 years or older who graduated from the academy in 2017 were signed by professional teams in Indonesia.
Komiyama now coaches a wide range of age groups, including U17, U14, and U12. When asked about his impression of coaching in Indonesia, Komiyama replied, "I got the sense that systematic guidance isn't provided." He feels that Indonesian youths, compared with their peers in Japan, need to work more on fundamentals such as stopping and kicking the ball, and on making a good decision about when to use the right technique for the right situation. On the other hand, he asserts that, "Physically, the children of Indonesia are well equipped" and praises them, saying, "the players of this country have the potential to surpass Japan if they can learn how to take advantage of their physical capabilities and play smart."
The coaching methods employed at BTFA might appear identical to those in Japan. However, when asked, Indonesian coaches often make comments like, "we conduct our practices by imitating videos we see on YouTube." This indicates that even though they hold practices there is a lack of direction at the coaching level. Boni Safrudin Wijaya (35), a coach who himself graduated from BTFA, praises Komiyama's coaching--"Each step in a practice led by Komiyama is meaningful and creative. He uses a lot of really effective practice techniques, each of which taught me a lot."
Proud to be an academy graduate
A graduate of FC Tokyo Academy, Komiyama experienced high-level coaching as a member of the FC Tokyo youth team. In college, he continued to play football and upon graduation, was selected to return to FC Tokyo as a coach. He says that he had originally intended to move as a player from a regional league to the J-League, and even received an offer to play on a team now affiliated with the J-League. In the end, however, he decided to specialize in a role different from that of a player and switched over to coaching. He took up his present post because of a personal wish to visit Indonesia for a long period.
When Komiyama attended FC Tokyo Academy, he learned more than football techniques--he also gained an appreciation for the "importance of thinking for oneself" and the "value of the bonds formed by the academy." He looks ahead to the future, telling the children of the BTFA, "I want you to graduate with pride in having been trained at BTFA. That's why I want to coach you positively and patiently."
Entering the World Cup together in 2026
The goal of this long-term football coaching program dispatching coaches from FC Tokyo is to improve the level of competitive football within Indonesia, and thus build the foundation for an Indonesian presence at the World Cup finals in the future.
In January 2017, the Fédération Internationale de Football Association (FIFA) decided to increase the number of World Cup participants from 32 countries to a total of 48 in 2026. The number of countries from Asia will also be boosted to 8 from the current level of 4 or 5, providing ASEAN members with greater opportunity to take part in the World Cup.
Junior and senior high school students who are now coached by Komiyama will, in 2026, be in their mid-twenties and most certainly be core members of the national team. Two BTFA members, who were mentored by Komiyama and visited Japan to take part in practices with the FC Tokyo youth team, have been very successful, earning slots on the Indonesian U19 team.
Indonesian children who have been taught by Japanese coaches will likely become members of the national team, and the Japanese and Indonesian national teams will play together during the World Cup. In Jakarta, the first chapter of that story has begun; it is now more than a dream.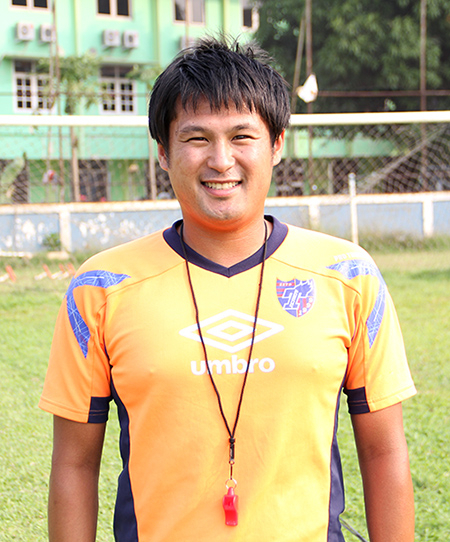 Coach Yu Komiyama from Japan
Originally from Tochigi Prefecture, Komiyama continued to play football at the National Institute of Fitness and Sports in Kanoya after leaving FC Tokyo U-18. When he graduated from university, he became a coach at FC Tokyo Soccer School, specializing in U12 football education. He holds a JFA-certified Class B license.
◆ Author: Jin Fujimoto
Fujimoto works for the Japan Foundation, Jakarta as an overseas coordinator of the Japan Foundation Asia Center. As a high school student, he was a member of the J-League youth team and participated in a national tournament. He has been in Indonesia for four years.
*Short-term football coaching program
Sponsored by the Japan Foundation Asia Center and J-League, the short-term football coaching program is an initiative intended to improve football skills in the ten countries of ASEAN and deepen relationships between those countries and Japan by dispatching Japanese coaches to help develop young football players. One J-League team is assigned to one country. The project is tasked with improving the technical ability of young players while simultaneously allowing them to experience Japanese football and culture firsthand. Conversely, it also aims to help Japanese coaches and staff to understand each country and expand the range of their activities. The program started in 2015 and is scheduled to continue until 2020. Since 2016, participating players, coaches, and staff mainly from priority countries (Thailand, Vietnam, Malaysia, Indonesia) have been invited to Japan for short stays to strengthen networks and expand interchange with Japan.

The short-term football coaching program is being conducted as part of the Football Exchange Project in Asia run by the Japan Foundation, JFA, and J-League. See the following website for more information about this exchange project.
http://jfac.jp/en/culture/projects/asia_football/