Report: Centre Pompidou-Metz "Japanorama: A new vision on art since 1970" debriefing session
Building up to "Japonismes 2018: les âmes en resonance," the Japan Foundation held the exhibition "Japanorama: A new vision on art since 1970" from October 20, 2017 to March 5, 2018 at Centre Pompidou-Metz (Metz, France). On February 7, the exhibition's curator Yuko Hasegawa (Artistic Director, Museum of Contemporary Art Tokyo and Professor, Tokyo University of the Arts' Graduate School of Global Arts) held a debriefing session at the Japan Foundation's Tokyo headquarters. Noboru Takayama, Kohei Nawa and Haruka Kojin, whose works were displayed at the exhibition, also participated. The session featured candid discussions between these artists from different generations and fields.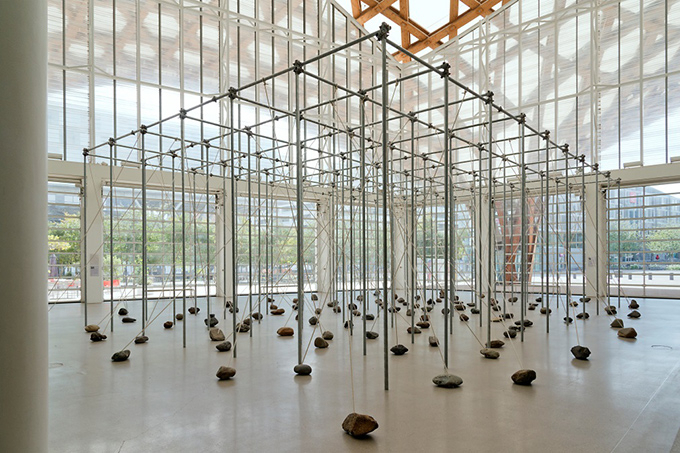 Kishio Suga "Law of Peripheral Units" (1997/2017) on display at Centre Pompidou-Metz.
©Kishio Suga
©Centre Pompidou-Metz/Photo Jacqueline Trichard/2017/
This exhibition aimed to present a bird's eye view of Japanese contemporary art and visual culture since the Japan World Exposition Osaka 1970. It was a large-scale event, introducing over 350 works by approximately 100 artists/groups, and served as the core exhibition of Centre Pompidou-Metz's Japanese Season (September 2017 to May 2018). More than 100,000 people visited the exhibition.
Hasegawa described how an individual affiliated with a French art museum, noting that French people are familiar with kawaii culture and Zen, said that they would prefer if other topics were covered. She therefore focused on figuring out how to present a depth that went beyond such aspects of Japanese culture. The exhibition's re-presentation of Japan's power as "pop," Zen as "simplicity," and kawaii as lightness, ephemeralness, fragility, and ironic strength was received as intriguing for people in France. The New York Times's review praised the exhibition for going beyond cliché Japan exhibitions of the past.
Hasegawa saw this exhibition with what came next, the period from 1970 to the present day, taking over from the "Japon des avant-gardes 1910-1970" exhibition held at Paris's Centre Pompidou in 1986. The 1970s were the beginning of a transitional period in which Japan was trying to break out of the cultural influence of Europe and the United States. It was a time during which Japanese people were aiming to create their own culture. The country's art world saw the rise of the Mono-ha and Japanese Conceptualist artists.
In the exhibition space, which was designed by Kazuyo Sejima (SANAA), the stone, metal pipe, and rope "Law of Peripheral Units" by Kishio Suga, a leading figure of the Mono-ha movement, was displayed in the ground floor's Forum. Galleries two and three featured six themes uniquely arranged "island"--not in chronological order--each connected to the others and forming an archipelago. These six islands were as follows: "(A) The peculiar object -- The post-human body," "(B) Pop and neo-pop cultures," "(C) Collaboration/Participation/Sharing," "(D) Poetic resistance," "(E) Shifting subjectivity," and "(F) Materiality and minimalism."
Hasegawa said, "In contrast to the architecture and design that, adopting its modernist context, came into existence as a national culture, an all-encompassing theory or discourse does not run through contemporary art: it has developed in an unorganized fashion in relation to various cultures, events, and real-world situations. At the center of it are the forms of individuals' self-consciousness, a physicality that sensitively reacts to real-world environments, as well as the production of knowledge and perception that is linked to this physicality. We could also say that because a consistent discourse did not form, many unique expressions were able to arise." For Hasegawa, this exhibition was "a reconsideration of Japan's contemporary art and visual culture that makes an attempt at a new translation."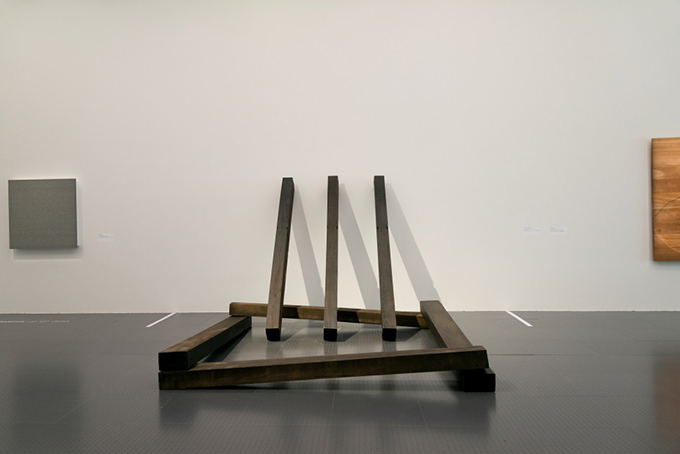 Noboru Takayama "Underground Zoo (Part)" (1969/2003)
©Private collection
©Centre Pompidou-Metz/Photo Jacqueline Trichard/2017/Exposition Japanorama: A new vision on art since 1970
Artist and session participant Noboru Takayama is known for turning spaces into works of art by using railroad ties. Starting from the coal mine pillars and railway ties that he saw during his student days, he approaches them as a symbol of both railroads, which supported modern industry, and the people who were sacrificed for that era. He reflected on the display of his work at this exhibition as well as at the Paris Biennale in 1973, for which he used French railway ties. He also shared how at the time a viewer said that they were reminded of mummies by his piece. Noting that in Japan he basically does not have the opportunity to communicate with viewers in this way, he expressed his opinion that in Japan time is passing by without there being any points of contact between the act of creation/art and viewers.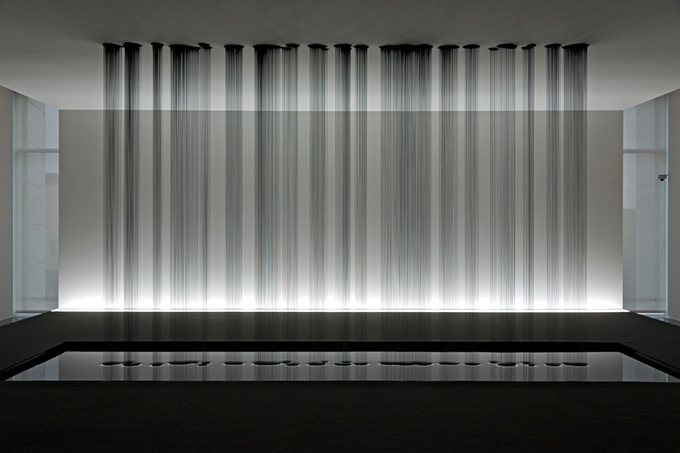 Kohei Nawa "Force" (2016)
Courtesy of the artist
©Kohei Nawa
©Centre Pompidou-Metz/Photo Jacqueline Trichard/2017/ Exposition Japanorama: A new vision on art since 1970
For this exhibition, Kohei Nawa, who noted that he might have been influenced in some way by Takayama's art, displayed a piece that made use of silicon oil. Regarding this exhibition, he said, "There are no others with its scale and critique. Until now, even when an exhibition was held overseas, I was just competing as an individual and was unable to have viewers to understand where I am among Japan's artists. However, I feel like at this exhibition that was finally possible." In addition to stating that participating in this exhibition gave him a good understanding of how he has been influenced by Japan's artists. In the past he was not sure where the center of Japanese art was and where it was emerging from. He also offered high praise for it, stating that it should be held not only in Japan but also around the world.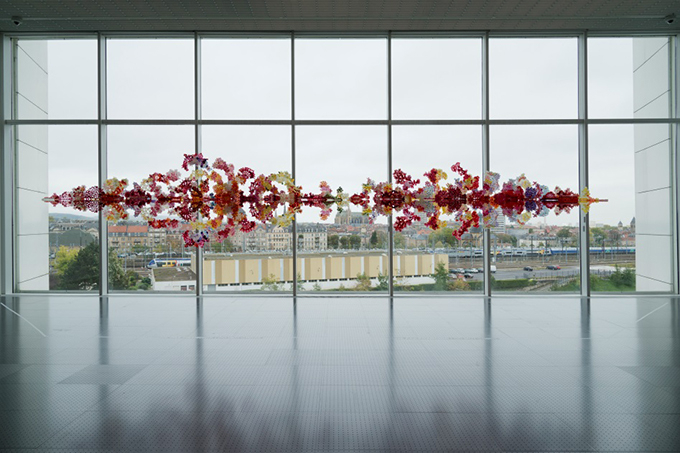 Haruka Kojin "Reflectwo" (2008/2017)
Courtesy of the artist
©Haruka Kojin
©Centre Pompidou-Metz/Photo Jacqueline Trichard/2017/Exposition Japanorama: A new vision on art since 1970
Haruka Kojin said that the exhibition both shared how in France the use of gallery spaces and windows is emphasized and city landscapes valued, as well as communicated the interesting nature of each piece of work on display. With regard to her own work, she was able to have unexpected contingency out of its display.
Concluding the debriefing session, Hasegawa said that she learned through the exhibition there was a difference between when seeing the exhibition and when leaving, also noticed that exhibitions leave audience vague, indistinct states, which lead them back to visiting exhibitions again.
Exhibition catalogue Japanorama: nouveau regard sur la création contemporaine (French, Published by the Centre Pompidou) Available for viewing and loan at the Japan Foundation Library
Please also refer to the catalogue and report of the 1986 "Japon des avant-gardes 1910-1970."
Six Islands and Names of the Exhibited Artists
"(A) The peculiar object--The post-human body"
Yellow Magic Orchestra, Tomoaki Ishihara, Motohiko Odani, Rei Kawakubo, Sputniko!, Dumb Type, Kodai Nakahara, Rhizomatiks, Mariko Mori, Yasumasa Morimura, Genpei Akasegawa, Kazuo Ono, Tetsumi Kudo, Shozo Shimamoto, Atsuko Tanaka, Natsuyuki Nakanishi, Tatsumi Hijikata, Minoru Hirata
"(B) Pop and neo-pop cultures"
Makoto Aida, ANREALAGE, Taro Izumi, Shinro Ohtake, Kyoko Okazaki, Izumi Kato, Teppei Kaneuji, Yayoi Kusama, Haruka Kojin, Aya Takano, Keiichi Tanaami, Tabaimo, Yayoi Deki, Mika Ninagawa, Katsuhiko Hibino, Kumi Machida, Takashi Murakami, Miwa Yanagi, Kenji Yanobe, Harumi Yamaguchi, Yuichi Yokoyama, Tadanori Yokoo, Tsunehisa Kimura, Hiroshi Nakamura, Tiger Tateishi
"(C) Collaboration/Participation/Sharing"
Atelier Bow-Wow, Michihiro Shimabuku, Koki Tanaka, Kosuke Tsumura, Kazuhiko Hachiya, Home-for-All (Minna no Ie), Tokujin Yoshioka, SANAA, wah document, Yoko Ono, Mieko Shiomi, The Play
"(D) Poetic resistance"
Junya Ishigami, Zon Ito, Tsuyoshi Ozawa, Tomoko Kashiki, Yuken Teruya, Koji Nakazono, Yoshitomo Nara, Sou Fujimoto, Fuyuki Yamakawa, mame, Harue Koga, Hideko Fukushima
"(E) Shifting subjectivity"
Nobuyoshi Araki, Rinko Kawauchi, On Kawara, Takashi Homma, hatra, Takuma Nakahira, Daido Moriyama, Eikoh Hosoe, Ikko Narahara
"(F) Materiality and minimalism"
Ryoji Ikeda, Koji Enokura, Tadashi Kawamata, Susumu Koshimizu, Kishio Suga, Hiroshi Sugimoto, Noboru Takayama, Kohei Nawa, Hitoshi Nomura, Tatsuo Miyajima, Tomoharu Murakami, Yohji Yamamoto, Lee U-fan