Tomohiro Maekawa: On Being a Resident Playwright in UK 005
Tomohiro Maekawa
Playwright and director
The day after the cold reading, I met with my director, script advisor and translator. They told me that my script was interesting, but that it needed work so that the audience could understand how interesting it was. We had endless debates. We organized the information, both contained in the script and not. We thought about where it's most effective to put these pieces of information. We made sure the motives behind the main character's actions were clear and thickened the storyline. We also made sure the theme of the play was consistent. All this work was to make it easier for the audience to understand the play. If there's a story you want to tell, you shouldn't slack off on your efforts to tell it. I always keep this in mind when writing my plays, so working with the team was comfortable, stimulating and very productive. (When the translator was there, they would also interpret for me so that I could have deep discussions with the others.)
The week following that was our time for rewriting. We all have single rooms in the dorms, but the kitchen, living room and bathrooms are communal, and I often took my laptop into the living room to work. It gave me a change of pace and a chance to meet the other playwrights. I wanted to have as much time to communicate as possible. I was beginning to get used to English, and I could talk to people more calmly one-on-one. They would ask, "How's your work going?" and I would say, "I'm struggling." Our conversation topics ranged from sports to movies, the cultures of our countries to--obviously--theater. When they asked me, "Are theatrical people in your country able to make a living?" I replied, "Hardly."
Everything that I have rewritten gets translated in a flash and the team takes another look at it, this time in a workshop. For our rehearsal, we use an elementary school that has been closed for summer vacation. My team has seven performers between their 20s and 50s. Under the director's supervision, I exchange opinions with them after every scene. A huge number of questions arise. The director and I discovered a great deal while answering those questions. "Why does this person say this? Why does he do this?" Much like the questions performers in Japan ask, these basic questions ranged from ones that I can answer by explaining to ones rooted in cultural differences. I was interested in how much of a barrier our cultural differences would be. Feelings such as anger and sadness are universal, but some cultures might not be able to understand why someone is angry. All of us were able to understand the play better through the process of bridging that cultural gap. I didn't feel there was any barrier--rather, it was a fun process.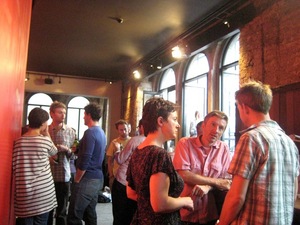 From what I understand, this program doesn't just translate a play into English. It creates a completely original play in English based on the assumption that it will be performed in English. Other than my literary style in Japanese, I don't think there was much that couldn't be translated. In other words, the performers understood the characters and had fun with the events and themes in the play. Our workshop continued from morning to night for three days. We communicated through the play, and understood each other and our backgrounds. I felt that there was a certain level of universality in my work, and was glad. This program will end with the completion of the play. I felt motivated because I sensed that it wasn't impossible for one of my plays to be performed overseas one day.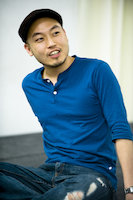 Tomohiro Maekawa
Playwright and director. Maekawa was born in 1974 in Kashiwazaki City, Niigata Prefecture. His style is to use props based on science fiction to bring out the "supernatural" that exists in our daily lives. He formed the theater company 'Ikiume' in 2003 as the base of his activities.He has written and directed a number of plays, including: Sanposuru shinryakusha (The Strolling Invader), Toshokan-teki jinsei (A Library-like Life), Kansu domino (Mathematical Domino), Kikkai--Koizumi Yakumo kara kiita hanashi (Mysterious--Stories I Heard from Koizumi Yakumo), Miezarumono no ikinokori (Survivors of the Invisible Ones), Semakimon yori haire (Enter through the Narrow Gate), and Omote to ura to sono mukou (Outside, Inside and Beyond). Maekawa won the excellent play award and excellent director award at the 16th (2008) Yomiuri Theater Awards, the excellent director award at the 17th (2009) Yomiuri Theater Awards, and the individual award at the 44th (2009) Kinokuniya Theater Awards. He was also given the 60th (2010) Minister of Education, Culture, Sports, Science and Technology's Art Encouragement Prize for New Artists.