Tomohiro Maekawa: On Being a Resident Playwright in UK 006 [Final]
Tomohiro Maekawa
Playwright and director
The three-day workshop ends and my team gathers for another discussion. We talk for a long time in the meeting room and then decide to go down to a café located underneath the theater for a break, but end up talking about the script while drinking our tea. In the evening, we go to see a play, thinking we might be able to use it as a reference. On our way home, we stop at a pub and sip beer while talking about theater. Back in Japan, I used to be cynical about such things, thinking, "How much can you love theater?" But I can honestly say that I enjoy the time I spend with my team. I envy how they pride themselves on being theatrical people. Obviously, there are differences in our cultural and social backgrounds, and you might say that it's just that the grass is greener on the other side. But their attitude toward theater is one of the most stimulating things about my stay here.
The program only helps us edit our plays by pointing us in the right direction, and the actual rewriting takes place in our home countries. Therefore, the program is, in effect, over with the feedback meeting and the workshop, and our schedule for the remaining two days is filled with theater visits, events and parties where we can mingle with local playwrights. We went to the National Theatre, one of Britain's most famous theaters, to see our last play. For the first time in a while, all nine of us went together. Most Japanese people might have found it strange that a group of nine people of different races, nationalities and sexes were together, but it's not an uncommon sight in London. Still, it was fun making idle talk while walking to the theater with them. According to the program director, Elyse, this year's members were especially quick to become friends.
On our way to the theater, the conversation turned to our ages. We've been together nearly a month, but it's the first time we've talked about it. I was alarmed. As I wrote before, I was the millstone around everyone's neck that was terrible at English and couldn't express himself well. At times, I would make people laugh with my broken English, and they would say, "Oh, Tomo...you're hopeless," as they helped me. My English ability determined my place there, and how I was seen. The international community is harsh. So naturally, everyone began to treat me like a boy, and I settled into that role. Despite how I look, though, I'm 36--practically an old man. I wonder how they see me. Asian people generally appear younger than they are and I'm aware of the way they see me, but I don't know what to say when they ask me, "Tomo, are you in your early 20s?" "I knew it," I think to myself. Because of my character, I'd thought it would be nice if we didn't talk about our ages. My declaration of "I'm 36" was met with reactions I had never seen before. They were so shocked that they kept asking me over and over again how old I was. Just as I had imagined, the others were of my age or below. When Lee Hyan, the playwright from the Republic of Korea, kept repeating, "Really??!!" in a loud voice, I mentally thought to him, "You're from East Asia too, so you understand, right? You don't have to be so surprised..."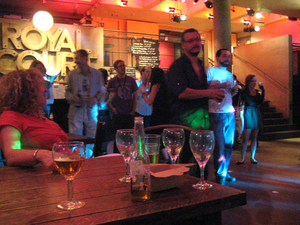 In this way, the last day of the program passed quickly. It was just as I was getting used to English and had become friends with the others, so I was forlorn. In the evening, we had our farewell party, which some people in Japan would call a "climax party." The café underneath the theater had been reserved exclusively for the occasion. The theater staff is moving tables, setting up a temporary stage and hanging lights. Their skills and the equipment they use are far beyond the level of an ordinary bar. Everything is done with a professionalism only a theater could provide. A DJ booth has been set up on the stage, and there is also a mike stand. As I stare at this setup in wonder, the staff says to me, "We're having a karaoke party today. You're from Japan, the birthplace of karaoke, so you'll have to sing." There's an ordeal waiting for me at the very end. I stammer out, "Wha-what? No! Do you even have any Japanese songs?" "Nope," they reply. Their response to my cry of "I can't do this, give me a break!" is "It's your duty."
The nine participants, theater staff and young playwrights and actors from London all gathered. The party continued until morning, and with this, the program ended. I hugged everyone and promised that we would meet up again. There were some who shed tears and were reluctant to leave. I had so much fun. By the way, I'll leave it to your imagination as to what happened to me on the stage.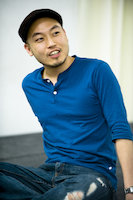 Tomohiro Maekawa
Playwright and director. Maekawa was born in 1974 in Kashiwazaki City, Niigata Prefecture. His style is to use props based on science fiction to bring out the "supernatural" that exists in our daily lives. He formed the theater company 'Ikiume' in 2003 as the base of his activities.He has written and directed a number of plays, including: Sanposuru shinryakusha (The Strolling Invader), Toshokan-teki jinsei (A Library-like Life), Kansu domino (Mathematical Domino), Kikkai--Koizumi Yakumo kara kiita hanashi (Mysterious--Stories I Heard from Koizumi Yakumo), Miezarumono no ikinokori (Survivors of the Invisible Ones), Semakimon yori haire (Enter through the Narrow Gate), and Omote to ura to sono mukou (Outside, Inside and Beyond). Maekawa won the excellent play award and excellent director award at the 16th (2008) Yomiuri Theater Awards, the excellent director award at the 17th (2009) Yomiuri Theater Awards, and the individual award at the 44th (2009) Kinokuniya Theater Awards. He was also given the 60th (2010) Minister of Education, Culture, Sports, Science and Technology's Art Encouragement Prize for New Artists.