10 Art is a Way of Life
Naomi Kawase
Film Director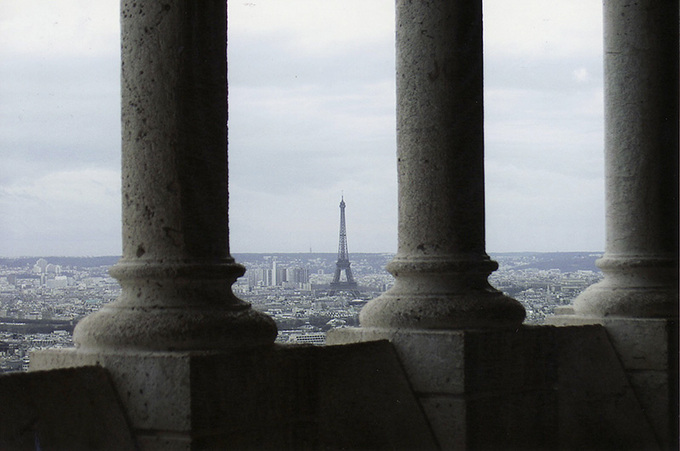 My film, The Mourning Forest, was completed in Paris. Since France and Japan have no formal agreement on joint production of films, I went to France on my own, clutching my script in my hands, and visited a production company that I had hoped to work with ever since I received the award Camera d'Or (best first feature film) at the Cannes International Film Festival in 1997. The firm, headed by a woman, also distributes works by filmmakers Takeshi Kitano and Hirokazu Kore-eda. Although the movies I made before The Mourning Forest were my own, I had producers working with me and that made it difficult for me to suggest collaborations with overseas companies. But I served as both the director and producer for this film and so had the freedom to do things in the way I wanted. Once in Paris, I conducted all the negotiations myself, even for the contract. The situation forced me to learn as I went along, and I gained a lot from the various experiences I had. In particular, I noticed how the process of filmmaking differs considerably between Japan and France. The Japanese are craftsman-like by nature, and do their work properly, according to schedule. On the other hand, the French are firmly convinced that timetables are of no significance compared to the productive urge that underlies creativity. From a Japanese perspective, the French might appear irresponsible in many ways, spending hours on end taking seemingly pointless steps. But the French will say that it takes time to create something good. So in the course of their work, they have no qualms about tearing down whatever they have built up and starting all over again, until they are satisfied with their creation. That was the hurdle I ran up against when editing this movie. The tentative editing and sound that had been added in Japan were utterly changed. Before telling my staff in Japan of the situation, I thought long and hard about which version would be better for me, and had decided to use the French one. Being proud craftsmen, they were understandably furious, but all I could do was bow and apologize sincerely.
I was alone. As an artist working in Japan, I didn't want to be false to myself and to my work, and so made my choice knowing that I might never regain the trust of the Japanese staff, and that it was in a way treacherous to my staff. Nevertheless I was going to stick to my decision. That was the first promise I had made to the woman who ran the production firm--to be true to myself.
It took a full two weeks to edit and add the sound. My two-year-old son was with me so I rented an apartment to make our stay in Paris easier. Masamichi Shigeno, who composed the music, came with us and brought his six-year-old son, too. Everything was new and exciting to us, but there were also many things we just had to put up with. Winters are very cold in Paris and I bicycled to the studio every day. In this city, bicycles are the best way to get where you want on time. It took 30 minutes to the studio, enough time to think about many things as I spun through the streets. The city has many greengrocers and people prefer to buy the fresh colorful vegetables from these stores rather than go to big supermarkets. At the weekends, open-air markets are held. It struck me that this was something we had lost in Japan. Japanese people have a fine sensitivity, and pay meticulous attention to detail, which can be stifling at times. But those are also the qualities that create the beautiful traditional crafts and product designs that Japan boasts to the world. The French take a broader approach to things, but they seem to have found the knack of keeping sight of the essentials while preserving their heritage to hand down to future generations. I was surprised to learn that France has a food self-sufficiency rate of 140 %, compared with Japan's 40 %, and this fact makes it an agricultural country that is also a developed nation at the same time. This must probably be due to their nature of pursuing the best regardless of time. As I worked with French filmmakers, I renewed my admiration for the high quality of their work. Art is a way of life. The Mourning Forest that we completed together was awarded the Grand Prix, a special grand prize given by the jury, at the Cannes International Film Festival in 2007. Working with my French counterparts was a rare experience for me, which gave me the opportunity to think deeply about various things, including what I want to express as a Japanese filmmaker in the years ahead.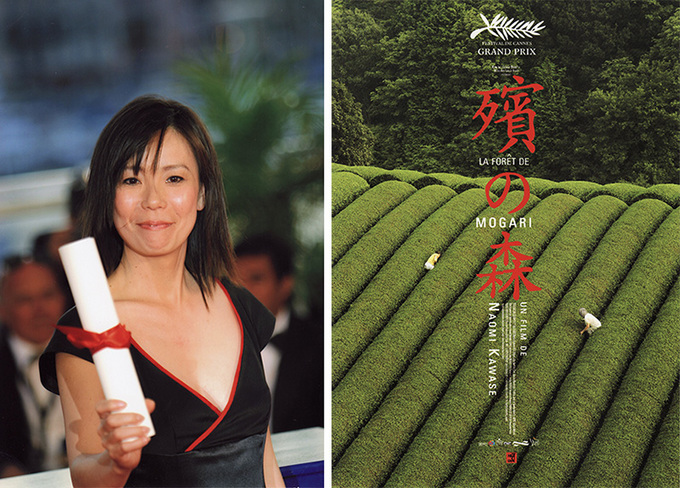 (Left) The Mourning Forest receives the Grand Prix, (Right) French version of The Mourning Forest poster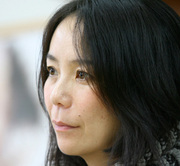 Naomi Kawase
Kawase continues to work out of her hometown Nara. She was awarded the Camera d'Or at the Cannes International Film Festival in 1997 for her film Suzaku (1996) as the youngest winner in its history. Her The Mourning Forest was awarded the Grand Prix at the Cannes International Film Festival in 2007. She has directed many documentary films including Genpin. She lobbied for and is now executive director of the Nara International Film Festival (http://www.nara-iff.jp/en/), which will mark its second year from September 14 to 17, 2012. Nippon Archives series, for which she filmed her beloved Nara and many other sights of Japan, is currently broadcast online. (http://nara.utsukushiki-nippon.jp/)
Official website:http://www.kawasenaomi.com/
Official twitter: http://twitter.com/kawasenaomi