02 A Trip to Cuba, a Cheerful Nation with World-class Healthcare
Sputniko!
Hi everyone! It's me, Sputniko!
You might be surprised to hear that my parents are both scientists engaged in statistical research. Statistics is a study that can be applied in many fields such as neuroscience and economics.
There are frequent exchanges among researchers, and my father has long been involved in joint research with people in Cuba. I remember hanging out with the young Cuban scientists who visited Japan when I was a child.
The atmosphere around the institute was very formal, but my father's office was an exception--it was always cheerful thanks to the Cuban researchers who frequented the place. They would dance the salsa there, or sometimes even transform it into a makeshift bar.
Maybe these happy memories had some kind of lasting impact on me, and so I had always had a longing for Cuba.
Ta-da! Here it is!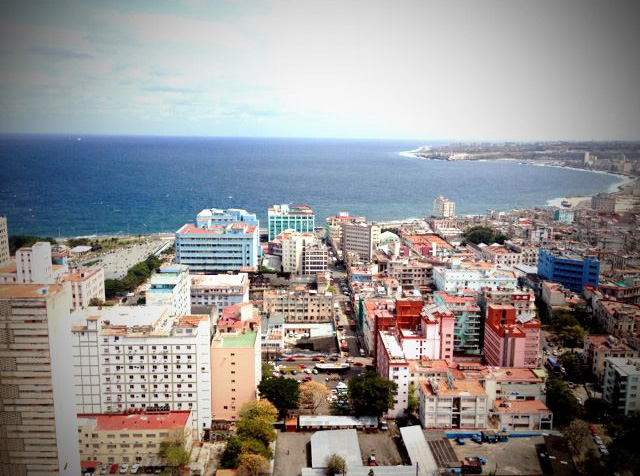 View of the streets of Havana and the sea from my hotel
My parents were invited to the Cuban Neuroscience Center for a month in March, so I decided to join them and make my first visit to the island!
Cuba--where the sun shines brightly, the ocean sparkles, and retro-looking Baroque buildings line the streets. Latin melodies can be heard in every corner of the city.
I'd thought the young scientists I'd known when I was a child would have become sophisticated gentlemen, but lo and behold, they hadn't changed a bit. They looked exactly the same as they had over ten years ago!
Music, rum, the beach, and the revolution--it may be the vibrant surroundings that keep these people young.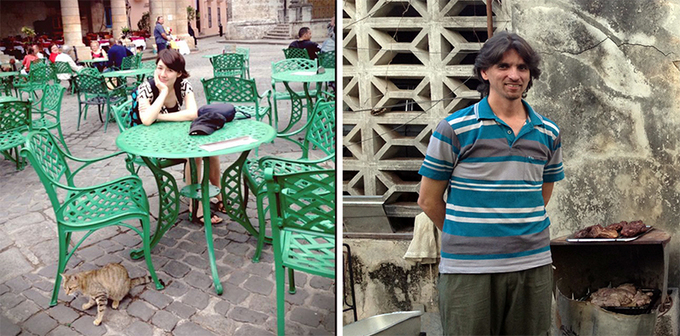 (Left) Piazza Vieja, or the Old Square in Havana, (Right) A reunion with researcher Matheus
As you all know, Cuba is a socialist country. People's salaries are not very high (even a college instructor maybe paid only 25 dollars a month), economic sanctions are being imposed by the U.S., and individuals weren't allowed to own a personal computer until recently. However, the state-run healthcare and education systems are excellent.
Medical care and education are both free of charge. With its advanced medical technology, Cuba has been dispatching doctors to South American countries, and is also developing and selling low-cost vaccines.
Regulations have been eased gradually since the current Raul Castro administration came into power, and recently, property ownership has become partially liberalized.
Cuba is now wavering between the ideal society aimed at by socialism and participation in the world economy.
* Original text in Japanese, translated to English by the Japan Foundation