1. Rakugo is not Something You Watch, but Something You Listen to.
Shinoharu Tatekawa


It is my pleasure to make your acquaintance.

My name is Shinoharu Tatekawa and I am a rakugo performer. I do not appear in the Sho-ten, which is a popular entertainment TV program with 50 years of history, but I am a rakugo performer. Do such rakugo performers exist? Yes, they do. There are many of us. There are many of us, and I am one of the many.

"Can you earn enough to eat?" Why are you asking me such a painful question all of sudden? Please stop, you are wrenching my heart.

Anyway, for a while I will be writing a series of essays, so please stay with me. Thank you!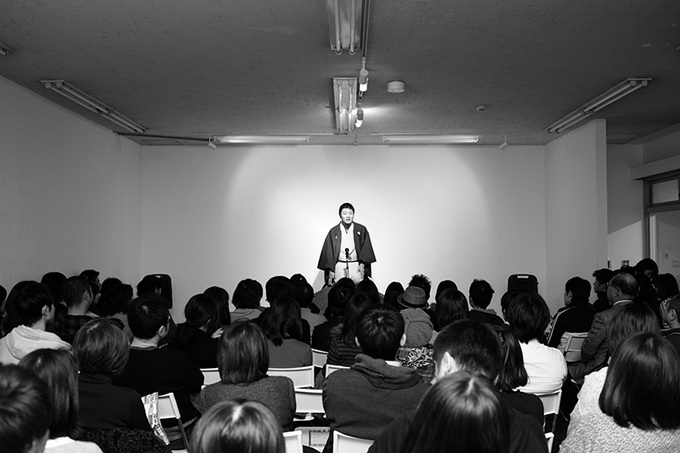 I have a question for all of you.
Have you ever listened to a live performance of rakugo?
If you have, thank you!
If you have not, perhaps you feel a little self-conscious and hesitant to give it a try.
Since this is a traditional performing art, you might well think that you have to undergo some kind of preparation in terms of history and culture beforehand.

In fact, I also had the same impression. That is, until I actually came into contact with rakugo.
When I was 25 years old, I encountered rakugo for the first time in my life, in the town of Sugamo.
It was during a solo performance by my master, Shinosuke Tatekawa.

I had been passing by chance and walked into that solo performance on a whim, but it was then that I was brought under the spell of rakugo.
As I held my belly with laughter in the small venue with 80 other people in the audience, I thought, "How did I not know about something as fantastic as this before!"

What surprised me more than anything was the sudden disappearance of the master halfway into the rakugo performance.
No, I do not mean he descended from the dais to go to the bathroom.
What I mean is that the characters in the story captured my imagination in such a way that I felt as if the storyteller himself had disappeared. It felt as if I was reading a novel. I was thrilled. There is no need to undergo any preparation. A live rakugo performance has to be experienced in person.

At the beginning, I asked if you have ever listened to a live performance of rakugo.
Essentially, rakugo is something that you listen to rather than watch. This is because all the performer does is sit alone on a cushion, and speak to the audience on the left and right. Visual information is kept to a minimum.
However, that is precisely why rakugo is able to stimulate the imagination of the audience, and paint a wonderful picture together with them. To me, that is what rakugo is all about.

The impact of my first encounter with rakugo was so strong that it pierced my heart completely. One year after that, I resigned from the company that I had been working for and became a rakugo performer. It has been 12 years since then, and I have never regretted my decision.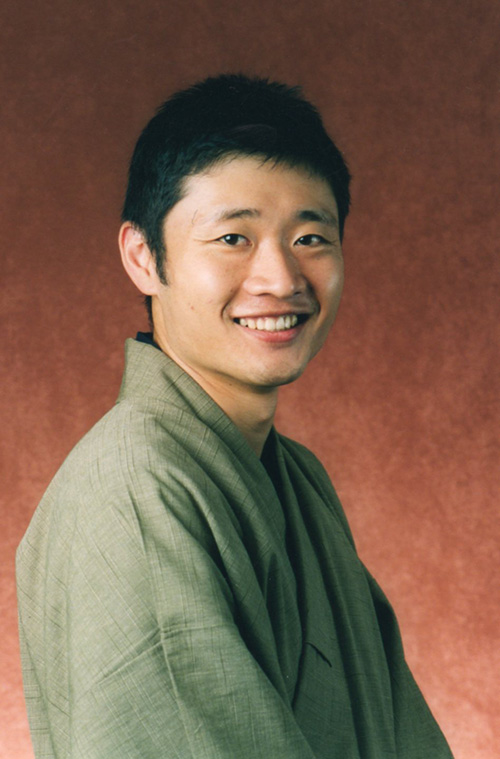 A photo from when I was still a zenza (opening act performer), before my promotion to futatsume (the second highest rank)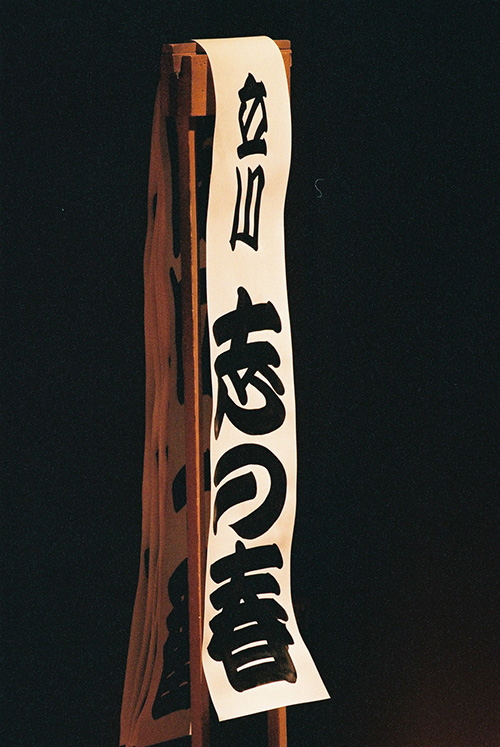 The mekuri--sheets of paper on which the performer's name is written

In the next one year, I hope to write essays that can bring everyone as close as possible to this world of rakugo that I have fallen in love with.

My final goal is for everyone to experience a rakugo performance in real life. It does not have to be one of my performances. It can be a performance by anyone. Of course, I would be happier if it were one of mine.

Anyhow, I look forward to meeting you again next month!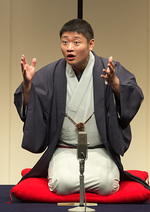 Shinoharu Tatekawa
Rakugo performer Shinoharu Tatekawa was born in Osaka in 1976 and raised in Kashiwa, Chiba Prefecture. After graduating from Yale University in the U. S., he began working at Mitsui & Co. in 1999. In his third year of work, he chanced upon a performance by Shinosuke Tatekawa. It had such a huge impact on him that he made the decision to become a rakugo performer after half a year, upon much deliberation. He approached Shinosuke Tatekawa directly to accept him as a disciple, but was rejected. However, he then resigned from his job and entreated the master once again to accept him as a disciple. In October 2002, he was accepted as the third disciple of Shinosuke Tatekawa. In January 2011, he was promoted to futatsume (the second highest rank). He performs classical and contemporary rakugo works, as well as rakugo in English, and has even performed in Singapore. In 2013, he received an encouragement prize from the Nikkan Tobikiri Rakugo Kai. His publications include Dare demo Waraeru Eigo Rakugo: Rakugo in English [Rakugo that anyone can laugh: Rakugo in English] (Shinchosha) and Anata no Purezen ni "Makura" wa Aruka? Rakugo ni Manabu Shigoto no Hinto [Does your presentation have an "introduction"?] (Star Seas Company).


*Please visit the official websites below for information about his live performances.
Shinoharu Tatekawa's official website http://shinoharu.com/
Shinoharu Tatekawa's blog  http://ameblo.jp/tatekawashinoharu/