2. Collaborative Events Are the Best Places for Creating Opportunities
Shinoharu Tatekawa


This is Shinoharu Tatekawa. We are welcoming the turn of the seasons and the fat we have stored up to withstand the winter cold is beginning to weigh us down in the warm spring weather. It has been a month since I last wrote. How have you all been?

We are in the midst of spring. The word "spring" (haru) is in my name, and this became one of the reasons I like this season very much. First, as a Rakugo performer, let me present you with some riddles.

"What do hanami (cherry blossom viewing party) and Grand Sumo Tournament have in common?"
"What's in common?"
"The excitement of both events depends on the sekitori.*1 This is Harucchi.*2"

"What do the March Grand Sumo Tournament and the most important point about medicated plasters have in common?"
"What's in common?"
"The haru basho.*3 This is Haru..."
I suppose you've had enough.

The March Grand Sumo Tournament takes place in Osaka, where I was born. Although I now make a living from Edo Rakugo, I had lived in Toyonaka City till I was eight, so my mother tongue is the Osaka dialect. After that, I moved to the United States and English became my second language. Three years later, I returned to Japan and began living in Kashiwa City, Chiba Prefecture, where I finally picked up my third language, standard Japanese.
In a sense, you could say that I am like a tennis player who plays table tennis without playing badminton at all. It was a difficult process. That aside, one of my goals I set when I took up Rakugo was to hold a Rakugo performance in the Kansai region, including Osaka, where I was born and spent my early childhood.

I was able to fulfill my goal of holding my first performance in the Kansai region last year. This was not a solo show, but I did it with another performer. The other performer was Ryota Kojima, who had formerly been a member of the Shiki Theatre Company. He has left the troupe, and is now a musical performer as well as composer. By the way, my real name is Ittetsu Kojima, so what does that mean? He is my younger brother. Titled "Two Brothers Show: Shinoharu Tatekawa and Ryota Kojima," the show was held in a well-established club with live music called CHICKEN GEORGE, located in Sannomiya, Kobe. The program included Rakugo, a musical performance, and a talk show. While I feel extremely sorry for my parents who worked so hard to build a salaryman family, only to have their two sons throw themselves inexplicably into the worlds of Rakugo and musicals, I was nevertheless delighted to be involved in such a project with my brother.

The second show, which was also a collaboration with my brother, took place on March 8, 2014 at the Koto Hall in Nishinomiya City. Many of my long-time acquaintances came to the show, and I was particularly happy to see my kindergarten teacher among the audience. Even though we had not met each other for 30 years, there had been no changes at all. Well, hardly any changes.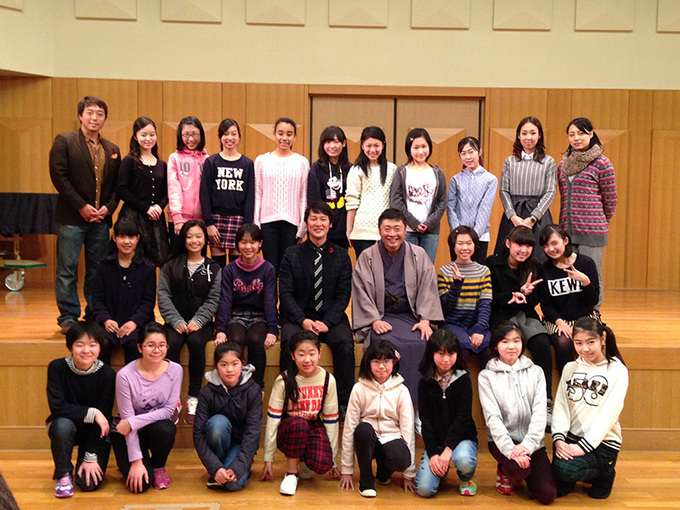 At the two brothers' show on March 8, with the performers who had joined us for the musical section

The good thing about a collaborative show is the opportunities that it creates. These opportunities are the triggers that encourage people, who may not have listened to Rakugo in their entire lives, to listen to Rakugo alongside the other performances they had originally meant to watch. It is fine to watch Rakugo for the first time "incidentally." It is fine if it is just a performance that is "on the side." However, I hope that these people will think that this "side dish" is not so bad and feel happy if the dish comes again next time, or even consider having it as a dish on its own. Over time, as they are doing so, it will one day become a "main dish." I think I am starting to lose sight of what I am talking about here.

The traffic around Rakugo is not a one-way street heading to Rakugo. It is possible to move in the opposite direction as well and I hope that those who enjoy Rakugo may also use it as an opportunity to develop interests in other genres. That is why I have been participating in collaborative events with people from various genres. Some of these genres that come to mind immediately are jazz, nagauta (long epic songs), juggling, Japanese sweets, sake, baked sweet potato, gold dealing (!), and so on and so forth.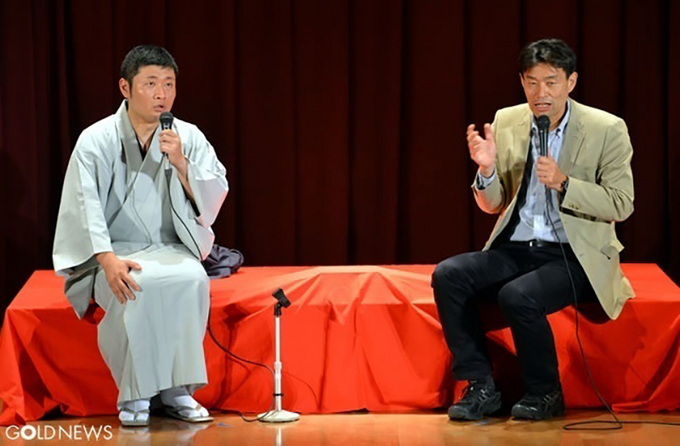 Dialogue with precious metal dealer, Bruce Ikemizu, at the Gold Rakugo Show, a spin-off show of the Tokyo Gold Festival 2014

The thing is, collaborative events are difficult to carry out, and often become just separate performances of two different genres, or a "1 + 1" performance that adds up to a sum of less than 1. We have to think about how to make that sum 2 or even 3. If we find some common points at the roots of these different genres, an unexpected chemical reaction may occur. That is also one of the thrills of collaborative events.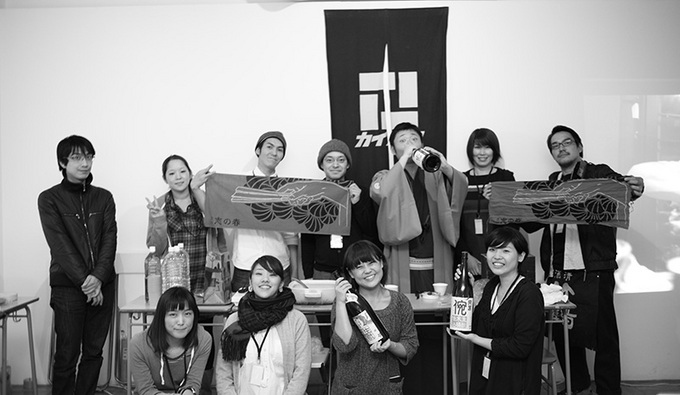 Collaboration with a hot sake bar at the second TOKYO⇔EDO Rakugo Show in 2013

This year, I also have plans to collaborate with performers from various genres. There are two craft beer projects in April. I hope it will be an event where savoring craft beer and Rakugo together enhances both their flavors. Then, on the way home, admire the cherry blossoms in full bloom.
If you think this is something you might be interested in, do come to the event! I look forward to seeing you there.

If not, then I'll see you here again next month. If you go to a cherry blossom viewing party, be sure not to focus only on drinking beer. Remember also to look at the flowers!






*1: In sumo, the sekitori is a wrestler in one of the two top professional divisions. With using a different kanji, sekitori also means "grabbing seats," referring here to the scramble for a good spot for cherry-blossom viewing.
*2: A reference to the comedian Nezucchi who is well-known for creating such riddles.
*3: The March Grand Sumo Tournament is also called haru basho, which literally means "spring place." Haru is the same pronunciation as a verb "to stick." So haru basho can mean the "place where you stick something," referring here to the place on the body where the medicated plaster is placed.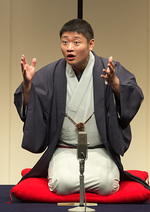 Shinoharu Tatekawa
Rakugo performer Shinoharu Tatekawa was born in Osaka in 1976 and raised in Kashiwa, Chiba Prefecture. After graduating from Yale University in the U. S., he began working at Mitsui & Co. in 1999. In his third year of work, he chanced upon a performance by Shinosuke Tatekawa. It had such a huge impact on him that he made the decision to become a rakugo performer after half a year, upon much deliberation. He approached Shinosuke Tatekawa directly to accept him as a disciple, but was rejected. However, he then resigned from his job and entreated the master once again to accept him as a disciple. In October 2002, he was accepted as the third disciple of Shinosuke Tatekawa. In January 2011, he was promoted to futatsume (the second highest rank). He performs classical and contemporary rakugo works, as well as rakugo in English, and has even performed in Singapore. In 2013, he received an encouragement prize from the Nikkan Tobikiri Rakugo Kai. His publications include Dare demo Waraeru Eigo Rakugo: Rakugo in English (Shinchosha) and Anata no Purezen ni "Makura" wa Aruka? Rakugo ni Manabu Shigoto no Hinto [Does your presentation have an "introduction"?] (Star Seas Company). His latest publication is Jibun wo Kowasu Yuki [Courage to destroy yourself] (CrossMedia Publishing).




*Please visit the official websites below for information about his live performances.
Shinoharu Tatekawa's official website http://shinoharu.com/
Shinoharu Tatekawa's blog  http://ameblo.jp/tatekawashinoharu/