3. The Taste of Rakugo Stories Differs Depending on the Performer
Shinoharu Tatekawa



Hello, this is Shinoharu Tatekawa.
The cherry blossom viewing season in Tokyo has ended. I think it is the ephemeral beauty of the cherry blossoms--the fact that they come into bloom so quickly and then disappear before you know it--that has made this season so beloved.
The same goes for one's boss. Everyone loves a boss who, a couple of hours into a drinking party, swiftly settles the bill, hands over some money to his subordinates and departs saying "I'm calling it a night, but I'll leave you to enjoy yourselves." Such bosses are great, but I think they are rare, unfortunately.

In rakugo, too, there are stories about the flower-viewing season, such as Nagaya no Hanami (Cherry Blossom Viewing of the Row House Tenants), in which the landlord of a row house invites his tenants to a blossom-viewing party, then treats them to tea poured into sake bottles and orders them to pretend to get drunk and have a good time, or Hanami no Adauchi (The Cherry Blossom Viewing Vendetta), in which a play vendetta scheme goes awry, causing great commotion. Such stories, however, can be performed only during the cherry blossom viewing season. It is fine to start with these stories around the end of February, ahead of the season, but if you stick to them for too long, people will ridicule you for your lack of a sense of season. Indeed, a story about cherry blossom viewing does not stir up any emotions if it is told in fall. It is like singing a song about the New Year in summer. Imagine a boy singing at the top of his lungs "How many nights to sleep until it's New Year's?" and his mother scolding him "Takashi! If you have time to sing, better get started on your summer vacation homework!"
So I will end my spring seasonal stories here, and look forward to next spring when I will desperately try to recall them again.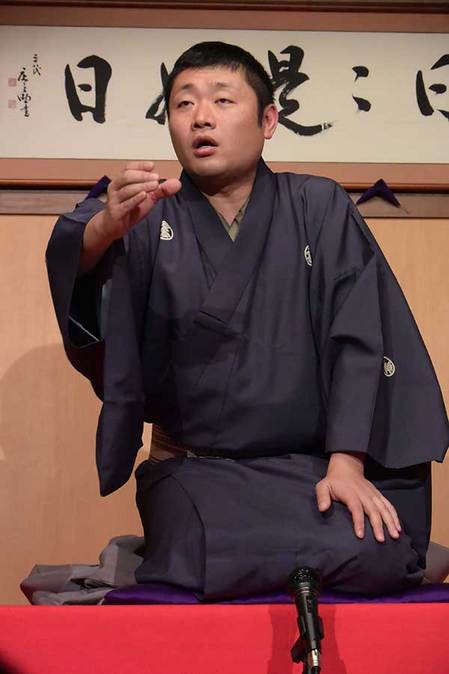 Here I am performing the part of a drunk man from the dais

As I mentioned in my previous article, this month there was a rakugo event held in collaboration with a microbrewery. At TOKYO⇔EDO, a gathering organized by Makishimai-kikaku, in which I participate on a regular basis, we invited Mr. Shigeharu Asagiri, President and CEO of COEDO Brewery, and held a talk event with rakugo and beer. I was extremely happy, because COEDO has become a global brand.

The audience sampled five types of COEDO beer as they listened to the talk delivered by President Asagiri and me.
And what a fascinating talk it was! It appears that the origins of COEDO brewing, which was born in the city of Kawagoe, also known as Little Edo (Koedo in Japanese), can be traced back to the work of a local wholesale fruit and vegetable supplier which was looking for ways to make good use of sweet potatoes, a local specialty produce, that would otherwise be wasted because they were too unshapely, too large, or otherwise unfit to sell on the market. The idea that came to them was to make beer out of sweet potatoes.
Isn't this incredible? Sweet potatoes are not normally associated with beer. How did this company make the connection? At any rate, President Asagiri is not a man who allows himself to be constrained by stereotypes.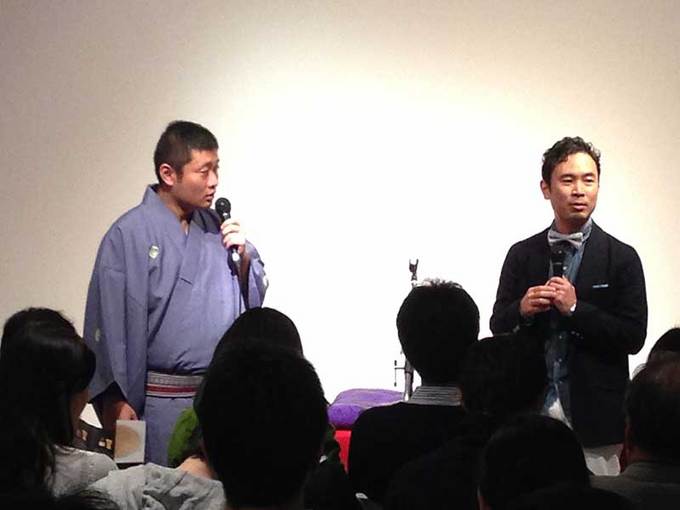 President Asagiri and me deliver a talk at the TOKYO⇔EDO event

That's right, stereotypes. They are quite a cumbersome thing.
I became painfully aware of this fact at the event.
Specifically, I became aware of the inadequacy of my vocabulary with regard to beer. The only words I had to describe the way beer tastes and feels were "sharp," "rich" and "smooth." Actually not even that. To be honest, in most cases, "cold" and "lukewarm" were the only adjectives that came to my mind.
Adjectives describing temperature! They were not even about taste.
Just imagine the cold stares I would get at a restaurant wine tasting, if I said that the wine was "cold." Or, if a food journalist describes warm Japanese sake as "lukewarm," he or she is likely to be told that their comment is rather lukewarm.

Beer, just like wine and sake, has various characteristics and a broad range of flavors. There is beer that tastes like banana, and beer that tastes like coffee. Come to think of it, it is only natural that beer is selected based on the type of food, time, occasion, and preference of those who drink it.。
And yet, all my life, I have always ordered beer without much thinking, with the nonchalant "Toriaezu biiru" (Beer for now). I now realize how blasphemous I have been towards beer.

The same goes for rakugo.
In classic rakugo, each story has a particular structure. Depending on the performer, however, the audience may perceive them as completely different stories. A slight change in the script could radically transform the impression produced by the characters. There are plenty of ways to achieve this. The scenery that forms the background of the story could also vary widely. If you can enjoy these differences and individual characteristics, you should also be able to come up with a variety of adjectives other than "good," "bad," "interesting," or "boring."
From the perspective of the performer, it is important to be able to stimulate the imagination of the audience in a way that will inspire them to come up with diverse adjectives to describe the performance. My wish is to become a rakugo performer about whom the audience will say: "Because of the way Shinoharu performed it, I saw such-and-such retiree or such-and-such landlady." Ultimately, this also plays a part in whether the audience perceives our work positively or negatively.
In any case, I will never ever again nonchalantly order "Beer for now!"
But perhaps it would make me happy if the audience ordered "Shinoharu for now."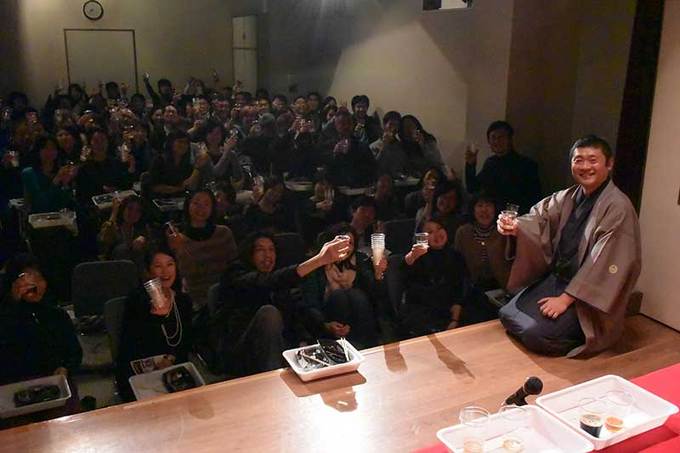 A different collaboration event held this month "Enjoying rakugo in English with craft beer"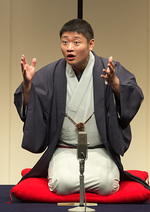 Shinoharu Tatekawa
Rakugo performer Shinoharu Tatekawa was born in Osaka in 1976 and raised in Kashiwa, Chiba Prefecture. After graduating from Yale University in the U. S., he began working at Mitsui & Co. in 1999. In his third year of work, he chanced upon a performance by Shinosuke Tatekawa. It had such a huge impact on him that he made the decision to become a rakugo performer after half a year, upon much deliberation. He approached Shinosuke Tatekawa directly to accept him as a disciple, but was rejected. However, he then resigned from his job and entreated the master once again to accept him as a disciple. In October 2002, he was accepted as the third disciple of Shinosuke Tatekawa. In January 2011, he was promoted to futatsume (the second highest rank). He performs classical and contemporary rakugo works, as well as rakugo in English, and has even performed in Singapore. In 2013, he received an encouragement prize from the Nikkan Tobikiri Rakugo Kai. His publications include Dare demo Waraeru Eigo Rakugo: Rakugo in English [Rakugo that anyone can laugh: Rakugo in English] (Shinchosha) and Anata no Purezen ni "Makura" wa Aruka? Rakugo ni Manabu Shigoto no Hinto [Does your presentation have an "introduction"?] (Star Seas Company). His latest publication is Jibun wo Kowasu Yuki [Courage to destroy yourself] (CrossMedia Publishing).




*Please visit the official websites below for information about his live performances.
Shinoharu Tatekawa's official website http://shinoharu.com/
Shinoharu Tatekawa's blog  http://ameblo.jp/tatekawashinoharu/