7. There's No Second Chance at School Rakugo Performance
Shinoharu Tatekawa



It seems that the heat never goes away this year.

Of course, when we think of summer in Japan, the first thing that comes to mind is kaki-gori or shaved ice. I've heard that there are some kaki-gori shops that are so popular now that you have to line up for one or two hours to get some.
Just imagining the syrup dripped on that fluffed mound of shaved ice...how overwhelming!

So where exactly did kaki-gori come from? Well, you are aware of the other kaki, which means oysters in Japanese.
The custom of eating kaki began a very long time ago, long before we developed the level of sanitation we have today, so it was common for people to get food poisoning. Apparently, people at the time came up with two ways to avoid that. One was to cook the oysters, while the other approach was to eat them chilled with ice or kori in Japanese.
The problem with the latter approach was that it is rather hard to eat blocks of ice. Therefore, it became popular to shave the ice so that it could easily be swallowed and eaten together with the oysters. So, in fact, the real origin of the so-called kaki-gori shaved ice was the solution of eating oysters (kaki) with ice (kori) in order to avoid getting sick.

Well, at least that's what was told to me by...nobody ever!
Sorry! I completely made that up. I would like to apologize. (Particularly to whomever has to translate my essay into English every month!)

Now that we've all cooled down a bit...this month I would like to write about rakugo performances at schools.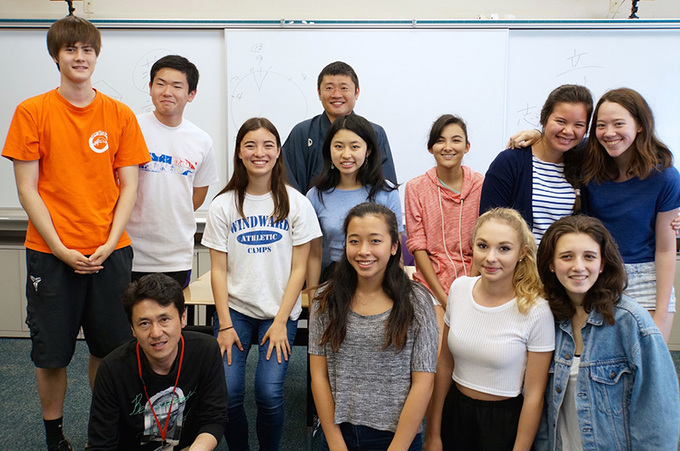 Posing with students at the rakugo performance on May 7 at the American School in Japan (ASIJ)


Recently, I have been receiving more opportunities to perform rakugo at schools, for which I am thankful. Incidentally, though, rakugo performances at schools are a bit different from ones at theaters and halls.
At normal rakugo performances, customers choose to attend of their own volition and pay money to enjoy it. However for schools, it is usually the teachers who plan the event and invite us, so the students are usually not acting out of their own volition.
In other words, and this is often the case for events with free admission, the students (or, well, the audience members) are not particularly enthusiastic to be there.

To be blunt, they aren't expecting to enjoy it. This has the effect of making me even more motivated than usual. It makes me want to get them to laugh at any cost. I want to do anything I can to get them to enjoy rakugo. So every time I do a school performance, I really feel that I only have one chance to get it right.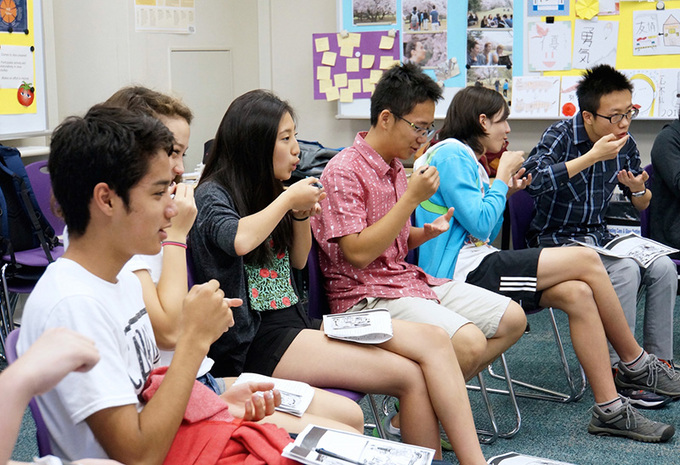 Teaching the students to act out the well-known Toki Soba story in the Let's Try Together part of the rakugo performance at ASIJ


But actually, if I can show them how motivated I really am, the response of the students ends up being quite genuine. And in the questionnaire we give them at the end of the show, they leave numerous flattering comments such as "It was really fun!" and "I enjoyed it!" What is really interesting, though, is that before the flattery, almost all of them start out with comments like these below.

"Honestly, when I heard it was going to be rakugo, I expected to fall asleep..."
"I worried that my friends and I would fall asleep...I hoped we'd be OK..."
"I thought rakugo was for old people, so I thought kids from our generation wouldn't get the jokes..."
"At first I thought rakugo sounded really boring..."

I don't know what to say. It seems that the impression they had of rakugo couldn't have been worse.
Of course, almost none of the students had ever encountered live rakugo. But despite that, the negative impression of rakugo has almost completely taken hold.

I cannot say that I don't understand, though, as I started out that way myself.
I guess people assume that anything "traditional" is therefore simply "old," "behind the times," and "impossible to understand."
What else could it be? Perhaps it is because it is an art form in which one can only immerse one's imagination when it is experienced live, and it becomes difficult to appreciate when communicated through some form of media. Any young readers out there, please do tell me what else you think might be causing it!

Whatever the cause, though, I intend to continue doing my best to reverse the negative image people have. At the same time, I must admit that there were also comments from kids who seemed all too familiar with rakugo.

"Your performance was very well done. You demonstrated a high level of professionalism as a rakugo performer."

How intimidating! Here's another interesting one.

"I want to become someone who can enjoy their job as much as Shinoharu but I don't want to become a rakugo performer."

I hope that kid finds the ideal job!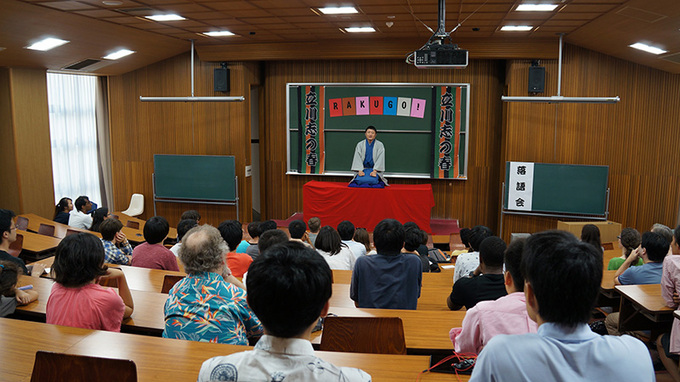 Performing in English at the Tokyo Institute of Technology for the fourth year in a row, featuring my contemporary rakugo work called The Important Thing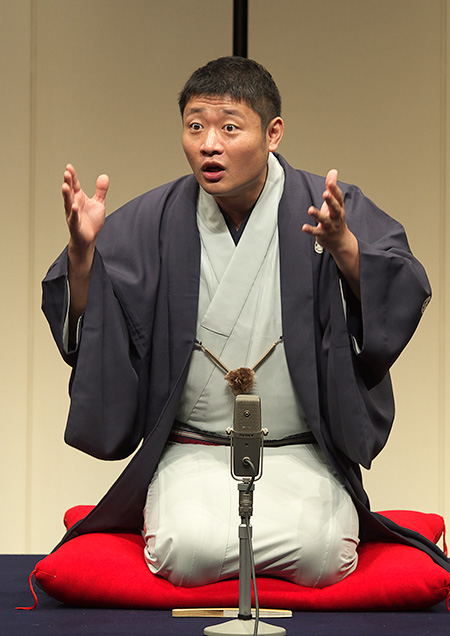 Shinoharu Tatekawa
Rakugo performer Shinoharu Tatekawa was born in Osaka in 1976 and raised in Kashiwa, Chiba Prefecture. After graduating from Yale University in the U. S., he began working at Mitsui & Co. in 1999. In his third year of work, he chanced upon a performance by Shinosuke Tatekawa. It had such a huge impact on him that he made the decision to become a rakugo performer after half a year, upon much deliberation. He approached Shinosuke Tatekawa directly to accept him as a disciple, but was rejected. However, he then resigned from his job and entreated the master once again to accept him as a disciple. In October 2002, he was accepted as the third disciple of Shinosuke Tatekawa. In January 2011, he was promoted to futatsume (the second highest rank). He performs classical and contemporary rakugo works, as well as rakugo in English, and has even performed in Singapore. In 2013, he received an encouragement prize from the Nikkan Tobikiri Rakugo Kai. His publications include Dare demo waraeru eigo rakugo (Rakugo in English; Shinchosha) and Anata no purezen ni "makura" wa aruka? Rakugo ni manabu shigoto no hinto (Does your presentation have an "introduction"?; Star Seas Company). His latest publication is Jibun wo Kowasu Yuki (Courage to destroy yourself: CrossMedia Publishing).


*Please visit the official websites below for information about his live performances.
Shinoharu Tatekawa's official website http://shinoharu.com/
Shinoharu Tatekawa's blog http://ameblo.jp/tatekawashinoharu/