8. While There Is Luck, There Is Relationship: Performing Rakugo Outside My Region
Shinoharu Tatekawa



Hello again!
Today, I'd like to write about a performance in the Japanese countryside that I recently did. But first, I would like to point out that it would not be an exaggeration to say that to the rakugo performer, performing rakugo outside my region is the most enjoyable part of the job.

So, late August, I visited the town of Osaki in Kagoshima Prefecture.
While I actually have no prior connection to the town whatsoever, it just so happens that a restaurant in Tokyo where I regularly give rakugo performances gets its supply of beef from Osaki, so we came up with a plan to visit and do a show.

Perhaps you have heard of the "Michi-no-Eki" (highway station) system? These are the large shops along the public highways throughout Japan where you can buy vegetables and other products local to the area. They often feature restaurants, hot-springs, and facilities for lodging as well.
I held my show at the convention hall of the luxurious Asuparu-Osaki, which is a community center featuring a hotel, a hot-spring, restaurant, and gift shop, and is located adjacent to the Kuninomatsubara Osaki highway station in Osaki.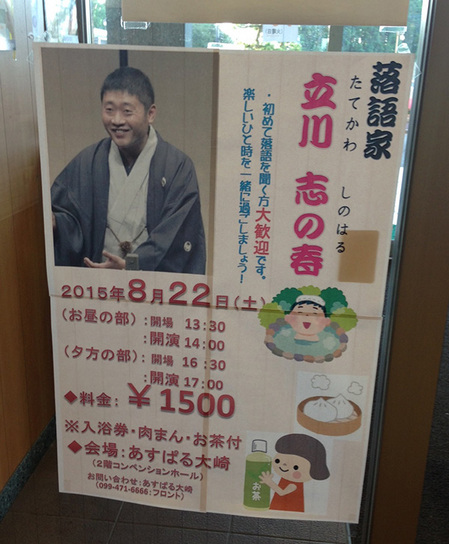 A wonderfully rustic and handmade poster advertising Shinoharu's solo performance in Osaki.

To be quite honest, though, I was actually a bit worried because at the time, Sakurajima was volcanically active, and Kagoshima airport is actually rather close. In fact, it is practically right in front of it.

According to Mr. Ohno, an assistant manager at Asuparu Osaki (who writes his job title as "No. 2" on his business card because he thinks "Assistant Manager" is too formal) who came to pick me up, the locals here can tell whether Sakurajima is active or not just by looking at its shape.

"But it's a mountain!" I said, "Are you trying to tell me the shape changes every day?"
He answered, "Yes it does. It often slightly expands and contracts."
To this I answered, "There is no way I could see that just by looking at it."
"Well," he said, "it's not hard for us because we see it every day."

I was amazed. Admitting that I might have to chalk it up to the wisdom of the locals, I asked, "So what's it like today?" at which he glanced out the window briefly and gave me the most manly answer possible.
"I have no idea," he said.
No idea!?

Then, Mr. Yamashita, the manager sitting next to him, a stocky gentleman with a sportsman-like demeanor and a former martial artist, finally spoke up as well, tersely interjecting,
"Neither do I."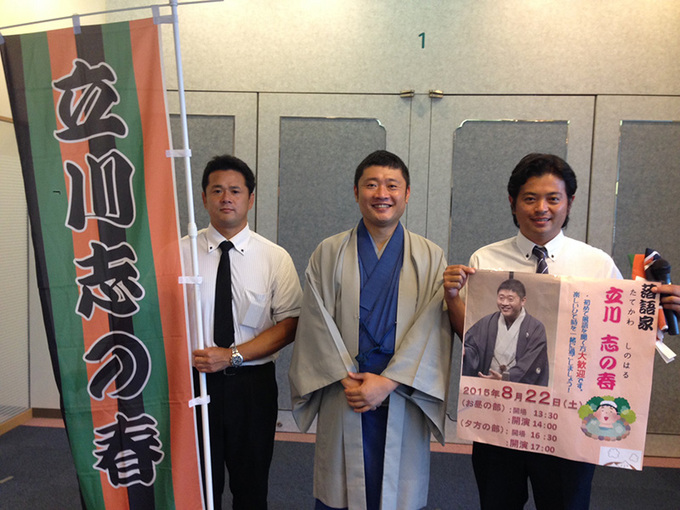 Flanked by No. 1 and No. 2, Manager Yamashita (left) and Assistant Manager Ohno (right) of Asuparu Osaki.

Although this town has two men who gave me an empty answer, it is a quite amazing town. Because it boasts a super-premium brand of Japanese beef.
According to what I've heard, the most important factor in good beef is the lineage of the father. In other words, it's the DNA of the stud bull that matters.

This town just so happens to be home to the best stud, Takanokuni. Takanokuni is in fact the champion stud bull of Japan. The beef produced by his offspring is said to be extremely and delicately marbled and very delicious. Thus, the "seed" of Takanokuni is shipped off for the artificial insemination of local cows throughout Japan, and the resulting offspring are then sold as local beef brands in many regions.

If you think about it, that's quite a history to have. Well, actually, we're talking about cows, so "cowstory" is probably more appropriate. Just imagine it, your children are being born everywhere without your knowledge, and the fate of each and every one is to be gobbled up by humans...perhaps it is better not to know.

But still, it is the bond brought about by this beef that brought me here, to the land of Osaki.

I performed two rakugo shows here, one in the afternoon and one at night. Despite the fact that I am a relatively unknown rakugo performer who was not even locally born and raised here, I was graciously greeted by a full house.

Not only that, but the attendees also included several acquaintances, such as Kojika Shuzo, a shochu (distilled liquor) maker from the neighboring city of Kanoya, with whom I had done a collaborative event between shochu and rakugo in Tokyo. My friend from Tokyo, who had been very helpful to me in the past, also came all the way from a vacation in Miyazaki just to see the show.
This shows how special bonds and relationships can be, and performances in outside of my own region seem to bring that point home more than others.

Perhaps you can imagine what was served at the party after the last show? Of course, it was the offspring of Takanokuni. I must say, I had never seen meat like that. It was the very epitome of marbled beef, and it melted in the mouth. Oh, it was so sweet and juicy! It was simply delicious.
And not only that, but it just kept coming! The constant flow of meat to the table defied credulity. It just kept being served as people were telling me "You just can't eat meat like that in Tokyo." It was as though I was at a party for sumo wrestlers. Not that I've ever been, of course.

Boy, did I eat. I, Shinoharu Tatekawa, age 39, ate like there was no tomorrow. When I returned from the trip, I had gained three extra kilos.

So everyone, as you start to crave those delicious autumn foods and flavors, I hope you keep in mind the proverb that "your stomach is a part of your body too" (don't eat or drink to excess) and have a wonderful time!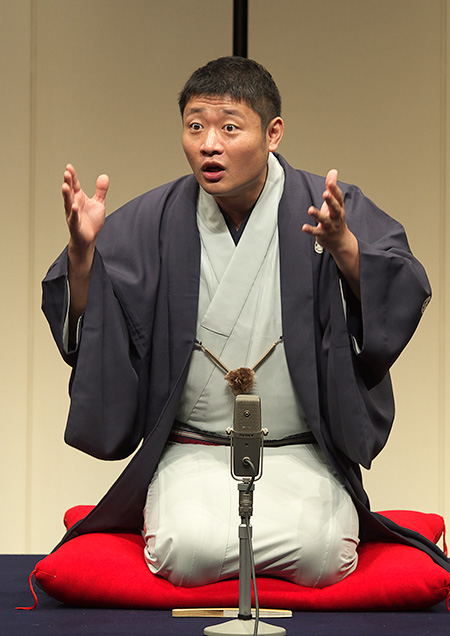 Shinoharu Tatekawa
Rakugo performer Shinoharu Tatekawa was born in Osaka in 1976 and raised in Kashiwa, Chiba Prefecture. After graduating from Yale University in the U. S., he began working at Mitsui & Co. in 1999. In his third year of work, he chanced upon a performance by Shinosuke Tatekawa. It had such a huge impact on him that he made the decision to become a rakugo performer after half a year, upon much deliberation. He approached Shinosuke Tatekawa directly to accept him as a disciple, but was rejected. However, he then resigned from his job and entreated the master once again to accept him as a disciple. In October 2002, he was accepted as the third disciple of Shinosuke Tatekawa. In January 2011, he was promoted to futatsume (the second highest rank). He performs classical and contemporary rakugo works, as well as rakugo in English, and has even performed in Singapore. In 2013, he received an encouragement prize from the Nikkan Tobikiri Rakugo Kai. His publications include Dare demo waraeru eigo rakugo (Rakugo in English; Shinchosha) and Anata no purezen ni "makura" wa aruka? Rakugo ni manabu shigoto no hinto (Does your presentation have an "introduction"?; Star Seas Company). His latest publication is Jibun wo Kowasu Yuki (Courage to destroy yourself: CrossMedia Publishing).


*Please visit the official websites below for information about his live performances.
Shinoharu Tatekawa's official website http://shinoharu.com/
Shinoharu Tatekawa's blog http://ameblo.jp/tatekawashinoharu/