9. Completely Different Performing Styles despite Being Trained under the Same Master
Shinoharu Tatekawa



It is fall! Fall brings to mind sports day at school.

Recently, the nearby kindergartens and elementary schools have been holding their sports days.

However, if you watch the news, you may learn something surprising. I thought education today was becoming gentler and less harsh, and never realized that Spartanism seems to have persisted solely in the gymnastic formation the children perform during sports day. The children actually make 10-level human pyramids!

Athletes of such prowess rarely exist even at the 10th level of judo... Since I would be asked to be at the lowest level of the pyramid anyway, I would not think twice about excusing myself from sports day. If I did that, the teacher would end up taking my place. My heartfelt sympathies...

Anyway, the point I am making here is, it is fun to have a large group of people come together for a single purpose. So, I would like to write about the rakugo show known as ichimonkai.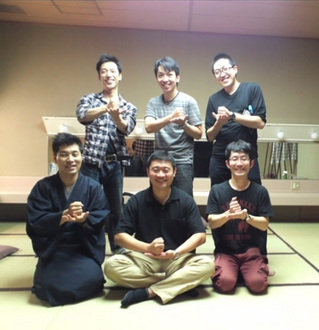 The Shinosuke Ichimonkai in October 2012, when there were six disciples in the group
The other day, the Tatekawa Shinosuke Ichimonkai was held in Fuchu for the first time in three years.
Today, there are seven disciples in the group. In order of rank (from the top) they are: Harunosuke, Shinohachi, Shinoharu, Shinopon, Shinohiko, Shinotaro, and Shinomaro. Among the seven, the first disciple is
shin-uchi
(full-fledged rakugo master of storytelling), the second to the sixth disciples are
futatsume
(a recognized rank for independent rakugo performers), and the seventh disciple is
zenza
(opening act performer).
On the day of the performance, with the exception of
zenza
Shinomaro, the six disciples of
futatsume
rank and above performed either in the matinee or the evening show. Of course, the final act for both shows was performed by our master, Shinosuke.
Once we reach the
futatsume
rank, we all usually have our own performances to attend to and do not have many opportunities to perform together at the same show. Needless to say, it is difficult to even come together several times a year.
Since we are all fellow disciples who have spent time together during our rakugo training, from the very beginning in the dressing room, an ichimonkai is fun in a way that is similar to an alumni reunion. This is particularly true for us because we are a close-knit group. When the master is strict, the disciples will establish a tight relationship...that is what I heard someone say.
Performers of the Tatekawa style do not perform at variety theaters as part of training. So, during
zenza
training, the master as well as senior and junior disciples will all be together. Every day, for about 15 hours. Every day...that is way longer than the time even spouses or siblings spend together.
It is said that while one can choose his master, he cannot choose his fellow disciples. Whether or not one is able to click well with his fellow disciples largely depends on luck and fate.
In that sense, I was lucky. My two senior disciples took really good care of me during my training. From teaching me how to wear and fold my kimono, to how to behave in the dressing room, to how to play the taiko drum, and even teaching me to drive - they taught me everything there is to know. They were also extremely patient in teaching Japanese mindfulness and awareness to me, who was not at all attentive like they were due to my upbringing in the United States.
They also bought me so many meals that I have lost count. In our world, the expression
warikan
(to split the bill or go Dutch) does not exist. The most senior person at the table has to pay for everything. While this is not a problem if one has money, everyone is poor when they are still
zenza
. Even so, they must treat junior disciples to meals. That is why things are very difficult.
One time, I became depressed after a blunder, and had this conversation with my senior.
"Shinoharu, cheer up! How about this, why don't we just go and have something delicious?"
"Thank you, brother."
"That's fine, it's no big deal. The thing is, I only have 200 yen in my wallet now. So lend me some money and I'll buy you a meal."
"Thank you for the treat!"
As we talked, I drew out the money from my wallet. It was a really strange exchange. Of course, my senior paid me back right after that. I am grateful for the thought behind giving me a treat despite having no money.
Apparently, there are people who take out loans just to buy meals for their juniors. They are true
Edokko
(who were born and raised in Edo, and are known to have a strong sense of reciprocity and be ostentatious). This is a world where we give back to our juniors what we received from our seniors.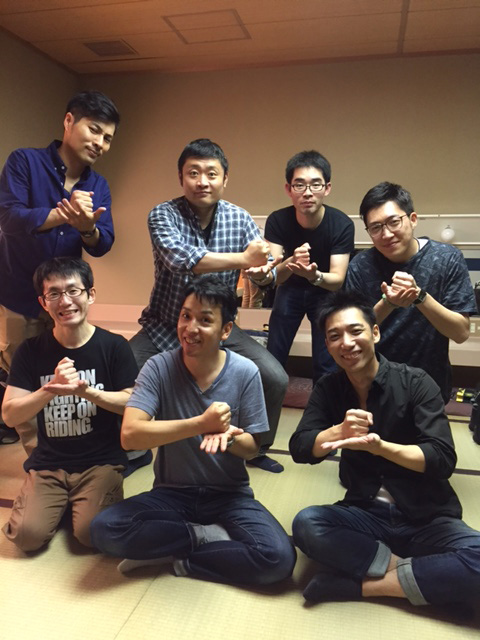 The first Shinosuke Ichimonkai in three years,
held on October 3rd this year at the
Fuchu no Mori Art Theater
.
Despite being such a close-knit group, there is something incredible about us. When we perform on the stage, our styles are entirely different! Even though we joined the group with an admiration for the same master, and trained and practiced rakugo under him, we ended up with our own distinct styles.
What is more, right at the start of our training, we are told to do things exactly the way we are taught. Individual characteristics and styles only come after the fundamentals have been thoroughly hammered into us. The way of thinking here is that true individuality lies in the characteristics that come flowing out of your body even after your individual characteristics have been denied.
I believe that my own individuality will be established in the future, throughout my long career as an entertainer. Still, I think the concept of "individuality" is an interesting one when we have an ichimonkai.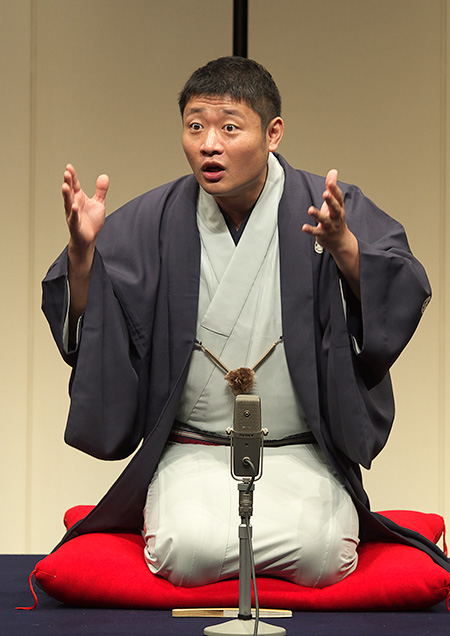 Shinoharu Tatekawa
Rakugo performer Shinoharu Tatekawa was born in Osaka in 1976 and raised in Kashiwa, Chiba Prefecture. After graduating from Yale University in the U.S., he began working at Mitsui & Co. in 1999. In his third year of work, he chanced upon a performance by Shinosuke Tatekawa. It had such a huge impact on him that he made the decision to become a rakugo performer after half a year, upon much deliberation. He approached Shinosuke Tatekawa directly to accept him as a disciple, but was rejected. However, he then resigned from his job and entreated the master once again to accept him as a disciple. In October 2002, he was accepted as the third disciple of Shinosuke Tatekawa. In January 2011, he was promoted to
futatsume
(the second highest rank). He performs classical and contemporary rakugo works, as well as rakugo in English, and has even performed in Singapore. In 2013, he received an encouragement prize from the Nikkan Tobikiri Rakugo Kai. His publications include
Dare demo waraeru eigo rakugo
(Rakugo in English; Shinchosha) and
Anata no purezen ni "makura" wa aruka? Rakugo ni manabu shigoto no hinto
(Does your presentation have an "introduction"?; Star Seas Company). His latest publication is
Jibun wo Kowasu Yuki
(Courage to destroy yourself; CrossMedia Publishing).
** Please visit the official websites below for information about his live performances.
Shinoharu Tatekawa's official website
http://shinoharu.com/
Shinoharu Tatekawa's blog
http://ameblo.jp/tatekawashinoharu/