10. To Rakugo Performers, Tenugui Can Serve as Business Cards
Shinoharu Tatekawa



As you know, winter has now arrived. Don't you feel that, somehow, the Christmas season arrives earlier each year?

Originally, until quite recently, the idea of fall events was limited to sports and viewing the fall leaves. Then major events like Halloween arrived. Japan was taken by storm in no time, or at least Tokyo was. A future we couldn't have envisioned ten years ago, with zombies, police officers, nurses and pumpkins flooding the streets of Shibuya, is now upon us.

By the way, I just thought nurses and pumpkins are a good combination.

That all passes and then, in the streets where the zombies, police officers, nurses, and pumpkins have been, moments later, the trees are all lit up with bright colors. It is the beginning of the romantic season. Starting in early November! Then, following a run-up period of around two months, the former zombies and nurses are eating cake and fried chicken on Christmas Eve, after which, a short run-up period of one week leads to New Year's Eve, when they eat toshikoshi soba or "year-passing" noodles.

As the year starts, they eat mandarins and rice cakes, put on matching scarves and set off to visit the local shrine. It may seem like a brief return to a "Japanese" way of life, but after another two weeks, they start preparing to give Valentine's Day chocolates. They eat the chocolates, Girl's Day quietly passes, and then the return macarons are eaten on White Day, and at last the romantic season comes to a close.

It lasts five months, from November to March. Isn't the romantic season too long?! To those of us who aren't interested in romance, the winter in Japan is an over-the-top season.

Another thing is that the Japanese winter is truly lacking in "Japaneseness." Is that really okay?!

With that in mind, from all of the preparations that we rakugo performers make for the winter, I thought I'd write about tenugui (hand towels).

Let me begin by explaining exactly what kind of meaning tenugui has to us.

We have two props that we use up on stage, a tenugui and a sensu (folding fan). Other names for these are kaze for sensu and mandara for tenugui. Industry lingo, you see? In the beginning, I had no idea about this jargon, so when my master said "give me the kaze" and I tried fanning him (because kaze means "breeze" in Japanese), he snatched the sensu away from me!

Sensu and tenugui, first of all, are used as rakugo props. The former can represent a brush, a sword, chopsticks; the latter can represent a letter, a wallet, a purse, a baked sweet potato, and recently, even a smartphone.

Among the practical uses, tenugui can be used for wiping sweat away when we are performing. It can also be put under a teacup instead of tray when zenza serve tea backstage.

So, my main subject this time is the fact that tenugui can serve as business cards for rakugo performers. After being promoted to futatsume (a recognized rank for independent rakugo performers), we make our own tenugui each year, and trade them with other rakugo performers or comedians that we meet over the New Year season. We give them to zenza, along with their New Year's gift money. Altogether, I must need at least 100 or 200 of them for this.

Although it depends on the person, I also hand them out to people who regularly help me, or who are going to in the near future. Basically, this means I have to make between 300 and 400 tenugui every year, before the New Year.

For that reason, I think up my own tenugui designs each year, but I'm not actually very good in that area. I have previously organized two consecutive annual "Tenugui Design Competitions" based on an idea my friends had, who said, "Hey, you should try turning this into a kind of event!"

The plan was to call for tenugui designs in the fall, have the audience at my year-end rakugo event vote on them, and use the design that got the most votes to make my tenugui for the following year. Incidentally, a secret goal was to get people that had never heard rakugo, to perhaps gain an interest in it, via the tenugui.

The first prize was ten of the winning tenugui design, and well... a one-year free pass for all of my solo shows.

You aren't sure that is a good prize?! ... Will you please shut up?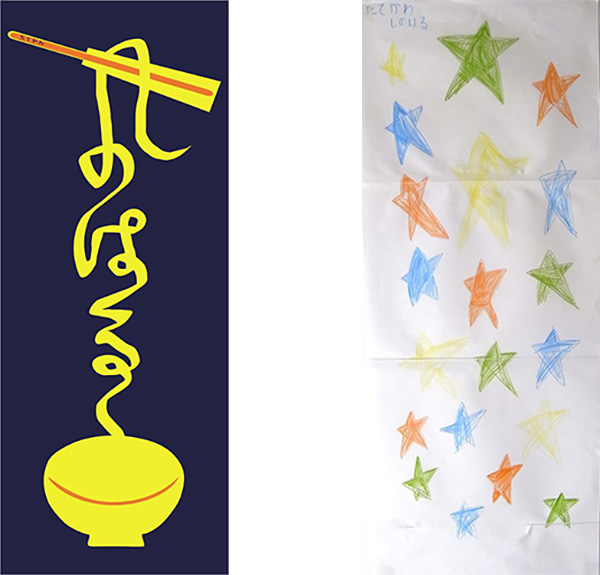 Left:
One entry received for the 2014 "Tenugui Design Competition"
Right:
A hand-drawn design by an elementary school pupil received for the same 2014 competition
Naturally, I was nervous about whether anyone would apply, but actually, with some help from my friends, I eventually received more than 20 designs. What a relief! There were entries from professional designers and oil painters, and even hand-drawn designs by children.
Of course, there were no
rip-offs
. Narrowing it down to one was difficult. In the end, for the first year and since, I have made two patterns, using the first-prize and second-prize winning designs.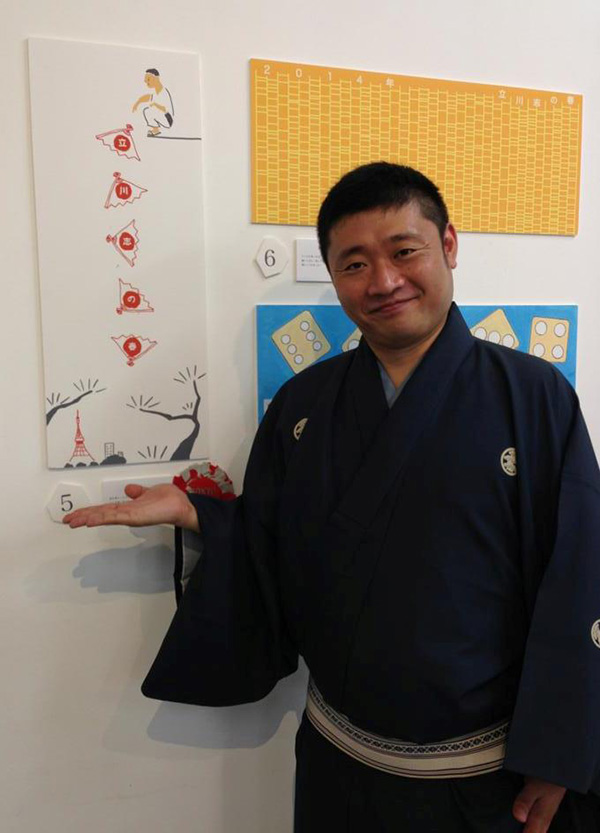 The first-prize winning design for the 2014 competition: simple but full of warmth
The friends that organized the competition put in a huge amount of work and effort, so after the second year, we took a temporary break. We will start it again though sometime. Making tenugui is one of the things I look forward to over the New Year.
Because these tenugui are hand-dyed, they come is an indescribable array of colors, and they feel very nice to the touch as well. There are various uses too; young people wear them around their heads, or necks as scarves, even computer keyboard covers.
Apparently, if you order a certain amount (at least 100, as I recall), you can even have your own design dyed. Why not try it out for yourself?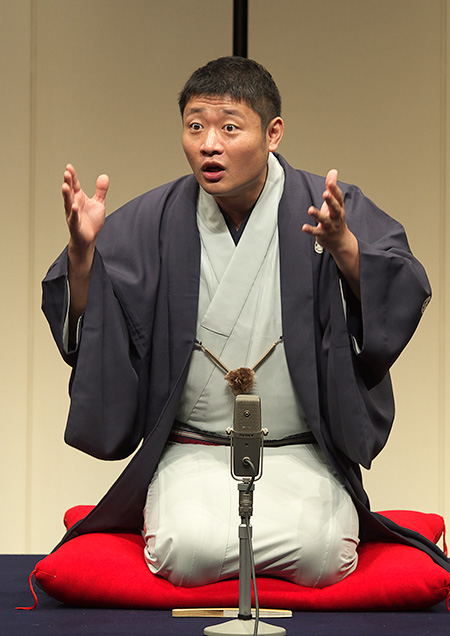 Shinoharu Tatekawa
Rakugo performer Shinoharu Tatekawa was born in Osaka in 1976 and raised in Kashiwa, Chiba Prefecture. After graduating from Yale University in the U.S., he began working at Mitsui & Co. in 1999. In his third year of work, he chanced upon a performance by Shinosuke Tatekawa. It had such a huge impact on him that he made the decision to become a rakugo performer after half a year, upon much deliberation. He approached Shinosuke Tatekawa directly to accept him as a disciple, but was rejected. However, he then resigned from his job and entreated the master once again to accept him as a disciple. In October 2002, he was accepted as the third disciple of Shinosuke Tatekawa. In January 2011, he was promoted to
futatsume
(the second highest rank). He performs classical and contemporary rakugo works, as well as rakugo in English, and has even performed in Singapore. In 2013, he received an encouragement prize from the Nikkan Tobikiri Rakugo Kai. His publications include
Dare demo Waraeru Eigo Rakugo
[Rakugo that anyone can laugh: Rakugo in English] (Shinchosha) and
Anata no Purezen ni "Makura" wa Aruka? Rakugo ni Manabu Shigoto no Hinto
[Does your presentation have an "introduction"?] (Star Seas Company). His latest publication is
Jibun wo Kowasu Yuki
[Courage to destroy yourself] (CrossMedia Publishing).
** Please visit the official websites below for information about his live performances.
Shinoharu Tatekawa's official website 
http://shinoharu.com/
Shinoharu Tatekawa's blog  
http://ameblo.jp/tatekawashinoharu/