9. As if to Say that Going for a Walk is a Proof of Adulthood...
The Taipei Fine Arts Museum is a famous cultural institution best known for hosting the Taipei Biennial, but to me, for many years, it was just a white wall that I saw at night from the windows of my uncle's car as he drove my family around. I always felt fascinated by the view of the brightly lit-up white wall.

It was not just the Taipei Fine Arts Museum. Various places and scenes in Taiwan were no more than fleeting images seen through car windows on our rides from the airport to the homes of my grandmother or other relatives. Of course, I used to go for walks around the neighborhood, but always in the company of my parents or some relatives. In other words, I seldom had the opportunity to walk around on my own. Even if I wanted to, my mother used to reign me in.

"What if you get lost?"

When I was seven or eight, I went on my own to a sweets and snacks shop near my grandmother's house, but got lost on the way back, and since I could not speak neither Taiwanese nor Chinese well, I felt so scared that I started blubbing until I was found by my aunt, who had been out looking for me. Thanks to her I did not get into trouble, but it was quite a traumatic experience.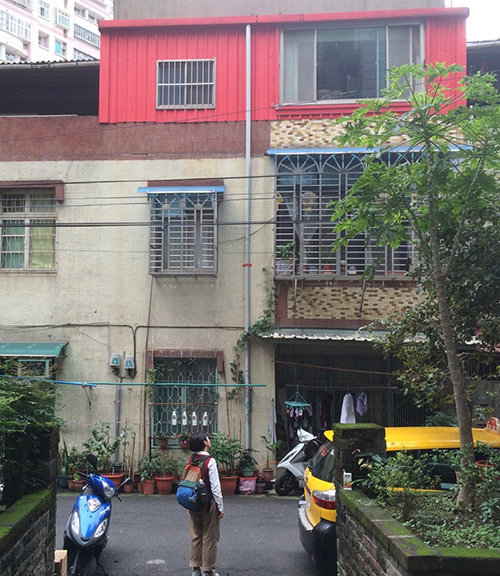 The neighborhood of my grandmother's house where I got lost as a child
Today, as an adult, when I am in Taiwan (and particularly Taipei, where I go most often in recent years) I use every free minute to venture outside on my own.

My walks, however, do not have strictly defined destinations. I just go out and decide to explore this area today or that area tomorrow.

During my explorations, I enjoy counting the Japanese hiragana symbol "no" (の), which sits with a lordly air on signs bustling with Traditional Chinese characters, and listening to the chatter of the crowds, which was a mixture of Chinese and Taiwanese, while feeling a bit nostalgic. I impulsively purchase guava at a street stall and nibble at it under a banyan tree.

I have too deep a connection to Taiwan to feel like a tourist. But I get too excited by the novelty of each and every sight I encounter compared to the local people. I am a Japanophone Taiwanese who happily walks around the streets of Taipei and Taiwan feeling more than a tourist but not entirely a local.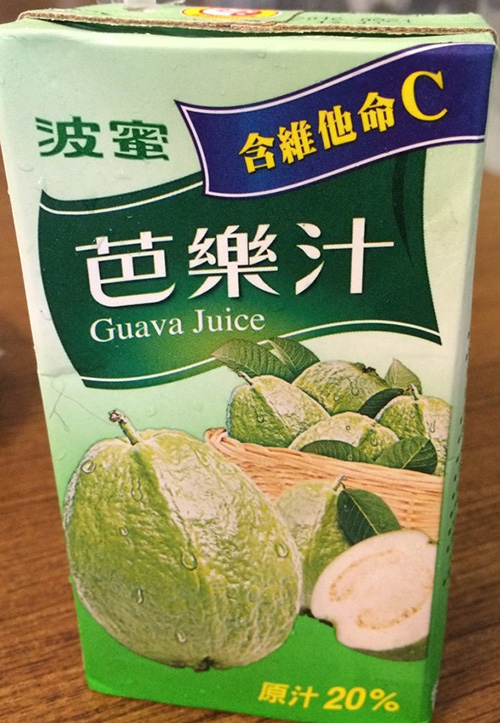 As guava is not widely available in Japan, it is the first thing I want to eat when I go back to Taiwan. I love guava juice, too.
There are a few places that I found while strolling through the city and fell in love with.

The first such place that comes to my mind is SPOT Taipei Film House. The cake-shaped, western-style mansion located amidst a clump of thickly growing Banyan trees served as the residence of the U.S. Ambassador until 40 years ago, and today is famous as a cinema-themed art spot managed by one of the leading figures of Taiwan's New Wave cinema movement, Hou Hsiao-Hsien.

The mini-movie theatre at SPOT Taipei Film House frequently screens rare films, so it is a favorite spot of Taipei's film aficionados. I personally prefer visiting the café on the first floor named "Café Lumière" (jiā pèi shí guāng, literally "coffee time," which is a title of a film directed by Hou Hsiao-Hsien). On clear days I choose a table on the terrace, where I enjoy the relaxing "coffee time" in the shade of the beautiful trees.
There are many fascinating art-related places in Taiwan besides SPOT Taipei Film House.

Another example is the Museum of Contemporary Art (MOCA), Taipei, which was created in a building that once served as an elementary school. As the name suggests, MOCA showcases masterpieces of contemporary art, but also resonates with the unique ambience of the former school building. Every time I visit there, I move from one exhibition hall to the next, feeling like a student who has snuck out of art class and is strolling down the corridor.

When I visited Huashan 1914 Creative Park, an art center located in a renovated sake brewery built under the Japanese rule, for the first time, I was instantly fascinated by how bright and airy the atmosphere was despite the heavy solid structure of the buildings. In addition to the venues that host exhibitions and various artistic activities, there are also cafés, restaurants, and shops, so visitors will not get bored even if they spend an entire day there.

Like MOCA, which was converted from an old elementary school building, it is a growing trend in Taiwan in the past few years to renovate disused factories and railway stations and "resurrect" them as art museums and sightseeing spots. This trend was apparently triggered by the Huashan 1914 Creative Park project. The term "creative" in the name of the facility refers to the process of creating culture, and suggests that the purpose of such parks is to create new value. Another hub that exemplifies this trend is the Songshan Cultural and Creative Park, a comprehensive cultural facility that occupies the restored building of an old tobacco factory built under the Japanese rule. (I hope to explore it during my next visit to Taiwan.)
When I wandered into the Sisinancun Quancun Museum by chance, I felt a somewhat powerful ambience, which did not match the exterior of the ordinary old-fashioned houses. Quancun is the name of a village once inhabited by soldiers who moved to Taiwan from continental China with Chiang Kai-shek after his defeat to Mao Zedong in the Chinese Civil War.

Sisinancun preserves, as a cultural heritage, the buildings--or, rather, barracks with steel-plated roofs and paint peeling off the walls--where soldiers from Qingdao in China lived with their families. Under the concept of "culture creation," the area was revived as an art spot where a museum of a great historical value coexists with cafés and shops.

In the past, the whole area was a village established by the government for soldiers who worked at the 44 Arsenal (sì sì bīng gōng chǎng), a weapon factory, and their families. The name of the village, Sisinancun (sì sì nán cūn), comes from the name of the old weapon factory.

The Quancun Museum has renovated the houses where the soldiers and their families lived, and showcases exhibits of old-fashioned electric appliances (pots) and everyday items (deck brushes) that you are likely to see in The Wonderful World of Sazae-san, a popular Japanese comic strip. The purpose of these exhibits is to record and preserve the history of Taiwan. To me, however, they bring back somewhat gloomy and nostalgic memories as they remind me of similar objects I have seen as a child in the homes of my granduncle and grandparents. Perhaps my parents grew up surrounded by such items. It is too recent to call it history. The exhibits disturb me in an unusual way that warps the sense of distance.
After I explored the museum exhibits I just walked into the adjacent café, also situated in a renovated house. The stylish café, similar to one that you would find in Daikanyama or Shimokitazawa, was bustling with Taiwanese youth, perhaps students. I took up a seat in the corner.

"Where have they gone?"

This question was slowly rising in my mind.

I knew the place used to be a housing facility where Chinese soldiers spent day after day, dreaming of returning to their homes in mainland China.

Still, the whole area had undergone renovation, so where have the residents gone?

The cozy rhythms of light Bossa Nova music filled the café. At the next table, a girl was cheerfully chatting to her boyfriend in Chinese. In the back, two young men were exchanging playful banter.

It was a weekday afternoon. There were no Japanese-looking tourists around. Most of the people in the bustling café appeared to be Taiwanese born in Taiwan.

Their grandfathers and great-grandfathers, however, were perhaps from mainland China. Some of them maybe even worked at the weapons factory to support their wives and children. Eventually, they were evicted from the temporary homes where they had lived for years, keeping alive the dream of returning to the homeland one day, and maybe had to spend their last days living with children or grandchildren.

As I sat there, sipping guava juice and letting my imagination run wild, I became painfully aware of my own ignorance regarding the past and present of Taiwan. This thought gave me an odd sense of guilt.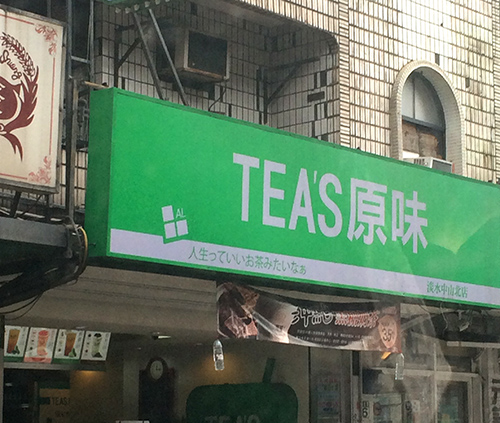 The signboard of a shop selling juice, tea, and other beverages that I discovered during my walks. The writing in Japanese, which said "Life is like good tea," made me feel all warm and fuzzy.
I started exploring Taiwan on my own with the belief that going for walks is a proof of adulthood, but the more glimpses I catch of the "Taiwan" that remained hidden back when I was guarded by my parents, the more I realize that I understand it less and less. That is right. The more determined I become to learn about Taiwan, the more I come to think that it will not be an easy job, and this realization leaves me feeling like a lost child. But maybe it is the other way around. Perhaps I go for walks in order to get lost, and thus, expose myself to the complex richness of Taiwan.
Follow Wen Yuju on Twitter https://twitter.com/wenyuju