10. Being Rocked on the Motorbike and Being Stirred up:
An Encouragement of Beitou Heterotopia
I rarely have the opportunity to ride a car, let alone a motorbike. So on this day, feeling excited but also nervous, I let my body rock back and forth on the Tanshui-Xinyi Line of the Taipei Metro.
I headed northward from Taipei Main Station and got off at the 11th station called Qiyan Station.
Walking for no more than five minutes, I arrived at the address that was supposed to be my destination.
For an instant, I was unsure whether I had come to the right place. Towering in front of me was an unadorned office building. I anxiously looked at the walls on both sides of the entrance. Paintings were hanging. The text on the corner of the works read,"Hong-gah Museum."
"It has to be here," I thought.
Just as I was staring up at the building, I heard the sound of a car engine behind me. I turned around and realized it was not a car but a motorbike.
Could this be? Before I even had a chance to think, several motorbikes stopped in succession on the road in front of the building.
There were five motorbikes altogether--a rather large wild-looking motorcycle, a scooter that a homemaker would ride to shop at a supermarket, a motorbike on which a young man would drive his girlfriend.
Even I, who know nothing about motorbikes, knew that there were several types of motorbikes.
What astounded me the most was that the drivers who sat astride and got off their motorbikes one after another were middle-aged men. Every one of them!
The men, who parked and briskly got off their motorbikes, were all dressed in casual weekend outfits, such as a polo shirt and shorts. They looked like fathers on their day off and were very cute.
"Wēn xiǎo jiě (Ms. Wen)!!" I heard someone call out my name. When I turned to see who it was, I saw a slender woman walking towards me.
It was Fang-tze Hsu, the curator of Beitou Heterotopia.
"Which bike do you wish to ride, Ms. Wen?" she asked me playfully in English with luster in her eyes. This immediately brought back the strange tension I had felt since the previous night, a combination of agitation and eagerness.
This was early August 2016.
On this day, I was there for a bike taxi ride in order to compose text for Beitou Heterotopia, the Taiwanese version of the participatory theater Tokyo Heterotopia started by the theatrical group Port B led by director Akira Takayama in 2013.
As this was mid-summer, we met early in the morning before the heat got severe.
While I was talking with Fang-tze, we were joined by Pei-yi Lu of Hong-gah Museum, Alice Ko who is producing Beitou Heterotopia with Fang-tze, and poet and professor at Meiji University Keijiro Suga who had flown into Taipei from Tokyo on the previous day. Our bike taxi tour around Beitou was about to begin.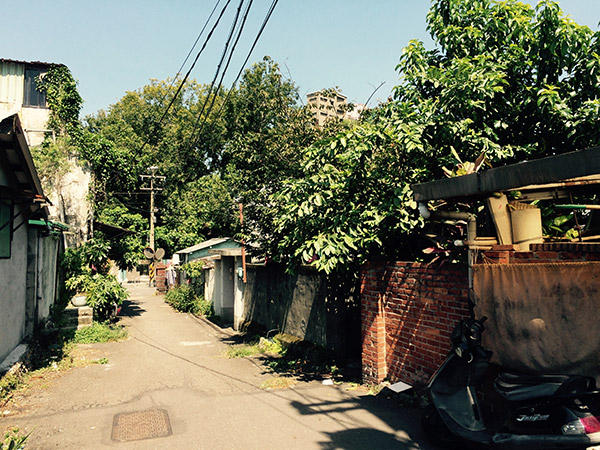 The streetscape of Beitou, a suburb north of Taipei, that becomes visible when you enter the mountain area.
Tokyo Heterotopia is a project in which the audience experiences a story themed on "strange lands" in Tokyo. When I visit the "sites to visit"--Tokyo Metropolitan Theater, Toyo Bunko Museum, Cambodian restaurant Angkor Wat, the site of the International Refugee Assistance Center, Tokugawa Village--listen to the audio explanation playing from the app I downloaded and gain exposure to the story of Asian immigrants who fled from their home countries, settled in Tokyo as immigrants or refugees, and became "Tokyoites," I see the sites as "places where alien logic peers through from the cracks of real society," borrowing the words of Keijiro Suga.
As one of the creators of this theatrical work put together and directed by Takayama-san, I also reviewed the findings of the study entrusted from a research team led by Tatsuki Hayashi of the Port Tourism Research Center, and created "a story that may have taken place here," set in the various sites, including the Shinsei Gakuryo Dormitory operated by the Asian Students Cultural Association founded by Goichi Hozumi, who was considered a father to international students, and the International Clinic where stateless doctor Evgeny Aksyonov served as director. (Tokyo Heterotopia is still on. http://portb.net/App/)
This participatory theater drew the attention of Fang-tze. She proposed to Takayama-san that this work also be set in Beitou. This was the beginning of Beitou Heterotopia.
The rows of bikes and their drivers transport tourists to hot spring inns. However, it is not only tourists but also the locals in the area that rely heavily on bike taxis. Of course, the bike taxis can be ridden to their destinations, but they can be used to have lunches delivered to workplaces during lunch time, to pick up children in place of their parents who are both working, or to pay for water and electricity bills at the request of the elderly. That said, Beitou, in fact, is the only region in Taiwan that utilizes bike taxis on a day-to-day basis.
"The reason is closely intertwined with the history of Beitou."
Recalling Takayama-san's explanation, I put on the helmet my driver gave me. When I sat on the rear seat nervously, my driver asked me if I was ready in Chinese. There was no warmth or friendliness in his voice. Even so, he drove slowly after confirming that I had both hands grabbing onto his shoulders.
Under the summer sky of Taipei, our tour left Hong-gah Museum led by the bike carrying Fang-tze. I was on the bike that was traveling at the very back of the pack. Although I was a little nervous, I gradually became more excited after feeling relieved that the driver drove gently and in a gentlemanlike manner, not rough at all, just as rumor had it. There were few bicycles on the major roads in the morning, and the wind hitting my cheeks felt very comfortable! As was rumored, the driver was very quiet. When we were stopped at a traffic light, Suga-san diagonally in front of me turned his camera to me with a big smile.
When the bikes stopped in succession in front of Xinbeitou Station, not even ten minutes had probably passed since we left the museum. As soon as I put my feet down on the ground, my driver supported me as I staggered to my feet. I thought he had a scary face, but perhaps he was amazed by my clumsiness, because his facial expression softened.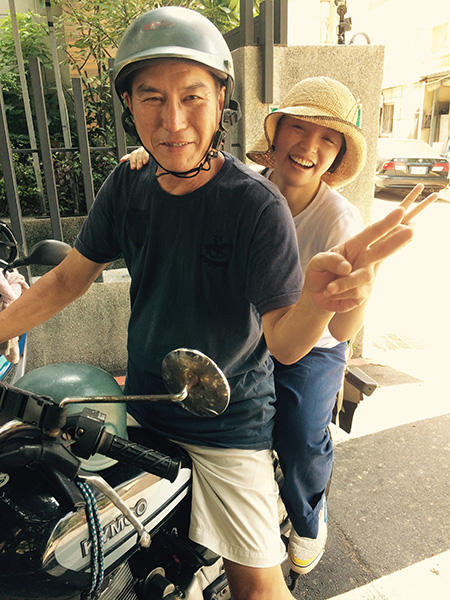 My bike taxi driver whom I thought was shy and a man of few words but became talkative as soon as I spoke to him in Taiwanese.
On this day, Takayama-san had a bike tour of the candidate sites for Beitou Heterotopia that Fang-tze and her production team in Taiwan spent approximately half a year researching.
The former Taipei Military Hospital built by the Imperial Japanese Army for the soldiers injured in the Russo-Japanese War, Heart Village rebuilt as a residential quarter for National Revolutionary Army personnel, a former licensed prostitution center that was an STD inspection institute for women who "comforted" male customers that visited Beitou, a sulfur valley at the mountaintop where steam rises from the ground; the list goes on.
Fang-tze and her team explained the history that was deeply embedded in the sites but was now almost all but forgotten. The whole time I was touring the sites that were to be utilized in Beitou Heterotopia, I could not ignore the ominous fate between Japan and Taiwan, former suzerain and colony.
Tokyo Heterotopia was an attempt at excavating and giving visibility to the history of Asian immigrants that lied buried in Tokyo. On the other hand, the Beitou version of Heterotopia seemed to me an attempt to face the modern history that Taiwan had to tread, which is condensed in the history inscribed upon the land of Beitou.
Being rocked on the bike and being stirred up by the memory inscribed upon the land, our tour continued.
In any case, it is Taiwan in August.
The brightness of the sun arouses dizzy spells. That makes the shadows created by the densely grown trees all the more profound. It would not be strange if signs of the traces of forgotten history were lurking in the shadows. It was a strange feeling. We traveled a steep mountain road on a bike, and I may have been half drunk by the smell of the sulfur.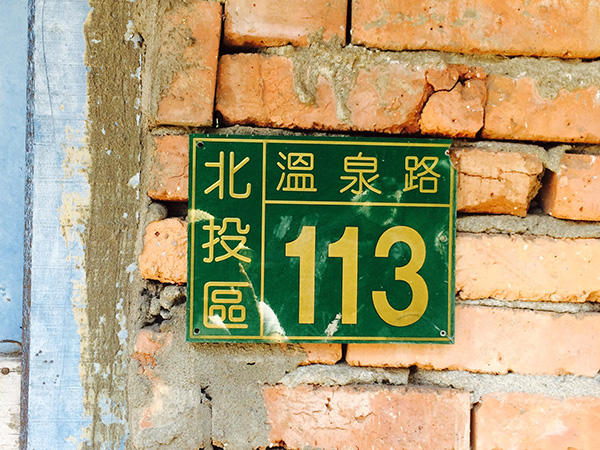 Beitou is famous for hot springs. This address says "Hot Spring Road"!
I found myself imagining women sitting on the rear seat of a bike taxi, just as I was doing, heading to their workplace, a hot spring inn.
Their work is to "comfort" men who were visiting Beitou. They include U.S. soldiers who were going to the Vietnam War and Japanese trading company employees during the high economic growth period.
Before going to the hot spring inn where they work, the women may make a stop at a licensed prostitution center. In fact, bike taxis thrived in the Beitou area precisely because they were utilized by women in the sex industry.
"Beitou has many sloping roads, making traveling by bicycle difficult. A normal taxi was too expensive. Therefore, bike taxis were very accessible and dependable for the women who worked at hot spring inns."
Nodding at the explanation given by Fang-tze and her team, I had a premonition that my relationship with Taiwan is once again bound to become complicated by creating a story about what may have happened here, while uncovering the history borne by Beitou.
On October 15, 2016, Beitou Heterotopia kick-started as a work exhibited at the Taiwan International Video Art Exhibition 2016 Negative Horizon organized by Hong-gah Museum.
By scanning the QR code at each site to be visited, the audience can listen to an audio recording of a story based on the history of that place. If anyone is visiting Taiwan during the exhibition period, I encourage you to take a bike taxi tour and experience Beitou as a "heterotopia" (strange land within reality). I could not be happier if visitors can gain a sense of the complex prosperity of Taiwan through texts that is in harmony with the history of Beitou composed by Keijiro Suga, a traveling poet; Walis Nokan, a member of Taiwan's aboriginal tribe Tayal; Chen Yu-chin, a Taipei person-to-be; and myself, a Japanophone Taiwanese. Rest assured, Japanese translations of the Taiwanese texts are available. Incidentally, I will be taking the tour on the last day, January 8!
Do you care to join me?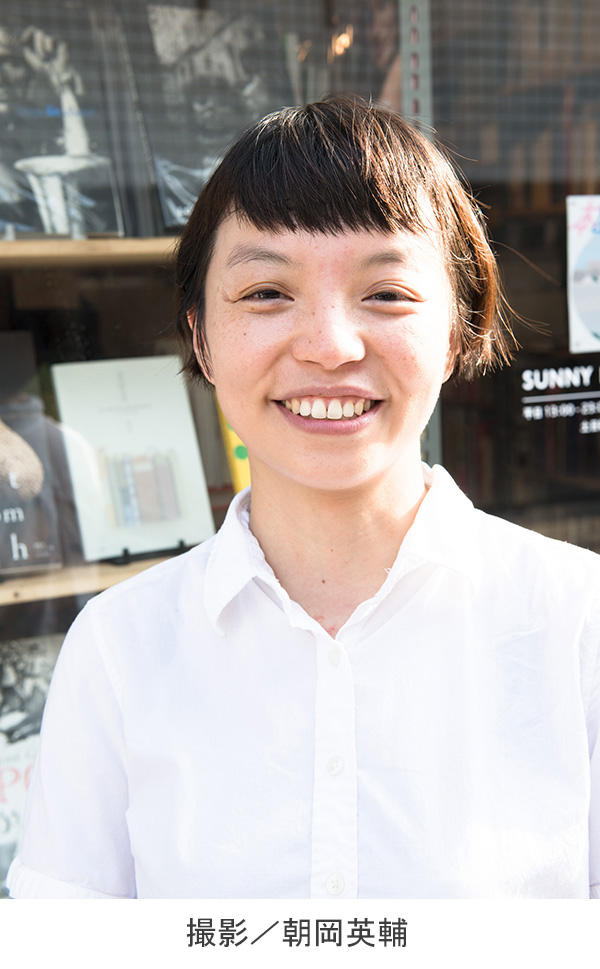 Wen Yuju
Author Wen Yuju was born in 1980 in Taipei. She won the Subaru Prize for Literature with her work Kokyokoraika in 2009, and published Raifuku no Ie (Shueisha) in 2011. In 2013, she appeared in Homeland in the Borderland, a documentary film directed by Keiko Okawa, which follows author Hideo Levy as he returns to Taichung, Taiwan, for the first time in 52 years. In 2014, she formed the duo "ponto" with musician Keitaney-Love Kojima, and launched collaborative performances under the title "mapo de ponto--Kotoba to Oto no Ofukushokan [Correspondence of Words and Sound]," featuring Wen's reading and Kojima's music. Her most recent collection of essays, Taiwan umare Nihongo sodachi (Hakusuisha, 2015), was awarded the Japan Essayist Club Prize in June. Her novel Raifuku no Ie, which for a while has been out of stock and without a specified reprint schedule, has been republished by Hakusuisha U Books at the end of September.
Follow Wen Yuju on Twitterhttps://twitter.com/wenyuju