Vol. 1 A Path for a Bonsai Master Opened through Passion and Energy Alone
Hello, my name is Takahiro Mori. I live in a small traditional Japanese home and work as a bonsai master.
A bonsai master is a craftsperson primarily engaged in the maintenance of bonsai owned by aficionados and other bonsai masters.
This is a rare occupation, and you might be lucky to find even one person doing it in your town.
Here I will write an essay that covers my experiences as a bonsai master. I hope that through reading this, you will develop an interest in the world of bonsai that is once again growing in popularity.
This small traditional Japanese home, situated in a residential area, serves as my atelier where I hold workshops.
I was born in 1979. I am 38 years old.
People often comment, "You're creating bonsai even though you are so young."
Certainly, I am rather young to be living in the world of bonsai.
It is not uncommon to find bonsai masters still active in their 70s, and many bonsai aficionados are over 60.
Many of my fellow bonsai masters were raised in environments where they were exposed to bonsai, having bonsai masters or aficionados within their family. However, I never encountered bonsai growing up, as far as what I remember.
In 2001, I was looking for a job wearing a dark "job interview suit" typical to Japan.
This is said to have been an extremely hard time for newly graduated job seekers. The IT business world was at its peak, and we were told to "build a new age of IT civilization."
Bonsai was completely hidden from everyone's awareness, and the option of making a career out of bonsai was lower than 1% for me.
So, why did I enter the world of bonsai?
As I was looking for a full-time job, I managed to complete some degree of self-analysis and form a vision for my future. As a result of a new, unfounded confidence in the idea of "creating bonsai" that arose instinctively in my mind, I developed an unwavering determination to make it my life work. It may sound like a fiction, but it is a true story.
At the age of 21 at the time, the world of bonsai was completely unknown to me, and the way I pictured it was based purely on my imagination.
"Japanese culture is a tool that can be leveraged inside and outside Japan."
"If I acquire skills, I never have to retire."
"I can work in a way that is connected with nature."
"This job requires a high sense of beauty."
"Bonsai will gain new interest as society ages."
"Bonsai is a hobby for the rich."
These are some examples of my thinking at the time, and the last one is perhaps an impure motive for one who intends to make bonsai creation their lifetime occupation.
The day after making this decision, with no knowledge at all, and no understanding of the good and bad of bonsai gardens, I started visiting local bonsai gardens, and at one particular garden, I asked its master to take me on as an apprentice.
I said, "I want to learn bonsai here!"
This was the Katsuta Koushouen run by a bonsai master in his early 50s in Hitachinaka City, Ibaraki Prefecture (now closed after the owner passed away from sudden illness in 2015).
Of course, I was turned down.
Thinking back, I realize how foolhardy I was, as nobody would let an unknown, random youth handle the expensive bonsai works.
So, after reading some books on bonsai and visiting numerous bonsai gardens in other prefectures, I asked the bonsai garden I had fallen in love with once again.
"Normally, it is too late to begin once you have already graduated from university. However, you say you've still yet to work full-time, so there may still be hope."
Perhaps because he believed in my passion, I was given permission to take the first step on the path of bonsai. At the time, I completely missed that deeply meaningful phrase uttered by the master, "You've still yet to work full-time, so there may still be hope."
"Neatly, attentively."
This is the first thing I was taught by the master.
I was taught to carry out each assigned random task, such as tidying up the workplace, cleaning the yard, or weeding the garden, neatly and attentively.
Thinking back, it must have been four or five months until I was allowed to actually touch a bonsai plant. I had heard that in the past it would take two or three years, so I imagine that some accommodation was made for modern times.
The idea of "bonsai as art" was still far in the future for me. My days were spent surrounded by bonsai, focusing on learning and observing plants.
"In five years, you can only experience springtime five times."
Plants present their beautiful form through the seasons, and enrich our minds.
Bonsai is the process of cultivating and guiding those plants until they enter the realm of art.
The act of cultivation is what differentiates bonsai from other art forms.
If plant should wither, it is over.
Even bonsai trees that have lived 100 years were created through daily care.
These works, cultivated by hand over time without the use of machines, are passed down generation to generation.
That is the true nature of bonsai, and why it is called an art form that is never completed.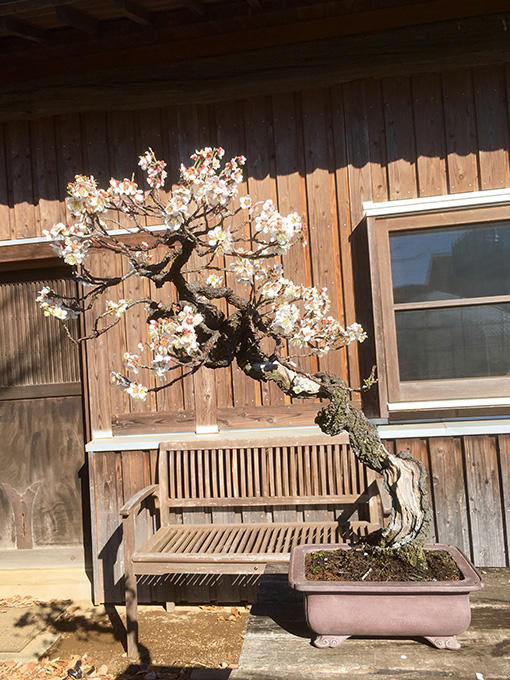 Thus bonsai is an art form created through daily effort.
"You say you've still yet to work full-time, so there may still be hope."
I did cleaning, weeding, and random tasks. My starting salary was 20,000 yen.
During my short time of apprenticeship, my days were filled absorbing the sight of the master in each moment of working on and observing the plants.
During my short time of apprenticeship, my days were filled absorbing the sight of the master in each moment of working on and observing the plants.
Now I await the arrival of the 17th springtime since I entered the world of bonsai.
What will this springtime be like?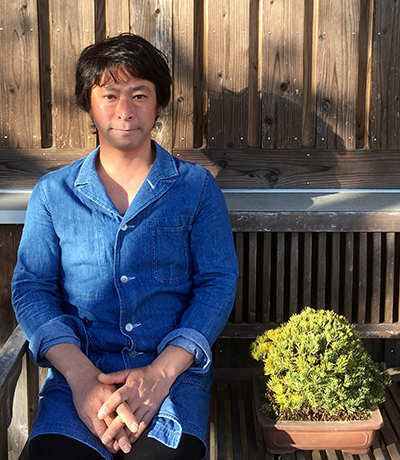 Takahiro Mori
Bonsai master Takahiro Mori was born in Tokyo in 1979. After graduating from the College of Applied International Studies at Tokiwa University, in 2002 he began studying bonsai as an apprentice at Katsuta Koushouen, a bonsai garden in Ibaraki Prefecture. In 2006, he became independent and launched his own activities. In 2009, one of his works won the Kokufu Award at the Kokufu-ten Bonsai Exhibition, an event with a long and distinguished history. From 2009 to 2013, he worked as an in-house bonsai artist at the Omiya Bonsai Art Museum, Saitama. In 2013, he traveled to Kosice in Slovenia, the European Capital of Culture 2013, as a bonsai demonstrator, and participated as a representative of bonsai masters in the presentation for Saitama's bidding to host the 8th World Bonsai Convention, which will be held in 2017. Mori conducted demonstrations at Bonsai Slovakia 2014, and participated as a bonsai expert in the Japan Government exhibit at the EXPO 2016 Antalya International Horticultural Exposition held in Turkey in 2016. Today, in addition to his work as a bonsai master, Mori is actively engaged in initiatives to promote the art of bonsai in Japan and abroad through workshops for beginners that he conducts at his atelier Bonsai Mori established in 2013 and bonsai classes he organizes in California in the United States.
Bonsai Mori website: http://bonsaimori.jp/
Bonsai Mori Facebook page: https://www.facebook.com/Bonsaimori/