Vol. 2 People are Fascinated by Bonsai for the Same Reasons throughout the World
Spring is approaching as warm days alternate with cold days.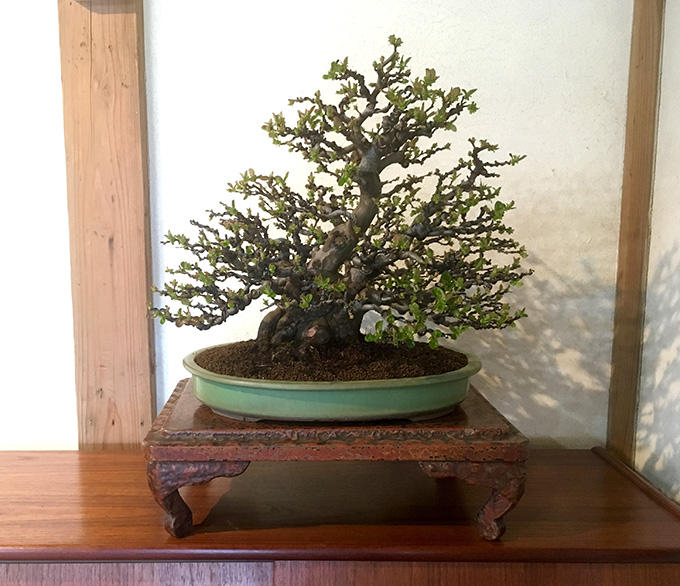 A Chinese quince bonsai beginning to bud
The primary task for March is repotting.
Once any unnecessary roots are trimmed back and a bonsai tree is repotted in fresh soil, it takes on a very comfortable and refreshed appearance, as does its owner.
With the 8th World Bonsai Convention in Saitama approaching in late April, in this issue I will write a bit about the situation of bonsai overseas.
While I do not know exactly how many bonsai aficionados there are throughout the world, judging from the number of posts on social media, there are many passionately involved in the art in countries with different climates and cultures from Japan.
Do you realize how many bonsai plants most aficionados own? While I am sure it differs among individuals, the majority of the customers who I work for have over 100 plants.
There are many who even have over 300 plants.
And interestingly, the foreign aficionados are about the same.
They seem to laugh it off saying, "My collection has expanded before I knew it."
Each bonsai plant is characteristically unique. As owners have emotional memories attached to each of their plants, they feel a sense of relief and enjoyment from caring for the plants conscientiously.
Incidentally, I myself choose to give more attention to a smaller number of select plants. Given that much of my work takes place outside the workshop, I suppress my latent desire to increase the number of plants, and instead keep only those which I wish to spend time on.
But of course, my dream is to one day have a great number of precious woods, much like the most venerable bonsai gardens.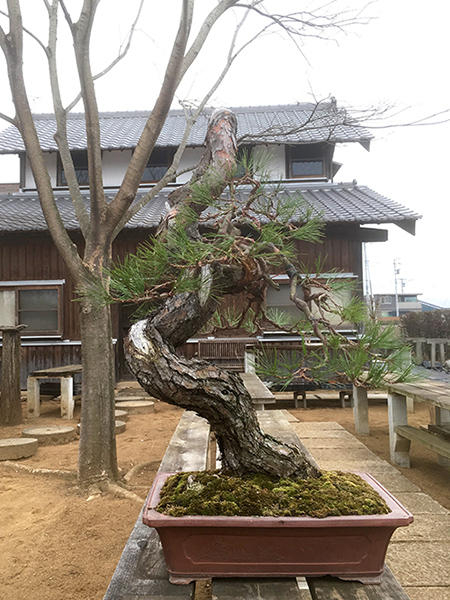 A Japanese red pine I recently acquired. I am looking forward to seeing how it develops in my four-year plan.
"The growth of the bonsai is in equal measure to the love with which it is raised."
In the daily handwork, such as watering, trimming, repotting, and wiring, I am gradually drawn into a micro world, and start a conversation with plants, observing the swelling buds, the bark, and the color changes, as well as veins of the leaves.
The reasons that people are fascinated by bonsai, such as the act of caring for a plant and the art of it, are the same irrespective of country or language.
So, how were bonsai first introduced widely to the world?
It was at the 1873 World's Fair in Vienna.
This year marked the first official participation of the Government of Japan in the World's Fair, and records show that bonsai was included among the many exhibits.
Today, activities to spread bonsai are being carried out throughout the world by those who wish to see its further development.
There was even a bonsai exhibit at the Expo 2016 Antalya, where I was one of the exhibiting members for the Japanese Government, and I had the honor of providing support alongside floral designers, ikebana artists, and specialists in distribution.
The Omiya Bonsai exhibit was received extremely well.
As the event was targeted towards the general public rather than bonsai aficionados in particular, many of the attendees would point at ornamental trees and ikebana flower arrangements and ask if they were also bonsai, showing that while interest and awareness of bonsai was high in Turkey, knowledge was still lacking.
However, there are businesses there involved in bonsai, so I expect to see continued energetic activity.
I heard the phrase "macro bonsai" for the first time at the fair.
Apparently, it is a trademark for the overseas market referring to ornamental garden trees to which bonsai shaping techniques are applied.
Upon further investigation, it became apparent that production in China had already started influencing the sale of macro bonsai produced in Japan as early as nine years ago.
I had no idea.
To be honest, at first I had questioned the application of the name "bonsai" to garden trees because the "bon" in "bonsai" refers to a shallow flat bowl, but I would like to support the concept of macro bonsai in the future out of pride for the recognition it shows for Japan's high-level shaping skills.
Thus, I approve of the way that new types of bonsai are born even while the skills and knowledge passed down over generations are carefully maintained.
When the process of evolution and change giving rise to new value ceases, then there can be only decline.
Just as the number of aficionados throughout the world increases, so does the number of highly-skilled professionals.
There are those who have trained thoroughly in Japan, and also those who have learned through experience on their own who run superb bonsai gardens.
Today, countless superb works of bonsai are being created around the world due to growing knowledge and skill, and the availability of materials, and I am often stimulated by the shaping applied and the ways it is exhibited.
At the upcoming 8th World Bonsai Convention in Saitama mentioned above, there will be demonstrations given by 13 Japanese bonsai masters as well as artists from 8 other countries.
While the viewing of those demonstrations is subject to varying conditions, it will be a rare opportunity to observe the processes by which bonsai is made.
Please check the schedule and take the time to visit the venue.
Bonsai is yet another wonderful tool for intercultural communications.
It can be enjoyed alone. But I really hope you will enjoy this opportunity for exchange across borders between countries and generations.
[Information]
8th World Bonsai Convention in Saitama: April 27 through 30, 2017 at the Saitama Super Arena and other venues.
http://world-bonsai-saitama.jp/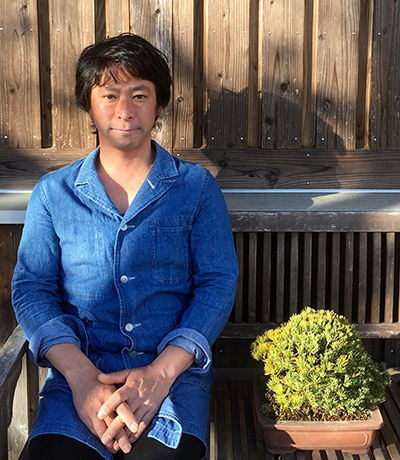 Takahiro Mori
Bonsai master Takahiro Mori was born in Tokyo in 1979. After graduating from the College of Applied International Studies at Tokiwa University, in 2002 he began studying bonsai as an apprentice at Katsuta Koushouen, a bonsai garden in Ibaraki Prefecture. In 2006, he became independent and launched his own activities. In 2009, one of his works won the Kokufu Award at the Kokufu-ten Bonsai Exhibition, an event with a long and distinguished history. From 2009 to 2013, he worked as an in-house bonsai artist at the Omiya Bonsai Art Museum, Saitama. In 2013, he traveled to Kosice in Slovenia, the European Capital of Culture 2013, as a bonsai demonstrator, and participated as a representative of bonsai masters in the presentation for Saitama's bidding to host the 8th World Bonsai Convention, which will be held in 2017. Mori conducted demonstrations at Bonsai Slovakia 2014, and participated as a bonsai expert in the Japan Government exhibit at the EXPO 2016 Antalya International Horticultural Exposition held in Turkey in 2016. Today, in addition to his work as a bonsai master, Mori is actively engaged in initiatives to promote the art of bonsai in Japan and abroad through workshops for beginners that he conducts at his atelier Bonsai Mori established in 2013 and bonsai classes he organizes in California in the United States.
Bonsai Mori website:http://bonsaimori.jp/
Bonsai Mori Facebook page:https://www.facebook.com/Bonsaimori/