Report on the "Sanriku International Arts Festival―Fall Program"
A Visit to the Origins of Performing Arts (Part 2)
2020.9.18
Click here for Part 1.
Commenced in 2014, the Sanriku International Arts Festival is an initiative that connects Sanriku and Southeast Asia through local performing arts. This festival is hosted by the Japan Foundation Asia Center and the Sanriku International Arts Committee. In addition to mutual visits by traditional performing arts groups from the Sanriku region and Asia to teach each other performing arts, these groups also engage in a variety of performances that include new joint productions. (The Japan Foundation Asia Center has been collaborating since 2015.) This is the second half of a report on our visit to the Sanriku International Arts Festival held from October 26 to November 4, 2019 in four cities and three towns along the Sanriku coast in Aomori and Iwate prefectures.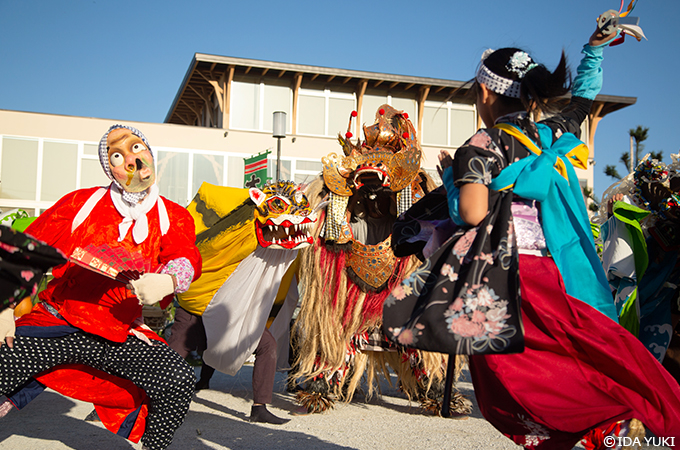 A joint performance of Genealogy of the Lion/Deer Dance featuring an Indonesian Barong dance and three local performing arts groups in Otsuchi Town, Iwate Prefecture
Genealogy of the Lion/Deer Dance, a Transnational Collaborative Performance and Workshop with Artists from Japan and Indonesia at a Festival That Gathers Millions of Gods
The highlight of the Sanriku International Arts Festival in fall 2019 was the premier performance of the Genealogy of the Lion/Deer Dance, an internationally co-produced performing art performed by Indonesian Barong dancers and three local performing arts groups from Otsuchi Town, Iwate Prefecture. While deepening interchanges through the Sanriku International Arts Festival, since 2014 members of Otsuchi Town's Usuzawa Shishiodori (Deer Dance) (Usuzawa Shishiodori Conservation Association) and the Barong dancers visited each other's countries to collaborate and create this dance. It made its debut at Roppongi Art Night, an art event held in Roppongi, Tokyo, in 2016. For the Sanriku International Arts Festival, the dance welcomed into the fold Otsuchi Town's Otsuchi Toramai (Tiger Dance) (Otsuchi-cho Toramai Kyogikai) and Kirikiri Dai-Kagura (Kirikiri Dai-Kagura Conservation Association). It was also enlivened with the addition of folk tales passed down in the town as motifs. A homecoming performance of the dance was held in Otsuchi Town on November 2, 2019.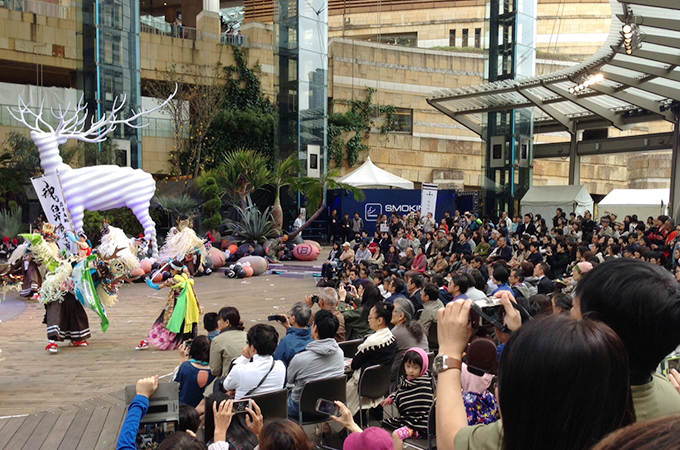 Performance of Genealogy of the Lion/Deer Dance at Roppongi Art Night 2016 in front of a crowd
The participating Otsuchi-cho Toramai Kyogikai alone consists of the town's four Toramai groups. It is surprising to learn that Otsuchi Town, with a land area of around 200 square kilometers and a population of about 12,000 (as of January 31, 2020), possesses and has handed down such a diversity of performing arts. However, these groups had never actually performed together before, and the co-production of this dance led to their first joint performance.

The common denominator in this cross-border endeavor is the "lion." According to Muto Daisuke (Associate Professor of Aesthetics, Dance Studies, Gunma Prefectural Women's University), who served as a Dramaturg (researcher) for this work, the lion dance originally came from the Asian continent to Japan, thus is closely related to lion dances in China and the Korean Peninsula. Barong dance in Indonesia also belongs to the family tree. In contrast, the "lion" in the Lion (Deer) Dance performed in eastern Japan is not actually a lion. Rather, it means "meat" in ancient language, or wild animals such as deer, wild boar and bear that have been eaten in the region. Today, each distinctive performing art carried out in various parts of the region has gradually spread and shifted shape through cross-regional exchanges. However, it can be said that the underlying commonality of these performing arts has always been a deep reverence of nature and a dedication of festivals.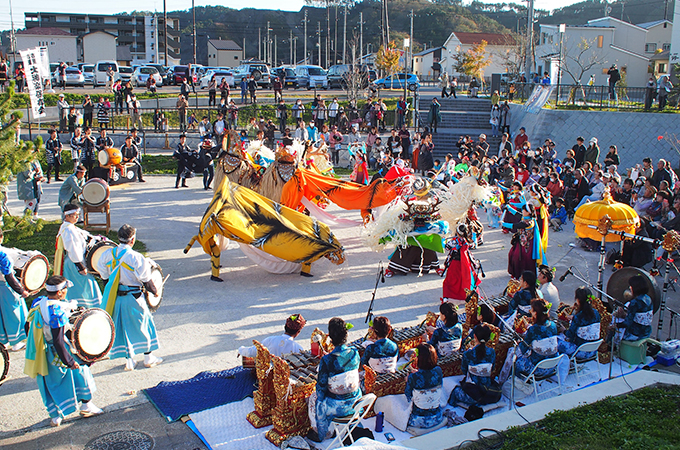 The Genealogy of the Lion/Deer Dance was performed for the first time as local residents looked on.
Under clear autumn skies, people of all ages gathered in Oshachi Park as if attending a local festival. Passersby and shopkeepers also stopped to watch the performance.

The local folklore Kannazuki begins with a man and woman, who are unable to marry because their parents are against it, asking the village god to bind them in marriage. In the month of Kannazuki (present-day October), the village god travels a long distance to participate in a marriage council at Izumo Taisha Grand Shrine in Shimane Prefecture and succeeds in persuading all the deities to recognize their marriage. The wild animals, distant descendants of the deities, dance together at Otsuchi amid the blending timbre of Indonesian gamelan and Otsuchi music, as a peaceful, dreamlike celebration takes place.

At a symposium following the final show, Hirano Eiki, chairman of the Kirikiri Dai-Kagura Conservation Association, described his reaction. "Performing with different types of music and tempos was really a challenge. There was no opportunity beforehand for each town group to practice together, so I learned a lot. I hope to apply this experience in our own performing arts. I felt that the underlying aspects of Barong dance are the same as ours." A member of the Barong dance also commented: "As soon as we started practicing together, we were able to understand each other and felt our cultures are the same. It was like meeting Barong dancers from other areas. This collaboration was truly successful." Judging from these comments, it appears there was mutual rapport.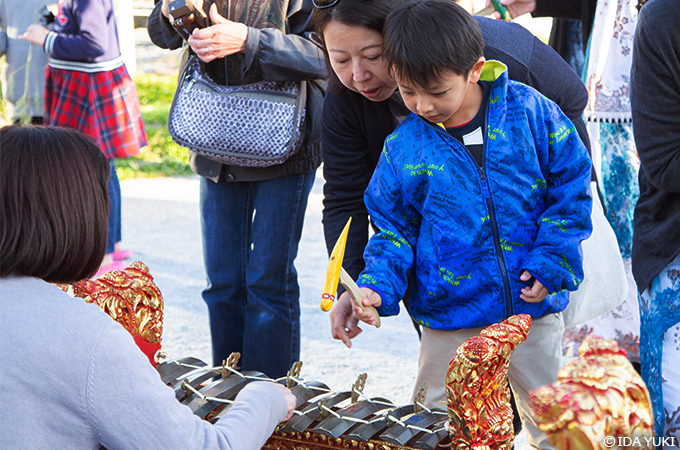 Following the performance, community residents learned how to play gamelan from the performers.
Changing Shape Facilitates Carrying On the Heritage of Performing Arts
Many local performing arts organizations across Japan are suffering from a shortage of performers to perpetuate these arts in the future. In contrast, the Usuzawa Shishiodori Conservation Association that participated in Genealogy of the Lion/Deer Dance boasts 100 members, mainly from the village, and says its activities have continued without interruption for around 400 years.

Former Chairman Tobai Hideo says: "Years ago, only select local residents could participate. In my 20s, I witnessed people from outside the village being turned away. I told senior members that we'd have no future if we kept rejecting people like this. It took some time, but since the 1970s everyone has been accepted." Mori Takanobu visited Otsuchi Town from Tokyo as a volunteer following the Great East Japan Earthquake and was captivated by the festival. After commuting back and forth, he finally moved to Otsuchi Town four years ago and became a member of the conservation association. He actively engages in exchanges with overseas countries, and in 2012 he was dispatched to China by the Japan Foundation. He participated in the Sanriku International Arts Festival from the very beginning, accepted visitors from Indonesia and visited Bali in 2015.

Proficient in using social media at age 74, Mr. Tobai explains with a smile: "Through social media, I can communicate with people overseas and learn what each of us is doing. I get a true sense that heart-to-heart interchange is becoming stronger."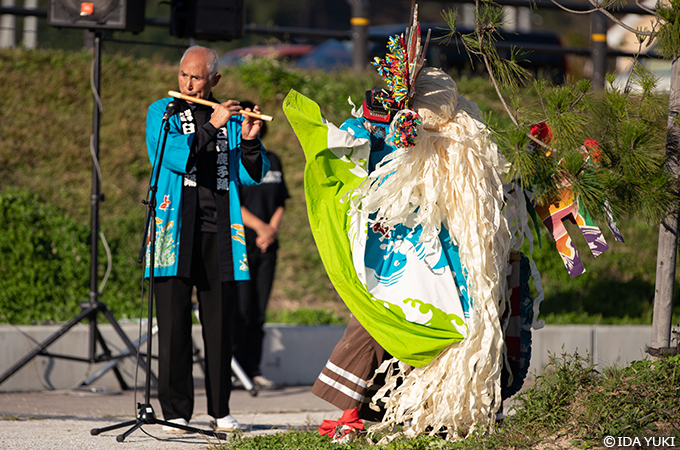 Mr. Tobai (left) performs in Genealogy of the Lion/Deer Dance.
Otsuchi Town Mayor Hirano Kozo, who watched Genealogy of the Lion/Deer Dance, commented: "Although tradition is intangible, it supports the local community. Valuing culture is an important element of community building. People convey culture. So through exchanges at the Sanriku International Arts Festival, tradition will certainly change and evolve into a new tradition someday. Despite facing tsunamis and other disasters, Otsuchi Town has the strengths needed for accepting change. I believe that not fearing change while interacting with various people leads to new kind of tradition."

What has supported the development of Otsuchi Town's local performing arts is not only the resolute adherence to tradition, but also having the flexibility to embrace change in step with the times and to accept others.
Performing Arts Serve as a Power for Living through Difficulties
Nine years have passed since the Great East Japan Earthquake. Otsuchi Town also recorded a tsunami as high as 22.2 meters. The area near the former town hall where the joint production was performed was also inundated by a 10.7-meter tsunami. The number of the dead and missing in Otsuchi Town due to the tsunami totaled 1,286 persons, including 52 earthquake-related deaths, according to Ikiru Akashi (Living Proof), a public record of the Great East Japan Earthquake of Otsuchi Town, Iwate Prefecture. Although land readjustment is under way and the town looks like a new residential area, 57 survivors in 26 households still live in temporary housing within the town (as of January 31, 2020).

The Dramaturg Muto notes, "Local performing arts inherit the imaginative powers needed when life becomes difficult."

A 77-year-old woman from the local neighborhood also came to watch Genealogy of the Lion/Deer Dance. She explains, "Suffering damage from the tsunami, I was not in a normal state of mind. But watching the performing arts at the festival filled me with a sense of calmness and allowed me to forget about the hardships and the tsunami for a moment."

Members of the town's performing arts groups that participated in the arts festival also lost their families, friends, practice places and handed-down costumes and implements. Despite such setbacks, these groups reunited and through dancing continue to energetically undertake activities to express their appreciation for the support received from across Japan.

At the time of the earthquake, despite suffering damage themselves, members of the Usuzawa Shishiodori Conservation Association voluntarily opened its practice venue. The building, which escaped damage, was used as an evacuation shelter and helped numerous survivors. One month after the earthquake, the members danced at evacuation shelters to help raise the spirits of disaster victims. At a festival held every September, Kadozuke, a custom in which two or three groups perform at the front gates of dozens of homes, was held as usual the year of the earthquake. The Association even dedicated dances at the homes with missing family members.

Miura Takashi, a young member of the Association, also performed in Genealogy of the Lion/Deer Dance. He says, "I was conflicted about dancing during the time of disaster, but I danced with such thoughts as 'I wish those missing would come home soon' and 'I'm sorry I wasn't there to pray for your soul'." Looking back, he explains, "At the time, many people were still missing. Religious facilities were also washed away, so we couldn't even hold proper ceremonies for the dead. All we could do was to mourn the victims and provide encouragement by dancing. I figured maybe I should dance especially in such time of hardship." People in the community enjoyed the dance through tears.

Mr. Miura adds: "I feel that religion and nature are closely intertwined in Sanriku. We can only pray to gods when it comes to phenomena beyond the powers of people like earthquakes, tsunamis, poor harvests and poor fishing catches. The votive dance of the festival is an offering to the gods. The power of humans is no match for nature, but we cannot lie in defeat. We can do anything as long as we are alive. Performing arts provides us with the strengths to do so."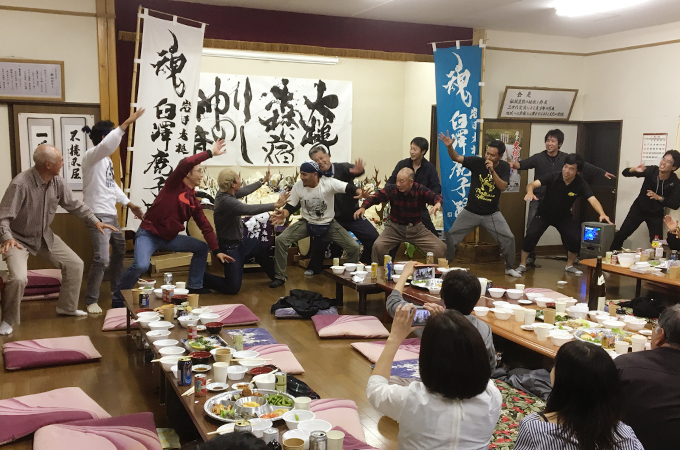 Performers enjoying an improvised dance of kecak, an Indonesian performing art, at a closing party for Genealogy of the Lion/Deer Dance
Local performing arts exist alongside people's lives. This is sometimes in the form of a festival, a memorial service or a prayer. Performing arts are not about efficiency or logic. Conveying reverence and wishes to larger beings transcending human power and connecting traditions from generation to generation have helped people rise up from hardships. This is perhaps a wellspring of culture and arts that steadily flows throughout the Sanriku region and connects to the world.
Sanriku International Arts Festival: https://sanfes.com/en/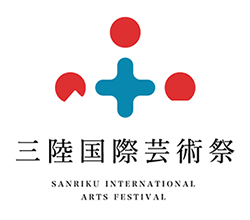 Interview, text and photos: Terae Hitomi (The Japan Foundation Communication Center)
Photos: Ida Yuki