Report on the "Sanriku International Arts Festival―Fall Program"
A Visit to the Origins of Performing Arts (Part 1)
2020.9.18
The Tohoku region of Japan is said to be home to over 2,000 traditional performing arts. The Sanriku International Arts Festival, an initiative for connecting the contrasting regions of Sanriku and Southeast Asia, promotes cultural exchanges through these traditional performing arts.

Commenced in 2014, this festival is hosted by the Japan Foundation Asia Center and the Sanriku International Arts Committee. In addition to mutual visits by traditional performing arts groups from the Sanriku region and Asia to teach each other performing arts, these groups also engage in a variety of performances that include new joint productions. (The Japan Foundation Asia Center has been collaborating since 2015.) Why are so many traditional performing arts handed down in Sanriku? And what exactly is the connection between traditional performing arts in Sanriku and Asia? We had the opportunity to visit the Sanriku International Arts Festival held from October 26 to November 4, 2019 in four cities and three towns along the Sanriku coast in Aomori and Iwate prefectures.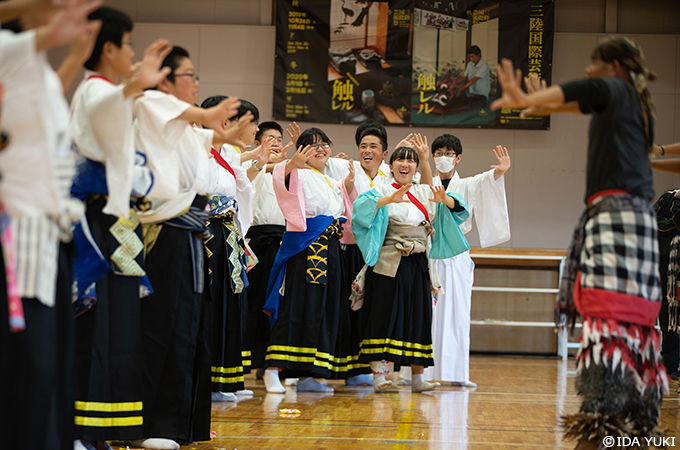 Junior high school students enjoy learning about Indonesian traditional performing arts (Natsui Junior High School, Kuji City, Iwate Prefecture).
Three performers from Indonesia visited Tohoku in 2019. They were Barong dancers from Bali and a gamelan performer (general name for various percussion ensembles across Indonesia). They are familiar with dance and gamelan since their childhood and are members of the world-famous elite gamelan orchestra Cudamani. Barong dance, a representative Balinese dance, expresses the battle between the sacred beast Barong, a symbol of good, and Rangda, the demon queen. Similar to a lion dance, a male duo performs inside Baron with its long torso and large face. The performers participated in exchanges and presentations in various parts of Sanriku together with the Japanese gamelan performing unit Terang Bulan.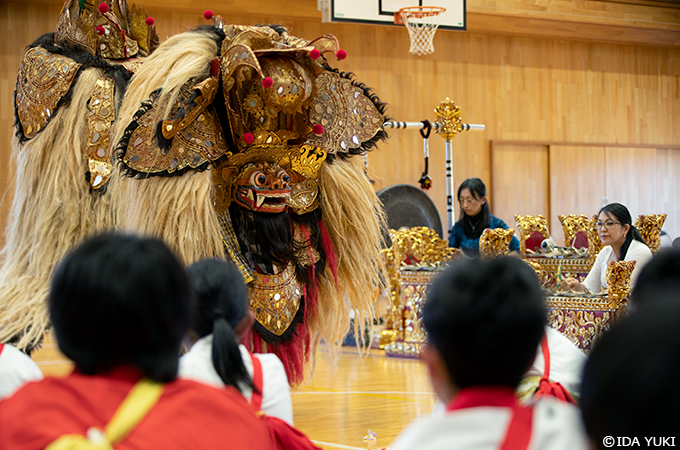 Barong dance and gamelan (Natsui Junior High School, Kuji City)
"Because There Are People Suffering": Exchange between Barong Dance Performers and Natsui Junior High School Held despite a Typhoon
The Sanriku International Arts Festival in fall 2019 was held amid the heavy rain damage from Typhoon No. 19 (Typhoon Hagibis), which made landfall in eastern Japan on October 12, 2019 and caused enormous devastation across parts of the Japanese archipelago. A total of 53 persons lost their lives and two are still missing in Fukushima, Miyagi and Iwate prefectures due to river flooding and landslides (according to Kahoku Shimpo online news on December 28, 2019, a survey by Kahoku Shimpo newspaper).

After the entire line finally reopened in March 2019 following the Great East Japan Earthquake that occurred on March 11, 2011, Sanriku Railway saw its track road bed washed away by the typhoon, which left about 70% of its track sections disconnected. (Although some sections remained disconnected on the day of the festival, restoration was undertaken and the entire Sanriku Railway Rias Line resumed operation on March 20, 2020.) A Rugby World Cup match, scheduled to be held on October 13 in Kamaishi City, Iwate Prefecture, was cancelled for the first time in the history of the competition. A portion of the programs of the Sanriku International Arts Festival also had to be cancelled.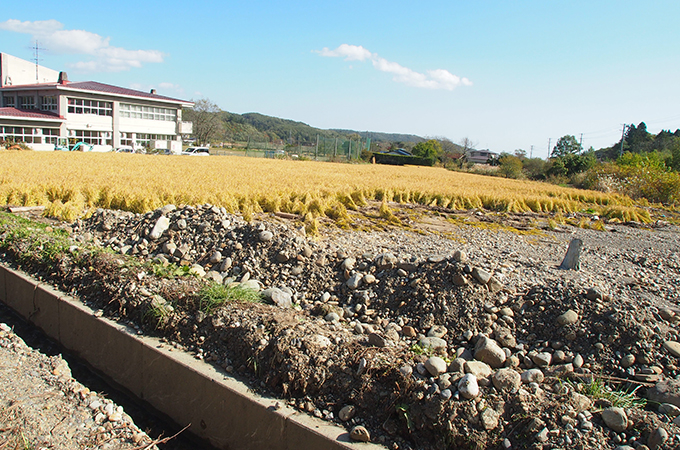 Some of the debris flow still remained in a rice field in front of Natsui Junior High School on the day of the arts festival.
An exchange featuring the traditional performing art Natsui Daibonten Kagura and a Barong dance was scheduled to be held at Natsui Junior High School in the Natsui district situated in the mountains of Kuji City, Iwate Prefecture. However, these performances were threatened by the large amount of sediment that flowed onto the school parking lot and athletic ground due to a landslide caused by the typhoon. In addition, a nearby road and the JR Hachinohe Line had also closed.

At the beginning of the week after the typhoon, however, teachers and all 51 students toiled half a day scooping mud and preparing to welcome their guests from Indonesia. On the day of the event, some roads were still closed and rice fields were alarmingly covered with sediment, which highlighted the severity of the damage.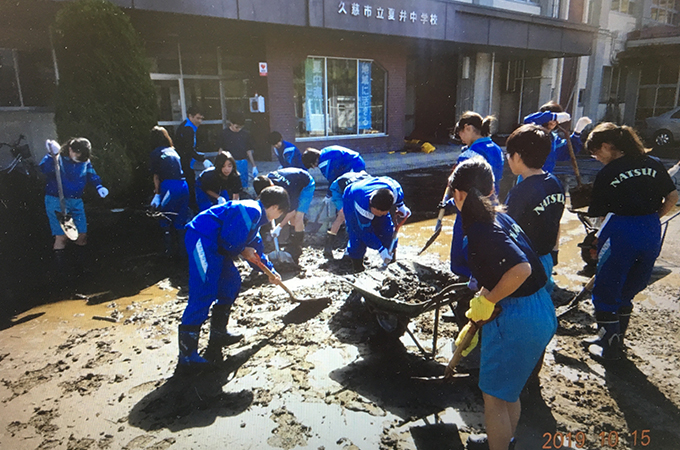 Students undertake restoration work. (Photo provided by Natsui Junior High School)
Carried on since 700 years ago, Natsui Daibonten Kagura was a celebratory performing art for wedding ceremonies and offerings to gods at festivals. From around 10 years ago, the survival of this ancient performing art was in jeopardy due to a lack of performers. With the cooperation of Natsui Junior High School, in 2018 the entire student body began learning the traditional performing art as a part of their academic curriculum.

Addressing the audience at an exchange meeting, student chairman Kudo Renta explained: "All 51 students at our school are learning the performing art with a determination that each and every one of us will carry on the tradition. The typhoon brought about tremendous damage and many people are still suffering, but we really want to perform this dance to our best ability so that we can send out a refreshing breeze from Natsui." Upon finishing his address, the student chairman was met with resounding applause from parents and the members of Natsui Daibonten Kagura Preservation Society.

The students quickly put on their costumes and performed impressive kagura. For the Sanriku International Arts Festival in February 2019, the adult members of the preservation society performed the musical accompaniments and songs at an exchange welcoming a dance group performing Jathilan, a traditional performing art in Java, Indonesia. At this festival, all roles were played by students alone.

Terang Bulan leader Sakurada Motoko, who performed a Barong dance and gamelan, explained to the students, "I think people in Natsui have always lived together with nature and held festivals in harmony with the cycle of nature. Bali is exactly the same. Although the two cultures might be completely different, I believe the way culture plays a role within the spirit and life is the same."

Upon teaching each other dances, the Barong dance members joined the circle of students. They in turn lent their own Japanese fans and costumes and showed off their moves. It was obvious the distance between the students and dancers began to quickly shrink even without speaking a word.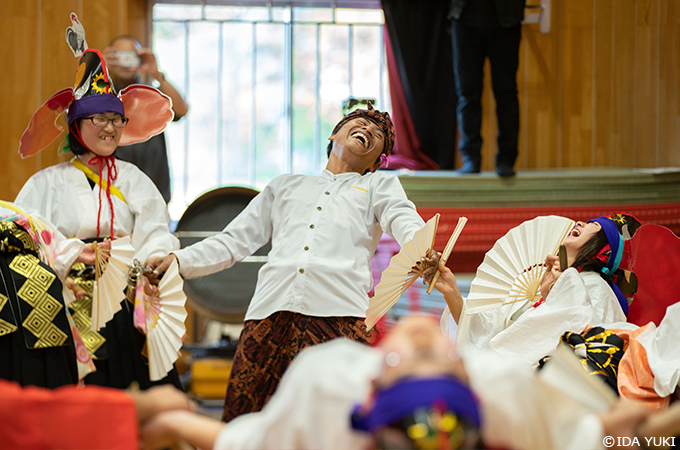 An Indonesian performer and students dance together in the Natsui Daibonten Kagura, which is characterized by such movements as holding hands and bending backwards.
One student expressed a sense of satisfaction, saying: "I saw the Barong dance for the first time. I realized there is a variety of culture in each country and thought this was amazing. When I taught our own kagura, I was surprised the Indonesian performers learned so quickly. This was really fun." Kuji City School Board of Education Director Ushiro Tadami watched over the exchange and commented: "The activities of Natsui Junior High School for handing down kagura from ancient times in the Natsui district are truly a local treasure. I believe that mutually learning about traditional performing arts from different cultural spheres is also stimulating for both sides. This will be a lasting memory and also contribute to the advancement and development of performing arts." Despite the typhoon, it was greatly encouraging to see the strength of children who supported the local traditional performing arts and the powers of traditional arts that enabled communication transcending languages.
"The Power of Cultural Exchange Is Needed Now More Than Ever Eight Years After the Earthquake."
Why are traditional performing arts so popular in Sanriku? We asked this question to Sato Norikazu, a producer of performing arts festivals and the director of the NPO Japan Contemporary Dance Network (JCDN).

"Perhaps it's because this region is inconvenient and isolated. People in this region didn't have much interaction with the neighboring towns and weren't even aware there were other festivals. On the contrary, unaffected by Tokyo culture, people in this region could take pride in their own art."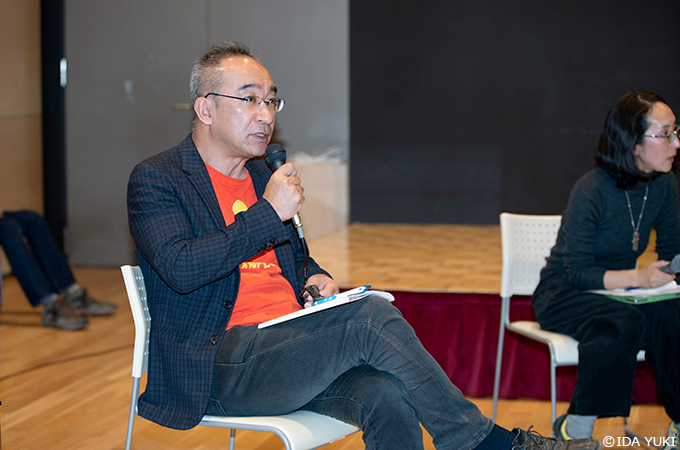 Mr. Sato addresses the audience at a symposium following the performance in Otsuchi Town.
Driven by the idea that "anyone can dance," Mr. Sato led a so-called community dance, an activity originating in England. Upon witnessing Sanriku traditional performing arts, Mr. Sato says he realized that "Japan had this dancing since long ago."

He adds: "Performing arts are the reason people gather and connect with others. These wonderful performing arts are continually passed on and supported by people of all ages ranging from children to the elderly. What's more, members of the community are not content with tradition but always trying to make it better. I experienced a sort of culture shock at witnessing what's taking place within the community."

Following the Great East Japan Earthquake, Mr. Sato visited shelters together with dancers and served as a volunteer for teaching exercises. Before long, however, he began to sense that something was wrong. "I felt uncomfortable with the rigid relationship between supporters and victims. Following the disaster, masses of volunteers poured into the region to offer their condolences and support. This had the opposite effect, however, leading to 'support fatigue' as local residents became exhausted by the influx of supporters. It prompted some survivors to stand up on their own. So I thought again and realized that unless we did something together we were merely troubling them."

He reached the conclusion that traditional performing arts are an activity in which community residents can play a leading role. Furthermore, he realized that Sanriku's traditional performing arts are somewhat similar to Balinese dance, which led to the exchange program with Asia in 2014.

"Local residents learned the choreography of traditional performing arts while playing as children. So these dances come naturally for them, but they are in fact quite difficult even for professional dancers. In performing arts, the human body moves to express the grand concept of a devotion to the gods and exorcising evil spirits. Even today, things inherited from generation to generation are being passed down. I have great trust in this process. A single movement in performing arts is filled with a variety of meanings. I believe the relationship of mutually learning and teaching represents a deep exchange that conveys one culture."

After the earthquake, a U.S.-based artist visited Otsuchi Town in 2012 and 2013 as a volunteer for scooping mud. So impressed by the festival during the stay, the artist took up learning performing arts. It is not only the learners who benefit. Those on the teaching side are also positively affected because questions learners ask about movements serve as valuable feedback to reevaluate their own sometimes vague instructions.

This circle of exchange has gradually widened. In November 2018, the Sanriku International Arts Committee was established by local governments and private organizations in Aomori and Iwate prefectures (with the participation of 16 local governments and four private organizations as of December 2019). Mr. Sato says he was also surprised to see so many people had a strong affinity for performing arts in Sanriku. The Committee also dispatches young people who perform Sanriku traditional performing arts and scholars from Japan to Southeast Asia even in times when the performing arts festival is not held (supported by the Japan Foundation Asia Center). Besides exchanges through traditional performing arts, the Committee shares lessons learned from disasters with other countries in Asia, where there are many natural disasters; undertakes investigative research on the role of local performing arts in reconstruction and the preservation of local performing arts in disaster areas; and promotes initiatives that can be used in disaster prevention.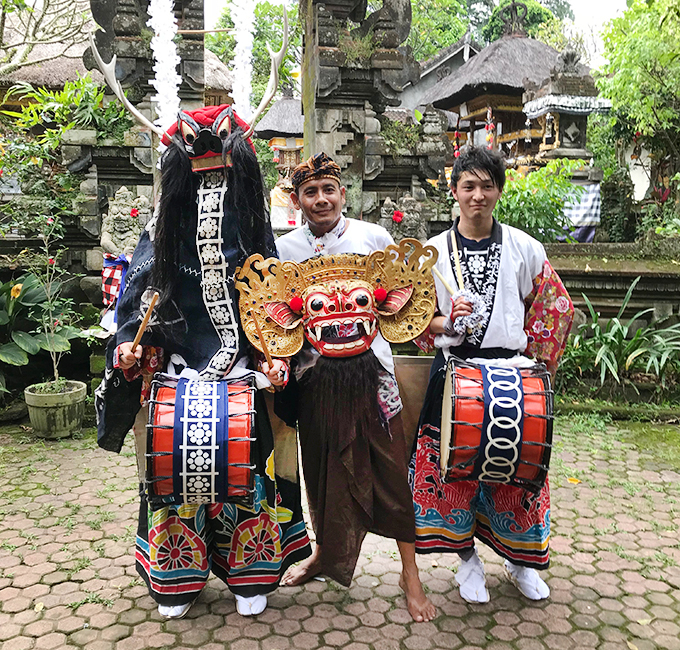 Members and alumni of high school traditional performing arts clubs from Miyagi and Iwate prefectures visit Bali to deepen exchanges with Barong dancers. (March 2018)
Nine years have passed since the earthquake, and reconstruction in the disaster region is moving ahead. So what is needed now?

"Work is under way for elevating the ground level dozens of meters in Rikuzentakata and Ofunato and land readjustments have also progressed. But we have no idea how many people will actually return. I think we need to bring back people first. Now is the time we must undertake reconstruction through culture. People connected with culture should visit the disaster area because we must harness the powers of cultural arts," says Mr. Sato.