The Japan Foundation, Toronto:Exhibition of Vivian Reiss's painting: "The Satoyama Story"
The Japan Foundation, Toronto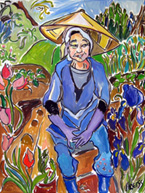 The Japan Foundation, Toronto is currently exhibiting "The Satoyama Story: Vivian Reiss in Japan" at our Event Hall. This exhibition opened on August 8th and will run until October 25th. Living for three months in a rice-farming village in Japan, Toronto painter Vivian Reiss created an extraordinary body of artwork. She painted a series of intensely personal portraits of the inhabitants, which reveal the culture of the village. The work was part of the Echigo Tsumari Triennial, the largest international art exhibition in Japan, visited by 300,000 people. This exhibition showcases her paintings from this period. There will be two stimulating lectures by Reiss and a concert to accompany the exhibition.

In addition, we have hosted a workshop for Japanese Language teachers on August 15th, as part of the Japan Foundation's Japanese Language Education. The aim of the workshop has been to address the current situation of J-L education in both Japan and Canada, and introduce related JF programs.