The Japan Foundation, Budapest:Japanese culture center in Hungary with many young visitors
The Japan Foundation, Budapest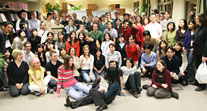 A year and 4 months have passed since the Budapest Office relocated to Octogon, a center of commerce conveniently located with excellent public transportation. The office is a mere 360㎡, but it is probably the only Japanese culture center in Hungary. The Japanese-language course and library are bustling with many young visitors daily.

In the Japanese-language course, 8 classes of primary and intermediate levels are offered twice a week. Approximately 120 students ranging from high school to senior citizens are currently enrolled. We are extremely fortunate and pleased to say that when we make our bi-annual announcement for new Japanese-language class enrollment, the number of applicants far exceeds the enrollment limit. The library is small with only 10,000 books or so, but it enjoys a wide variety of periodicals and an average of 470 visitors monthly.

Hungarian people are regarded as friendly toward Japan. In addition, Hungary has recently become a production base in Europe for Japanese companies connected with the automobile industry. Magyar's interest in Japan is increasing more and more, and as a result Hungary and Japanese cooperative forum projects were started this year and will continue for another 5 years. Also, a big cultural event in commemoration of Japan and Donau Exchange Year is scheduled for 2009. We hope that we will be able to meet the growing public demand.