The Japan Foundation, New Delhi:Interest in Japanese cinema is growing in India, home of the vast "Bollywood" film industry.
The Japan Foundation, New Delhi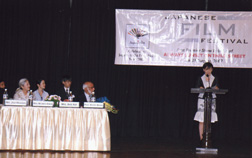 The 9th Festival of Asian and Arab Cinema, held by Osians Cinefan in New Delhi this past July, featured a "Focus on Japan" that included a Kenji Mizoguchi retrospective as well as six Japanese films completed in the last two years. Mizoguchi's "The Water Magician" (1933), accompanied by a benshi narrator, earned a standing ovation from a sellout crowd, signifying the extent of interest in Japanese film here.

To satisfy the expectations of local fans, the Japan Foundation, New Delhi, has organized a Japanese Film Festival on August 20 and 25. The festival offered a variety of Japanese and Japan-related films, ranging from three recent cinematic hits to Yasujiro Ozu's classic "Tokyo Story" and the Indian film "Love in Tokyo," set in Tokyo just before the 1964 Olympics.

The festival opened with "Doraemon and the Little Dinosaur"; Doraemon is already a popular character on Indian television. The enthusiastic audience, made up largely of students and their families from Japanese and affiliated Indian schools, collectively held their breath when Doraemon and his friends got into trouble, and clapped at their exploits. Japanese and Indian viewers laughed and cried together, proving once again that cinema transcends national boundaries.

Next came "Hula Girls," winner of the film journal Kinema Junpo's 2006 "Best One" award. This was the first time a previous year's winner had appeared so soon in India, so the audience was full of film critics and dedicated fans. With a story line that appealed to Indian viewers, "Hula Girls" provided a taste of contemporary Japanese cinema at its best.

But the big draw of the festival was clearly "Always: Sunset on Third Street," which was preceded by a personal appearance by Mrs. Akie Abe, wife of former Prime Minister Shinzo Abe, who happened to be visiting India. The film won unanimous praise from the audience, proving to be an apt gift to Indian fans. The festival closed on a high note with "Tokyo Story" and "Love in Tokyo," which drew a particularly large crowd of older cinema buffs.

We hope to offer more opportunities to the growing ranks of Japanese cinema fans in India to enjoy a full spectrum of Japanese films, old and new.