The Japan Foundation, Mexico:Activity report of the Japan Foundation, Mexico
The Japan Foundation, Mexico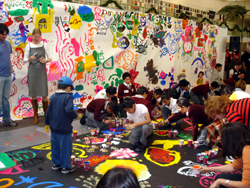 The Japan Foundation, Mexico is one of the Foundation's smaller overseas offices. Because it lacks facilities for holding cultural events on its premises, the Mexico office generally hosts such events in collaboration with various cultural and arts institutions around the country.

In July 2007, for example, the Mexico office joined with Cineteca Nacional to hold a special screening of ten films by Japanese director Shohei Imamura, attracting a total audience of 3,200. Then, from July to September, the Foundation produced an Exhibition of Japanese Traditional Pottery at the Museum of Anthropology in Xalapa, in the state of Veracruz. The museum is known for its collection of relics from the ancient Olmec culture of Veracruz, and the exhibition provided a valuable opportunity to introduce traditional Japanese arts to one of Mexico's important regional cities.

In October, the Foundation hosted two concerts in Mexico City featuring the duet of Tomoya Nakai and Fumie Kunogi, two young artists of the 25-string koto. The performers played to full houses at both the little theater of the Palacio de Bellas Artes and another city-administered theater. The enthusiastic response of both audiences reflected their appreciation for this exquisite blend of traditional and contemporary Japanese music.

In November the Foundation cooperated with a publishing company to present workshops by Taro Gomi, an author of children's books, in Mexico City and Guadalajara. The participants -- adults as well as children -- appeared to enjoy having their creativity sparked by Mr. Gomi's presentation.

The Japan Foundation, Mexico also collaborated in a number of other cultural events around the country, including Japanese-language speech contest, an academic conference on Japan, and a seminar on performing arts in which Japanese artists participated.