The Japan Cultural Institute in Cologne:Activity report of the Japan Cultural Institute in Cologne
The Japan Cultural Institute in Cologne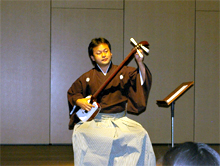 The Japan Cultural Institute in Cologne, founded in 1969, introduces Japanese culture by actively utilizing its facilities, which include a library housing approximately 20,000 books related to Japan, a multi-purpose hall and an exhibition space. Regular screening of Japanese films under specific themes is one of the popular events at the Institute. Other events include concerts of traditional Japanese music, lecture/demonstration on Japanese food culture such as tea, "Dialogue Exhibition" which exhibits works of German and Japanese artists under common themes, and lectures given by well-known writers such as Haruki Murakami. With introduction of contemporary Japan as the main objective, the Institute is striving to promote understanding of Japanese culture among as many and as broad a range of people as possible through these events.

Besides these original projects, the Institute also participates in joint projects with the City of Cologne, such as the "Music Night in Cologne" and the "Museum Night in Cologne." In areas outside of Cologne, the Institute works with various German cultural agencies in an effort to develop new activities through joint projects which are not simple one-way relationships. The Institute organizes Japanese lessons, ranging from beginners' class to advanced class; the "Shinkansen Course," a speed learning course introduced in 2007, has become a very popular course.

As the Institute will celebrate the 40th anniversary of its founding in 2009, the Institute will endeavor even more to promote cultural exchange between Japan and Germany, on the foundation of Japanese-German friendship that has been built up over the years.