The Japan Foundation, Kuala Lumpur:About Japan-Malaysia Friendship Year (50th Anniversary of the Establishment of Diplomatic Relations)
The Japan Foundation, Kuala Lumpur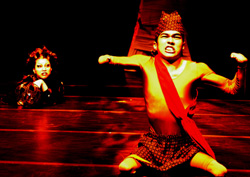 The year 2007 marked the 50th anniversary of independence of Malaysia as well as the establishment of diplomatic relations between Japan and Malaysia. The Japan Foundation, Kuala Lumpur held series of commemorative events and activities throughout the year.

The first event to start the memorable Friendship Year was Japanese Drum Concert by HONO-O-DAIKO, a renowned Japanese group of women drummers together with TOKYO DAGEKI DAN, held in Istana Budaya (National Theater) in January. The concert enjoyed the total attendance of more than 4,000 for two days, which was suited to bright opening.

A variety of performances such as "Pinocchio" by Opera Theatre Konnyakuza, "Three Sisters" by Pappa Tarahumara, "We're Gonna Go Dancing!!" by Japan Contemporary Dance Network (JCDN), "not quite right" by Strange Kinoko Dance Company, RAKUGO in English and the Flute Festival in Malaysia, exhibits including "TOKITSUMUGI - The Grain of Strands from Some Moments" an exhibition of kinetic sculptures by Masato Tanaka at Galeri Petronas, "Sharing Space - Counter photography - Japan's Artist Today" Exhibition and the 11th Asian Cartoon Exhibition, and Japanese Film Festival were followed. In Japanese Speech Contest, held annually, a new category for learners whose stay in Japan is longer than 90 days and entry was not allowed in the past was added. Fluent speech by the contestants in this new category was so excellent that it served as powerful encouragement for other contestants and audience as well.

Moreover, "Hutan kenangan" performance by Ms. Kim Manri and 9 Malaysian performers to complete the three-year project for physically disabled performers with Performance Troupe TAIHEN was successful. Japanese Music Month in November completed Japan-Malaysia Friendship Year. Each performance of Okinawa Traditional Dance and Music, SATORU SHIONOYA GROUP JAZZ CONCERT 2007 in Kuala Lumpur and Japanese KOTO Music concert by Sawai Koto Orchestra was very successful to put an end to Japan-Malaysia Friendship Year.

Support and cooperation from many organizations and people made it possible to hold such a variety of events in limited resources. Here we would like to extend our thanks to everybody concerned.