The Japan Foundation, Toronto:Activity report of the Japan Foundation, Toronto
The Japan Foundation, Toronto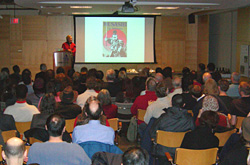 Canada is twenty-seven times larger than Japan, and the Japan Foundation has only one overseas office in Toronto. In this vast country, the Japan Foundation, Toronto presents various activities and programs with the Japanese diplomatic missions in Ottawa, Toronto, Montreal, Calgary, and Vancouver in order to develop and promote Japanese culture and studies.

In late January 2008, we invited Mr. Satoshi Kamiya, who is an Origami expert with four consecutive victories at the Origami TV championship. He is participating in activities that promote Origami overseas as part of the Japan Foundation's cultural presentation abroad program. He had an Origami lecture and demonstration in Toronto, Ottawa, Halifax and Vancouver. In Toronto, the workshops were held at the Japan Foundation, Toronto's event hall as well as at local schools with the cooperation of Origami Society. This project received a lot of attentions from Canadian people, and became a great opportunity to introduce Origami culture to the public. Various local media interviewed Mr. Kamiya during his visit in Canada.

The overseas traveling exhibition " The spirit of Budo: The History of Japan's Martial Arts" is being exhibited at the Japan Foundation, Toronto's event hall until February 26th. It explores the history of the martial arts in Japan from battlefield technique to international sport. This exhibition displays not only the historical weapons and implements, such as sword mountings, bows and arrows, helmets and suits of armour, but also panels of the contemporary practices of the martial arts. We have already had more than 1000 visitors as of the end of January, and the exhibition continues to be very popular.

In 2008, Japan and Canada are celebrating 80 years of diplomatic relations. In both Japan and Canada, many events will be showcased during the 80th anniversary Japan-Canada Relations from April 2008 to March 2009. We, the Japan Foundation, Toronto, will actively participate in various anniversary projects through implementation and support in diverse ways.