The Japan Foundation, Budapest:Activity report of the Japan Foundation, Budapest
The Japan Foundation, Budapest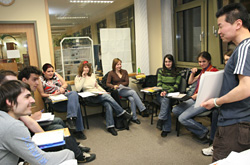 Although Hungary is not close to Japan geographically and historically, so many Hungarian people are keen on getting knowledge about Japan. From January to February, in the period when cultural activities are not so active, the Budapest office has been introducing Japan through the regular activities as follows.

"Jápan Filmklub [Japan Film Club]" shows Japanese films twice a month all through the year at the Örökmozgó Filmmuzeum, one of the most popular cinemas in Budapest, showing films with good qualities but rarely shown in Hungary.In February, "Swing Girls" and "Water Boys" by director Shinobu Yaguchi were put on the screen and they attracted much attention especially of young generation.

Our office has a library and it can be used as a multi-purpose space.Using this space we organise a lecture every month. The lecture of Februrary was about Ainu culture. The lecturerer introduced a book "Chitose no Uepekere" by a writer Osami Gizo, who was born in Hokkaido and wrote this tale based on Ainu folklore. Despite that the lecture was held on Friday night, the number of audience was nealy 100 and some of them even had to stand. It proved Hungarian people's deep intellectual curiosity and a great deal of interests to Japanese culture.

Finally, in the middle of February the second semester of the Japanese language course has started. The course is one of the pillars of our activities and about 100 Japanese learners have enrolled to the classes from beginner to intermediate level.In 2006 our office moved to a commercial centre with good access to transportation, and since then the number of students who drop out of the course has dramatically decreased. Majority of our students are young generation and every evening our office gets animated with liveliness of those students.

With spring coming soon we will further intensify our activity. Our office continues to work to provide more opportunities for Hungarian people to get acquainted with Japanese culture.