The Japan Foundation, New York:Activity report of the Japan Foundation, New York
The Japan Foundation, New York


The Japan Foundation New York office, in collaboration with the Japanese Literature Publishing and Promotion Center, invited Ms. Mitsuyo Kakuta, celebrated female Japanese novelist, to New York and Seattle for a week in February.

During her short stay, she met with almost 300 readers at six book events, including at Columbia University's Donald Keene Center of Japanese Culture, the University of Washington and the Japanese Consulate General's official residence in Seattle.

"Women on the Other Shore" portrays two very different women at the age of 35, one a stay-at-home mom and the other a single independent woman who started her own business. The story begins with their first encounter and touches on issues concerning contemporary Japanese women as well as student bullying in Japan.

Ms. Kakuta herself seemed a little nervous about how her work would be perceived by a US audience. Once the events began, we witnessed very lively discussion between the author and the readers, with topics including Ms. Kakuta's motivation to write the book, translation issues, and the differences and similarities in the publishing world and society in general between the US and Japan.

Though the setting of the book is very Japanese, some readers mentioned that there was a universal theme underpinning it, namely people's desire to connect with other people and the society. Many readers were so enchanted by the observant, charming comments of the author that they stayed even after the event, wishing to have a small, informal discussion with her.

Japanese contemporary novels are rarely introduced in English. We are hoping that through these encounters, more and more people will be interested in Japanese contemporary literature and beyond.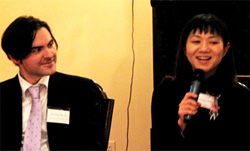 Photograph: Courtesy of Japanese Consulate in Seattle