The Japan Foundation, Beijing:New Year Festival 2008
The Japan Foundation, Beijing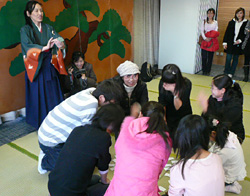 We hold events to introduce Japan and those for the purpose of international exchange at multipurpose auditorium at the Japan Foundation, Beijing. We've just held one of those events with a theme of Japanese New Year on January 12, 2008.It seemed that Chinese people's interest in Japanese culture related to New Year is high and many people, much more than we had expected, participated the event.

Panels to introduce New Year in Japan were posted at the hallway to the auditorium.Visitors gazed with absorbing interest at those panels with photos and explanations on "new year's visit to a shrine,""New Year dishes,""New Year's monetary gift,""New Year's card" and so forth.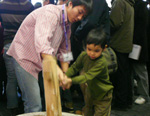 The event started with "Kagamibiraki," in which sake barrel is broken with a wooden hammer. This is indispensable for a ceremony.Then our special guests from Tianjin, neighboring city of Beijing, graduate students studying Japanese language at Tianjin Foreign Studies University performed a Kyogen play. Audience let out an exclamation of admiration for their excellent performance because Kyogen lines are very difficult even for the Japanese.Next, we enjoyed mochi pounding, a great success of the event last year. The event warmed up when a few participants had a good luck to pound with a pestle by themselves. Our staff put sweet bean paste and toasted soybean flour to mochi and participants ate them saying "yummy!" Afterwards, they spent their time according to individual fancy at corners where they can experience games such as karuta, art of folding paper and Japanese chess.In each corner, a Japanese virtuoso living in Beijing provided an explanation, which was also welcomed.

The event often leads many of the participants into becoming a member of our library which mainly has books and stock shots related to Japan, and the library had many visitors during the event.

We would like to keep introducing various Japanese cultures to the Chinese people as many as possible through such event.