Activity Reports:About Us :Symposium "Stimulating Cities with Art"
Hirotaka Matsuo, in charge of Domestic Network Kanazawa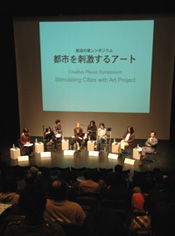 Creativity changes cities and local communities
Creativity now gains much attention from the world as an indispensable element of urban development. The Japan Foundation therefore, hosted a symposium entitled "Stimulating Cities with Art" in cooperation with the 21st Century Museum of Contemporary Art, Kanazawa on March 9, 2008 in order to take creative environments into account because we believe it will lead to international, cultural exchanges in local communities.

What's going on in society and art in the world
In the first part of the symposium, six presenters presented relationship between cities and people living there and art, and art projects carried out in various parts of the world.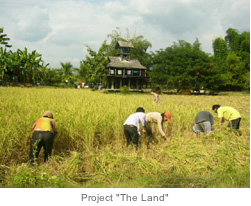 Mr. Kamin Lerdchaprasert, a Thai artist, introduced an artists' colony collaborative project called "The Land". Ms. Hélène Kelmachter presented diverse examples such as 1% law since 1951, metro in the city of Toulouse which commissioned works to up-and-coming artists including Sophie Calle and cultural event called Nuit Blanche in which people can enjoy art experience in the city till midnight. Ms. Sunhee Kim, a Korean curator in Shanghai, introduced Artist in Residence in China. She mentioned trend in Chinese art, deeply involved with commercialism, and difficulty to engage in art activities when only foreigners, hardly any Chinese, visit art museums with a short history. Next, Mr. Mizuki Endo, a project director for Artist in Residence managed by Ibaraki prefecture, introduced his activities to set up alternative space in Fukuoka, Manila and Mito, free from the existing art system. He also introduced Arcus Project which plays a role of fun, local community center.
Mr. Yuji Akimoto, a director of the 21st Century Museum of Contemporary Art, Kanazawa, presented Kanazawa Art Platform 2008 to build up interactive art from the past, consuming art by involving town people outside of the museums. He also introduced Art House Project in Naoshima to revitalize the island by creating art from ruins in a depopulated village.
Art is life and power to change
In the second part of the symposium, a panel discussion was presented. Each panel agreed that every one can contact with, participate in and create art, even though he/she has diverse cultural as well as social background and different approach.

Mr. Lerdchaprasert said art is his life itself and art has power to change society. Similarly, Ms. Kelmachter said art overlaps life and brings meetings with various people. Ms. Kim said art has power to stimulate cities and she would like to present art that everyone can easily understand. Mr. Endo argued that there should be an art system suitable for each society and culture and said he wants to find happy one.

Mr. Akimoto mentioned importance of sharing art creation with many citizens and of active involvement with art, and concluded that they must open a possible new approach to the existing framework for art creation.