Activity Reports:Arts and Cultural Exchange:Performance of Yukiza, Edo Marionette Theater
Sachi Oshima
Performing Arts Div.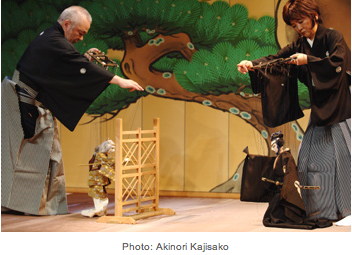 Year 2008 is Japan-Brazil Year of Exchange and the 100th Anniversary of Japanese Emigration to Brazil.
The Japan Foundation sent Youkiza, a traditional Japanese marionette theater company, to 4 cities in Brazil: Santos, Rio de Janeiro, Brasilia and Sao Paulo, as an opening event to celebrate the year from February 10 to March 2.

Yukiza has about 370 years of history since 1635, in Edo Period, when the first Magosaburo Yuki launched on the company. During the tour this time, classical plays "Tsunayakata" and "Shinpanutazaimon, Nozakimuranodan" were performed a total of nine times and four workshops for local specialists as well as elementary and junior high school students of Japanese School of Sao Paulo were held.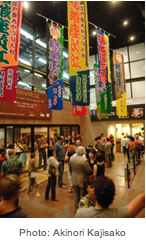 Preparation of the tour started back in the spring of 2007.
Yukiza and the Japan Foundation, Sao Paulo continued discussions on how to make a runway in the theater, if it is possible to build scaffolding on site, if there is a need for subtitles, if a commentary on marionette must be inserted, and so on.

On the day of performance, theater entrance was decorated with labarum and paper lanterns, and Joshikimaku, a tricolor curtain commonly used for Kabuki, was hung to make the theater look Japanese. Even though the tickets were sold out soon, people who wanted to appreciate the performance besieged the theater to make a long line.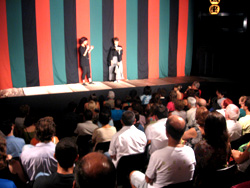 During the initial commentary on marionette, a widely variable marionette operated by Teita, a controller, drew much attention from audience.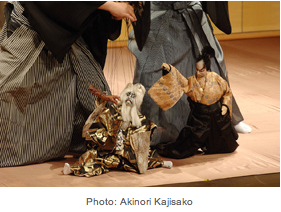 Then "Tsunayakata" and "Nozakimuranodan" were performed. They were real, classical plays with music in gidayu ballad, but the Portuguese subtitle helped win the audience's sympathy. They concentrated on the performance so hard that they were quick to respond to each delicate movement created by a marionette no taller than the height of man's knee.

In the end of "Nozakimuranodan," the curtain which usually remained as low as scaffolding was raised to show marionette players on the scaffolding cleverly manipulate marionettes with long thread. That was a representation unique to performance overseas and drew much attention.

As soon as the performance was over, the audience gave Yukiza a standing ovation. Yukiza members also said, "We want to tour in Brazil again!" It seemed that this event satisfied both performers and audience.

Japan-Brazil Year of Exchange is not finished yet. We hope the events we are planning will help further promote friendly relations between Japan and Brazil.