The Japan Foundation, New Delhi:Activity Report of The Japan Foundation, New Delhi
The Japan Foundation, New Delhi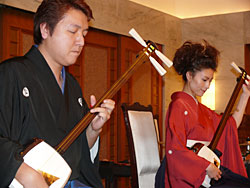 Players under a barrage of questions and requests for signature from audience. This is a scene right after a concert of Japanese music in January 2008 in Delhi. Indian audience, excited with marvelous performance, climbed into the stage to thank players and ask questions on musical instruments. It is always easy to see Indian people's reaction and it is obvious this time too, that performance of Japanese music surely reached them.

The Japan Foundation, New Delhi invited Tenbi and Kazuhiro Fukui: sister and brother Tsugaru Shamisen players, Yasukazu Kanou: Shino Fue player, and Hiroko Suzuki: pianist to host a concert at the Shri Ram Center. In addition to performance in New Delhi; as the last event commemorating Japan - India Friendship Year 2007 from January 2007 to March 2008, they toured Mumbai, Kolkata and Chennai in cooperation with the Japanese Embassy and the Consulates. The performance was well received at each site.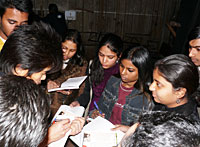 In this way, the Japan Foundation, New Delhi tries to introduce "Japan" to Indian people living in New Delhi, the capital. At the same time; moreover, we visit local cities and neighboring countries to introduce Japanese culture.

In March, we dispatched an Indian master of Sogetsu school of Ikebana (flower arrangement) to Islamabad and Lahore in Pakistan to hold demonstration and workshop. Though India and Pakistan are politically at odds, they are originally in the same one area. Japanese Ikebana is popular both in New Delhi and Islamabad. Is it an exaggeration that we promote international friendship via Japanese culture?!

Now New Delhi is in the height of summer. Due to heat in which temperature exceeds 40 degrees centigrade from mid-May to early July, schools are closed for holiday and many people take holidays with their family or go out of town to a summer resort. As a result, population of New Delhi decreases a little in this season every year.

In spite of this heat wave, the Japan Foundation, New Delhi will host a calligraphy workshop entitled "summer activity" on June 18 and 25. Although Japan - India Friendship Year 2007 ended without any mishaps, exchange between both countries never ends. We are determined to market Japan to 13 million people in New Delhi and 1 billion in India.