The Japan Foundation, Sao Paulo:Integration of Dancing Tradition and Modern Pop Culture
The Japan Foundation, Sao Paulo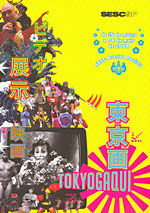 The Japan Foundation, São Paulo has analyzed crossover phenomenon of Japanese and Brazilian culture and produced diverse programs. In March 2008 it subsidized "Tokyogaqui" hosted by SESC (Social Service of Commerce) São Paulo and provided the exhibition with contents. This project started from "Tokyo-Ga" by German master film director Wim Wenders, and was made up to introduce Tokyo through multifocus perspective in Brazil.

A couple of floors in the building of SESC on Paulista Avenue, a main street in São Paulo, were used to set up thematic floors for "Homage to Kazuo Ohno, father of Japanese Butoh Dance" and "Tradition of Pop Culture." At the floor for butoh, strongly influenced performing arts in Brazil, memorial pictures and video of Takao Kusuno who introduced butoh to Brazil were also exhibited. Yoshito Ohno, Ko Murobushi and Yukio Waguri participated to the project to perform in collaboration with Brazilian dancers.

Moreover, the Japan Foundation, São Paulo provided young artists, whose production process have been watched by the Foundation for several years, with an opportunity to exhibit their works. At the floor for pop culture; on the other hand, para-para dancing contest and cosplay competition were carried out in addition to poster and animation exhibition, drawing much attention from young people. The guides for exhibition wore a costume to enhance the mood.

We could also exchange views on post-war development of Japanese art and culture in workshops and seminars, drawing attention from academics. We believe that it is Brazil, where diverse cultures intersect to cause special hybrid, to inspire "Tokyogaqui. "Mass media covered it as an event suitable for the 100th Anniversary of Japanese Emigration to Brazil, and it had about 100 thousand visitors for one and a half months.