The Japan Cultural Institute in Cologne:Seminar on Nuchi-masu, the Sea Salt of Okinawa and Europa-Yakuzen
The Japan Cultural Institute in Cologne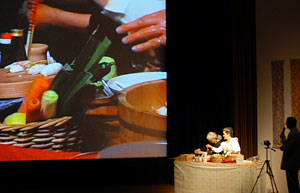 Japanese food draws increasing attention in Germany, as in other countries. According to one estimate, there are more than 200 Japanese restaurants in Berlin, though only one fourth of them are said to accept orders in Japanese language. On TV; moreover, a charismatic German cook introduces his original sushi and sashimi salad like carpaccio.

Against this background of Japanese food boom, we held an event to introduce Japanese food culture in cooperation with Nuchi-masu Co., Ltd. and with assistance provided by Dusseldorf office of Japan External Trade Organization. The process of nuchi-masu manufacture, different from that for other salts available on markets, drew much attention from audience. In the process, seawater is transformed to a fine mist and then crystallized at once to maintain its minerals. Cooking demonstration by Kyoko Onishi to introduce Japanese yakuzen tradition to modern Europe using European ingredients, in addition, was also extremely well received, thanks to her personality and health fad.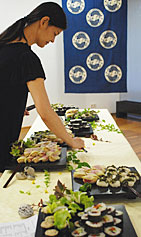 The Japan Cultural Institute in Cologne; however, had hard time because we have little experience in introducing food culture with tasting. As cooking with gas and electricity during demonstration is strictly prohibited by the fire protection law, we videotaped a process to make tofu with nuchi-masu beforehand, and could only introduce the process right before heating at the site. Even so, we could make our audience feel that they can cook it by themselves at home, maybe because German translation of the recipe was prepared.

After demonstration, we asked audience to taste a variety of samples, though a little, starting from sushi wrapped with this tofu and seaweed, soup made of juice left over from tofu manufacturing, and to desert of raisin bread soaked in muscovado syrup and coated with cream of tofu and almond syrup. Each and every one of them was well accepted and went quickly. About 80 participants listened to explanation throughout the event with much interest, and were well satisfied. Furthermore, former president of Japanisch-Deutsche Gesellschaft e.V., familiar with Japan, was also much satisfied with the event and said, "I've known events hosted by the Japan Cultural Institute in Cologne for decades, but I cannot remember one as much fun as this one." All staff members were pleased with this comment, and now happily think of this and that for the next event, forgetting about everyday stress from our work for a moment.