The Japan Foundation, Seoul:2008 International Conference on Japanese Language Education
The Japan Foundation, Seoul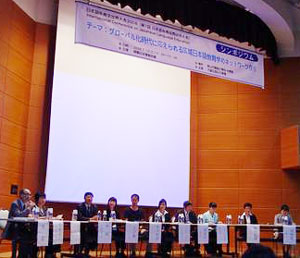 This summer Japanese language education specialists gathered in Korea from all around the world to participate in 2008 International Conference on Japanese Language Education at Pusan University of Foreign Studies during the period of Friday, July 11 to Sunday, July 13.

On the first day, speeches by Mizutani Osamu, president of Nagoya University of Foreign Studies, and Higuchi Koichi, professor of Ehime University followed the opening ceremony. Nearly 90 oral and poster presentations were made in the afternoon. On the second day, more than 150 presentations were made and Yi Dok Bong, professor of Dongduk Women's University, made a speech. Symposium "Wide-area Networking for Japanese Language Education in the Age of Globalization" was also held with researchers from ten countries in the world. Nearly 150 more presentations were made on the third day, the last day, to make this conference exceptionally extensive.

For those three days, from excitement we felt here and there at the site, we could learn researchers' as well as teachers' aspirations for Japanese language education.