The Japan Foundation, Jakarta:Halfway point of year-round activities
The Japan Foundation, Jakarta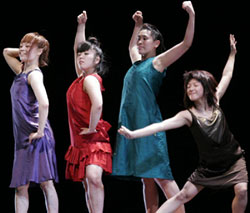 The Japan Foundation, Jakarta presents various activities to introduce Japanese culture during the year 2008, the 50th year since the establishment of diplomatic ties between Indonesia and Japan. As six months of this Golden Year of Friendship has already passed, we would like to review the first half of the year.

At the opening ceremony on January 20, graced with the presence of Their Imperial Highnesses Prince and Princess Akishino and President Susilo Bambang Yudhoyono and his wife, tsugaru shamisen player Kazuhiro Fukui gave a powerful solo performance. Their Imperial Highnesses Prince and Princess enjoyed the performance so much that they happened to talk to Mr. Fukui directly after performance, which warmed up this kick-off event. Numerous events including Japanese Toys exhibition, Counter-photography exhibition, the Asian Cartoon Exhibition, solo performance of Kim Manri, a leader of Performance Troupe TAIHEN, and lecture and demonstration on Kabuki dance, followed and each one of them was well received.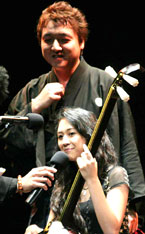 KITA!! Japanese Artists Meet Indonesia, a project to introduce Japanese contemporary art, was started at the grand opening on April 18 and continued till May 18 in Jogjakarta, Bandung and Jakarta. This project introduced 24 artists in different genres and received major public response.

To conclude the first half of the year, "We're Gonna Go Dancing ! Indonesia Tour" was organized by Japan Contemporary Dance Network, co-organized by the Japan Foundation, Jakarta, and supported by the Agency for Cultural Affairs. Each of five performances in four cities in Indonesia gathered much audience and some could not even enter the site. The tour turned out to be appropriate to conclude the first half of the year.

More events are scheduled to conclude the year in December, and JF staff members are committed themselves to make the latter half of the year fulfilling.