The Japan Foundation, New York:13,000 Visitors to Tatsuya Nakadai Retrospective
The Japan Foundation, New York


In a retrospective of Tatsuya Nakadai, a legendary Japanese actor in the golden age of Japanese cinema, 27 films were shown in New York for seven weeks from June to August.

Mr. Nakadai stayed in the U.S. for the first week of the retrospective with Ms. Teruyo Nogami, a producer and right hand of director Akira Kurosawa. His devotion to cinema, told with Ms. Nogami after film screening at Film Forum, main venue in the SoHo, Japan Society in New York, the National Gallery of Art and the Freer Gallery in Washington, D.C., aroused American audience's sympathy. Each event in the retrospective was well attended and major newspapers and magazines such as The New York Times and The Wall Street Journal ran a story of it. The retrospective continued to be successful after Mr. Nakadai's returning home and attracted cumulative 11,000 visitors to Film Forum and 2,000 visitors to other venues, totaling 13,000 visitors.

A letter from Ms. Nogami after her returning home was the best encouragement of all for us. It said, "What made us most happy of all is there are still so many moviegoing public in New York and the organizers love movies."

The retrospective was co-organized by Film Forum in New York and the Japan Foundation, and supported by quite a few organizations and volunteers.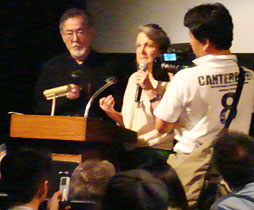 News conference after preview of the Human Condition, an antiwar epic at Film Forum