The Japan Cultural Institute in Paris:Small World Made from Paper - Yuri Okamoto Exhibition "Parrot and Poet"
The Japan Cultural Institute in Paris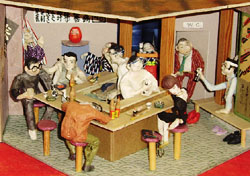 This summer our office held an exhibition of works by Ms. Yuri Okamoto, a Japanese artist living in France, using one of our seminar rooms, which are vacant during summer break of our Japanese language course.

Ms. Okamoto discovered the beauty of Japanese papers while she lived in France and, as an "artist of paper," has been pursuing possibilities of "papers" for 25 years. The original and representative series of hers is "Coffrets d'image [Small boxes of images]", inspired by the tradition of Japanese origami.The works of this series, such as "Circus", "Izakaya (Japanese-style pub)", "Corner of Tokyo" and "Parrot and Poet" amaze us with vivid worlds represented in miniature boxes. It is somewhat similar to wonders and delights we get in opening a jack-in-the-box.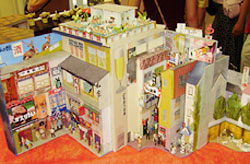 Including several works other than this series, this exhibition showed 17 works. All the worlds represented in these works were created through impressions, imaginations and sketches Ms. Okamoto collected since her childhood.Since she has lots of connections with Hungary and its people, the worlds she creates are perceived as something nostalgic for both Hungarians and Japanese. Visitors admired original tastes and subtle craftsmanship of her works, which she created only from papers, making full use of their original colors and textures. One of the visitors wrote in a questionnaire that he or she could know a lot about Japan, although the works are very small.

Through the works of Ms. Okamoto we could introduce the tradition and possibilities of Japanese papers and made another links between Hungarians and Japanese.