The Japan Foundation, Los Angeles:Japanese-language education leadership workshop
The Japan Foundation, Los Angeles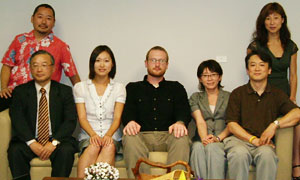 A two day Japanese-language education leadership workshop took place from June 27 to 28 at the Japanese Embassy's Japan Information and Culture Center in Washington D.C.

The participants in the workshop were six up and coming individuals who are active members in Japanese-language Teacher's Associations in the United States. They came from nearby states such as Virginia to as far away as Hawaii and represented a very diverse group. The workshop featured lectures followed by discussions among the participants based on the current conditions (of Japanese-language education) around the country and focused on topics concerning Advocacy and Networking, which is an oft-forgotten aspect of teaching Japanese in the United States.

Maki Watanabe Isoyama, the Academic Specialist from the Japan Foundation, Los Angeles, was the main lecturer and focused her presentation on the following five topics: "the importance of Japanese-language education and how/to whom one should make it appealing," "advocacy activities and the importance of networking," "types of networks for Japanese-language education and how to make connections," "ways to request outside support/aid for Teacher's Association activities," and "important aspects to managing a Teacher's Association."Guest speakers were also invited including Ms. Ashley Lenker Program Manager for the Joint National Committee for Languages & the National Council for Languages and International Studies (JNCL-NCLIS), which politically expedites aid for foreign language education and international education resource and innovation, Education Councilor Satoshi Nara from the Embassy of Japan in the United States, Ms. Juliet Mason from the American Council on the Teaching of Foreign Languages (ACTFL), and Dr. Yasu-Hiko Tohsaku from the University of California, San Diego, who is also the president elect of The Association of Teachers of Japanese (ATJ). Each presenter focused on their area of expertise including the following: policies regarding foreign language education in the United States (Ms. Lenker), initiatives for Japanese language education from the Japanese Government (Mr. Nara), introduction of activities by ACTFL (Ms. Mason), and challenges of Japanese Language Education in the United States (Dr. Tohsaku).