The Japan Foundation, Mexico:Japanese Theatrical Art Performances in Mexico
The Japan Foundation, Mexico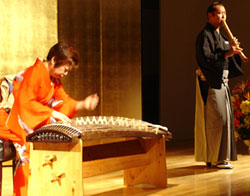 Every year, many cities throughout Mexico hold art festivals, in which performance groups of various genres of art are participating from other countries. Organized by the national government or culturalagencies of local governments with the support of privatecompanies, admission to such festival is free or low, in order to give as many people as possible opportunities to come into contact with foreign cultures.

The Japan Foundation, Mexico, has been making efforts to introduce Japanese theatrical arts to Mexican audiences at these international art festivals. On May 2008, for instance, the Foundation supported Kyogen play performance by Shime Shigeyama and contemporary dance performance by Dance Company BABY-Q at Ollin Kan International Culture Festival in Mexico City. At Kyogen performance, laughter from the theater filled to capacity made evident that the audience was satisfied with the performance without Spanish subtitle. Traditional theatrical art unique to Japan and edgy dance performance received high acclaim from the audience, composed mainly of young people.

In July, the Japan Foundation held a concert of Japanese traditional music by Kifu Mitsuhashi (shakuhachi) and Nanae Yoshimura (koto) at the small hall of the Palacio de Bellas Artes (Palace of Fine Arts), the premier hall of classical music in Mexico City. A capacity audience listened enthusiastically to the program composed of Japanese traditional music and contemporary music played on Japanese traditional instruments. Mr. Mitsuhashi remarked that his performance was a great success thanks to the enthusiasm by the audience.

Japanese theatrical art performances, such as music, dance, or play, are held quite often throughout the world. In Mexico, however, opportunities to introduce Japanese theatrical art are scarce due to a number of reasons: inviting Japanese artists to Mexico can be expensive, and information on Japanese theatrical art is not sufficient in Mexico and vice versa. Under such circumstances, support by the Japan Foundation and other public agencies for cultural exchange and promotion plays a significant role.

Witnessing successful performances, we strongly hope that more and more Japanese artists will visit Mexico to introduce their performances to people in Mexico who love theatrical art.