The Japan Cultural Institute in Rome:Activity report of the Japan Cultural Institute in Rome
The Japan Cultural Institute in Rome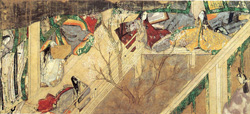 The year 2008 is the Genji Monogatari Sennenki, celebrating a Millennium of the Tale of Genji, and various millennium events are held not only in Japan but throughout the world. Genji Monogatari is already translated in many countries in the world, and in Italy its first complete translation is planned to be published soon. The Japan Cultural Institute in Rome plans a series of millennium events commemorating Genji Monogatari against such a background. The following is a brief summary of them.

Starting with a performance of kyogen and contemporary poetry reading by kyogen actor Doji Shigeyama and a poet chori held in mid September, a performance of gagaku by Ichihime Gagaku-kai of Kyoto Ichihime Shrine will be organized in November. This performance will be held in Florence and Ravenna in addition to Rome. In December, calligraphy demonstration by Prof. Atsuhito Takagi of Daito Bunka University and exhibition of his works and calligraphy works in our collection will be held and a lecture on Genji Monogatari and reading by Prof. Maria Teresa Orsi, University of Rome, will be followed. She is the translator of complete Genji Monogatari mentioned above. In February 2009; moreover, a lecture on picture scroll of Genji Monogatari by Hideki Yotsutsuji, assistant director of Tokugawa Art Museum, will be held in Rome and Florence.

In Italy, people have much interest in contemporary Japanese literature and new works by Yoko Ogawa, Risa Wataya and Hitomi Kanehara are translated and published. Works by Haruki Murakami and Banana Yoshimoto, in particular, are so popular that Yoshimoto's "Chie-chan to watakushi" (Chie-chan and I) and Murakami's "Kafka on the Shore" are scheculed to be adapted to plays and performed in Rome and Milan in respectively.

We hope these various millennium events will help Italian people familiarize themselves with the excellent classic Japanese literature and understand that Japanese people's unique sensibility is developed in the thousand-year history from Genji Monogatari to contemporary literature.