The Japan Foundation, Sao Paulo:Cultural Events to Commemorate the Centennial of Japanese Emigration to Brazil
The Japan Foundation, Sao Paulo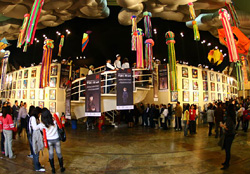 According to the Federal Government of Brazil, over 2,500 events have been held this year throughout the country relating to the Japan-Brazil Year of Exchange (the centennial of Japanese emigration). This June was the pinnacle of the cerebration, when His Imperial Highness Crown Prince Naruhito visited Brazil to meet prominent figures in Brazil and to participate in the commemorative ceremonies in 8 cities including Brasilia, the capital of the country. Prince Naruhito also actively met people from Japanese-derived community. The commemorative ceremony in Sao Paulo gathered approximately 40,000 people.The Brazil-Japan Cultural Week from June 14 to June 21 recorded 120,000 audiences and 170 events to introduce Japanese culture. Among this large-scale project, the sennin daiko (thousand drums) performance and Japanese music concert by Orquesta Jazz Sinfonica do Estado Sao Paulo (Sao Paolo State Jazz Symphonic Orchestra) were televised in Japan.

In addition to support implementation of the Brazil-Japan Cultural Week project, the Japan Foundation, Sao Paulo, welcomed 21 performing arts events and specialist exchange activities in first half of the fiscal year 2008-2009. For example, Japanese Traditional Music Concert Tour in South America by Kifu Mitsuhashi (shakuhachi), Nanae Yoshimura (koto) and Mika Danno (sangen) achieved successin two cities in Brazil. Contemporary Dance Tour in Brazil by Miyako Kato Dance Space in 5 cities was another successful event. In addition to works by Japanese dancers, such as SAND TOPOS by Akira Kasai, Kim Itoh and Miyako Kato and Miyako Kato's solo NIKKI, new work Laughing Soil, co-production with Brazilian dancers were performed.This collaboration made the tour a good showcase for the 100th anniversary of cultural exchange. There also were many dances by Brazilian artists to pursue the physical performance of Japanese. In particular, "Wabi Sabi" by Japanese-Brazilian choreographer Suzana Yamauchi was covered by Mainichi Shimbun in Japan and attracted attention.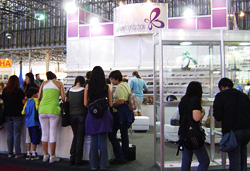 At the International Book Biennal of Sao Paulo in August, Japan was one of the honored countries. The Japan Foundation supported to provide a large booth to introduce Japan, and to host a lecture by Ms. Akiko Kurita, the founder and managing director of Japan foreign-Rights Centre, on the subject of the publishing business in Japan, as well as to host a panel discussion by experts in the publishing business in Brazil on the theme of prevalence of Japanese literature in Brazil.

Regarding the Japanese language projects, "Japanese Karaoke Caravan" toured 8 cities in Brazil, and is very popular among Brazilians who are learning Japanese. Japanese language is prevailing in Brazil through Japanese pop music. Japanese animation, manga (cartoon), and costume play also have a major impact, and often appear on Brazilian media as the symbols of Japanese modern culture. As many Brazilians extend their interest in Japanese culture to Japanese cuisine, around 600 Japanese restaurants are in business in Sao Paulo, which makes the city as one of the world's leading consumers of Japanese cuisine. Under such circumstances, the Japan Foundation, Sao Paulo, started the series of events titled "Saberes dos Sabores (Wisdom of Taste)" in 2006, to promote the culture of Japanese cuisine in Brazil. Events include lectures by famous chefs and leading figures in gastronomic culture, and tasting of Japanese foods. In parallel with implementation of advanced Japanese studies, the Japan Foundation, Sao Paulo, is also making efforts to provide activities to promote understanding of Japanese culture among ordinary Brazilian people.