Activity Reports:Japanese-Language Education Overseas:The 2008 Japanese-Language Proficiency Test (JLPT) Administered in 52 Countries and Regions!
Shoichi TOYODA
Director
The Japan Foundation Center for Japanese-Language Testing
The 2008 Japanese-Language Proficiency Test (JLPT) took place on Sunday, December 7, 2008 in 144 cities in 51 countries abroad and 29 prefectures in Japan.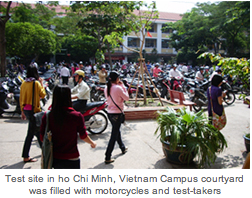 This was the 25th in the series since 1984. The Japan Foundation has been administering the test overseas in cooperation with local host institutions. The JLPT is administered in Japan by Japan Educational Exchanges and Services and in Taiwan by the Interchange Association. In 2008, approximately 660,000 applications were submitted around the world. China had the largest number of applicants, approximately 246,000. It was followed by Korea with over 100,000 applicants and by other countries and regions in East Asia including Hong Kong and Taiwan where the number of applicants was growing steadily. Increase of the applicants was also remarkable in Southeast Asian countries such as Thailand, Vietnam, Singapore, Malaysia, and Indonesia. In the United States and Spain, the number surged at more than 20% over last year. Applications submitted in Japan were also increased 17% over last year, from approximately 103,000 to 121,000. We are very pleased to learn that the JLPT can serve more and more people. It is also important to note that six more cities joined as new test sites in China, Brunei, India, and Russia.

The Japanese-Language Proficiency Test will face major turning points in 2009 and 2010. Beginning from 2009, the JLPT will be administered twice a year in July and December, although it will be applicable only to the limited countries and limited levels of the test. In addition, the JLPT will be revised from July 2010 and new version of the test will be administered.
Including the information described above, the official website of the JLPT has been updated with the latest information on the test. The Japan Foundation Center for Japanese-Language Testing will keep on making every effort in order to serve people who are learning Japanese-language with better proficiency test.